A family today can include children, step-children, former spouses and in-laws. Regardless of the make-up, most people will want to provide for a spouse as well as children from a previous marriage. If you don't take this into account, you may leave behind a legacy of in-fighting and legal action. Here's how to put together an estate plan that reflects your wishes and looks after your entire family when you're gone.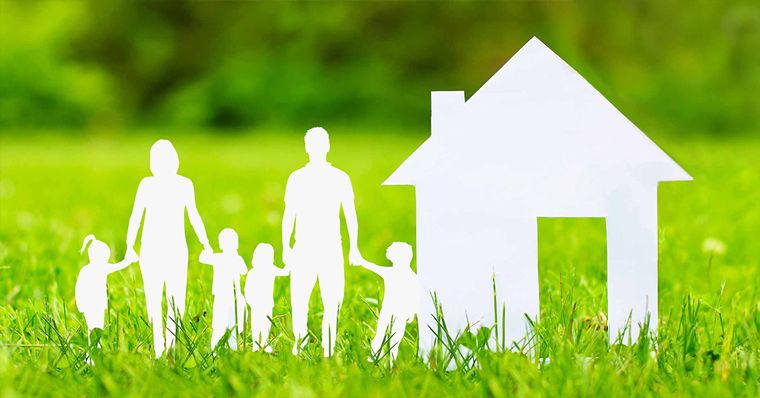 What is a blended family?
Also known as step or remarriage families, a blended family consists of a couple, their children (if they have had any) together, and any children from previous relationships. The parents of a blended family are often married, usually after a divorce or death of a previous spouse. However, in modern blended families, it is becoming more common for parents to be co-habiting and even living in a different country to their first family.
Are blended families the new norm?
While there isn't a lot of specific data on stepfamilies, the latest figures, revealed the divorce rate for heterosexual couples in the UK was at a 45-year low, with 101,669 divorces of heterosexual couples in England and Wales. Experts say this could be down to the fact that fewer couples are choosing to marry.

This research shows that nearly a third of all couples bringing up children have a child from a previous relationship in their family. The rapidly growing number of stepfamilies means that nearly two million children live in a two-parent family – but where one parent isn't their biological parent.
Blended families face estate planning challenges
Drafting a new will and updating your beneficiaries is just the beginning of making sure your family is taken care of when you're no longer with them. The financial issues can be complex and are often a challenge to navigate. Some common planning issues blended families in the UK deal with are:
The potential for children to be disinherited
Delays in the children's receipt of inheritance until after the death of their parent's spouse
The need to protect assets from former spouses
Competing interests of past and present partners, biological children and step-children
What is an estate plan?
Your estate is comprised of everything you own whether in the UK or worldwide. From your personal possessions and car to your bank accounts and property. Estate planning is a way for you to prepare and have control over how your assets are distributed when you die. It's advisable to review your plans as your family and financial situations change over time. Good estate planning is much more than dividing your possessions, it should also:
Include instructions for your care if you become disabled before you die
Include disability income insurance in case you are unable to work due to injury or illness
Name a trustee or executor if you have minor children
Provide for loved ones who might be irresponsible with money
Provide for the transfer of your business at your retirement, disability or death
Minimise taxes, court costs and unnecessary legal fees
Too many people don't have a plan
Many people put off estate planning because they think they don't own enough, aren't old enough or think they have plenty of time. If you don't have a will at the time of your death it means you have died "intestate". When this happens, you forfeit control over what happens to your estate and it will be allocated according to the terms of UK law and pre-determined legislated guidelines, known as intestacy rules.
Dying without a will: A case study
A recent UK case highlights the difficulties facing families on the death of the main provider. In 2016, a young businessman died aged 38, leaving behind young children from his first marriage and an ex and current spouse. Despite having assets totalling £5.2 million, he had never made a will. As such, his estate was decided according to the intestacy rules which provided that the bulk of the estate was given to his current spouse. The ex-wife challenged this in the High Court in that the provisions did not adequately provide for his two younger children from the first marriage in terms of private education and housing needs. It was only after a lengthy legal case, at a cost to the estate when a settlement was accepted by the first spouse on behalf of the children. But this is a cost that could easily have been avoided by making a will.
The consequences of failing to make a professionally drafted valid will and provide for your family often leads to months or even years of litigation. Your verbal wishes may have every intension of caring for your family but is a recipe for disaster.
How do I plan my estate?
An estate plan begins with a will
A will gives you sole discretion over the distribution of your assets and offers clear instruction for the care of any minor children. When entering a new marriage, it's important to note that your current will is automatically revoked. If you don't draw up a new will, your estate will be divided under UK intestacy laws. This mean that your estate could be split between your current spouse and your children, and possibly leave your children with a smaller share of your assets than intended.
Life changes, so should your will
Relationships change, couples split up, new assets are acquired and others disposed of, and that friend you named as your child's guardian may have adopted an unsuitable lifestyle. We advise that you review your wills and beneficiaries at least every five years or when big life changes take place.
Don't discount prenups
A prenuptial agreement, while a good idea for all couples, is particularly important for couples who are blending their families and those where the family dynamics are not straight forward. Prenuptial agreements, or marriage contracts, provide you the opportunity to negotiate and ensure that you and your spouse are both protected.

Premarital agreements shouldn't be viewed negatively. A modern prenup process is based upon mediation principles involving extensive communication. This keeps the focus on fairness for both parties rather than the protection of the wealthier party. For this process to run smoothly, it's best to communicate openly with your partner. Be honest about debts, child support payments and about what assets and properties you wish to keep separate. Pre-nuptial agreements are less used in the UK, but if prepared correctly provide evidence of intention and aims. However, be aware that in the UK, if there is a dispute, the courts will consider all the circumstances of a case such as the length of marriage, age and needs of minor children.
Trusts
Unlike a will, a trust doesn't terminate with your death. Your assets can stay in your trust, managed by selected trustees, until your beneficiaries are of age. Remarried couples use trust structures to aid in the distribution of assets. They provide a formal structure for keeping assets separate and ensure income for a surviving spouse. Setting up a trust also protects assets for children from a previous marriage.
Here are six types of trusts and how they work to protect your loved ones.
1. Qualified Terminable Interest Property Trust
A QTIP pays income to a surviving spouse annually and determines where assets will go once that (living) spouse dies. You may consider using two trusts - one for a new spouse and one for your children from a previous marriage. Two trusts will potentially separate opposing interests and avoid any conflict later.
2. Spendthrift Trust
This type of trust is useful if you have an heir who may be unable to control their spending. It gives an independent trustee full authority to make decisions as to how the trust funds may be spent for the benefit of the (reckless) beneficiary.

3. Irrevocable Life Insurance Trust
An ILIT allows for the possible exclusion of life insurance proceeds from the estate tax by acting as both the owner and beneficiary of life insurance policies. ILITs offer two major advantages to a blended family structure. An ILIT prevents your children from being disinherited because the trust names them as sole beneficiaries of your life insurance policy. It also ensures your children receive inheritances promptly because the policy will pay the trust immediately upon your death.

4. A Family Limited Partnership
This is used to move wealth from one generation to another. Partners are either general partners (GPs) or limited partners (LPs). FLPs allow assets or real estate to be transferred to the partnership, which is usually comprised of parents and children.
5. Bloodline Trusts
Setting up a bloodline trust ensures that money can only be accessed and used by your children, grandchildren or other generations directly related to you. Those who have married into the family will have no access to funds.

6. Disclaimer Trusts
A disclaimer trust provides flexibility in planning for estate taxes and allows your surviving spouse nine months to decide how much of their assets will bypass taxes and be "disclaimed" in the eyes of the law and taxation authorities. This could help your spouse retain control over more of your joint assets.
What is a life interest?
In English law, life interests commonly exist behind trusts. A Life Interest Trust is where a beneficiary is given an interest in trust assets for their lifetime, usually the entitlement to receive income, and/or live in a property owned by the trust.

These types of trusts are commonly used to create and protect interests in a property. For example, a wife owns the family home and wants to ensure that her husband is able to remain living in the property after her death. Although the house itself has been left to their children, the wife's will would then create a life interest trust for her husband so he may live on the property for as long as he needs. The purpose of her will in this circumstance is to ensure that the property passes to the children.
Pensions and life insurance
Another way to provide for your extended family members is with life insurance. It can be a useful tool for directing assets to a specific beneficiary outside of provisions in a prenuptial agreement, will or trust. For example, you can purchase a life insurance policy and name your children from a previous marriage as beneficiaries. Other assets can be left to your current spouse or children from your remarriage.

Life insurance and retirement accounts like SIPPs (self invested personal pensions) aren't passed down through your will, but instead go directly to whomever you named as the primary beneficiary - even if your will says otherwise. So, if you have any life insurance policies, we advise that you put them into a trust to prevent them from being subject to inheritance tax. It is also important that you revoke any power of attorney that appoints your former spouse in any ways (unless that remains your intention).
Lasting power of attorney
If you become incapacitated and lack mental capacity, the attorney whom you name as your lasting power of attorney (LPA) will handle your medical and financial affairs. You're giving someone significant power, so this should be someone you trust without hesitation. It's also important for you to revoke any former powers of attorney, such as your previous spouse.
Finding peace of mind in times of difficulty
The greatest benefit of knowing you have properly organised a plan – one that contains clear instructions and will protect your family – is the peace of mind you and your family receive. This may be one of the most thoughtful and considerate things you can do for yourself and for those you love most.

---
If you want reassurance that each member of your blended family will be taken care of when you are no longer with them get in touch with Sherron Alexander-Bedingfield on + 44 (0) 20 7759 5531 or email our Sable International wills team on wills@sable-group.com.
We are a professional services company that specialises in cross-border financial and immigration advice and solutions.
Our teams in the UK, South Africa and Australia can ensure that when you decide to move overseas, invest offshore or expand your business internationally, you'll do so with the backing of experienced local experts.