With so many people stuck indoors during lockdown measures around the world, now is a great time to put your affairs in order. Keep track of your important physical documents by creating a personal asset log – a crucial step in planning for the future.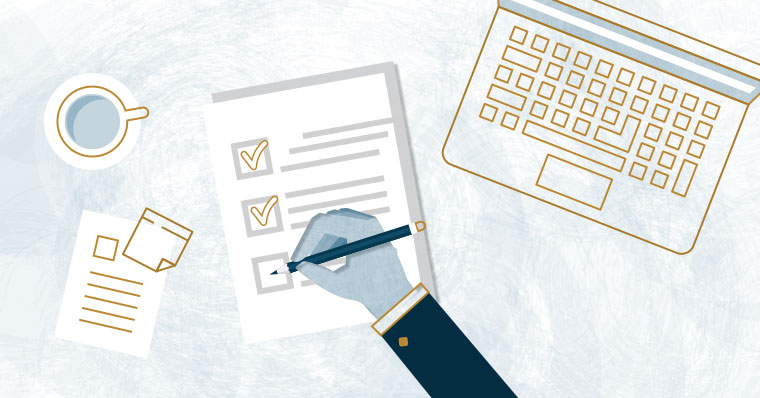 Lockdown measures can be used as an encouragement to us all to put our affairs into order, whether it is de-cluttering the kitchen, organising the study or shredding unnecessary paperwork. The peace of mind that comes from knowing that the "job" that we have been putting off for so long has finally been completed cannot be underestimated. This also holds true for important documents that need to be kept safe. Knowing that you've stored everything securely gives you a great sense of calm that your affairs are in order.
Increasingly more information is kept digitally. Long gone are the days when paper copies of bank statements, share certificates and bonds were in the box at the back of the cupboard. However, despite wanting to be paperless, it may not be totally possible. There are still some original documents that must be kept and accessible.
What is a personal asset log?
A personal asset log is a perfect way to keep track of your most important documents. The log collates all the vital information that is needed in any emergency and if there is a loss of capacity or if someone passes away. You may know that your friend or family member had an online account, but you may not be sure what account it is or to which email address is it linked – we all hold more than two email addresses! Other unknowns may be the exact date when an event occurred, and proof of that event. In some cases, it can take several weeks to get a copy of a birth, marriage or previous death certificate. In comparison having a paper copy and knowing the exact recorded date will facilitate easy enquiries when the information is at hand. It's also an essential part of our will writing service.
Important documents for your personal asset log
Here are our top five original documents to keep secure paper copies of:
Most recent will(s) (and any codicil)
A sealed copy of any court orders including but not limited to a grant of probate/letters of administration, decree absolute of divorce or final financial order
Birth, marriage and death certificates
Valid passport and visas
National Insurance (NI) number and P60s for the past 7 years
Keep track of your assets and liabilities
Our personal asset log also has space for the details of your assets and liabilities. One of the most laborious and tedious tasks when administering probate or sorting out a family members affair is looking for and tracing bank accounts and assets. Having trailed through the musky old bag and wiped away the cobwebs, the next questions you have to ask are if the account is active, dormant or closed and what is the current value of that account. The statement you found dated November 1999 may say that there is £10,000 in the account, but what is the current value? These are the issues that can delay probate applications. Having that information at hand will save time, effort and your patience.
It is important that passwords and access PINS are not written down. In the absence of an express permission, that can be proved to have not been revoked, only your executor (on your death) or attorney (under a registered LPA) has permission to access your online accounts, emails or social media platform. In each case, a careful consideration of the terms and conditions of such accounts needs to be examined.
If you're interested in learning more about creating a personal asset log or you're looking for assistance with planning for the future and creating a professional will, speak to us today.
---
For more information or assistance, contact +27 (0) 20 7759 5531 or email wills@sableinternational.com.
We are a professional services company that specialises in cross-border financial and immigration advice and solutions.
Our teams in the UK, South Africa and Australia can ensure that when you decide to move overseas, invest offshore or expand your business internationally, you'll do so with the backing of experienced local experts.