It's great to receive money or expensive presents from your loved ones, but you may want to think twice before accepting them.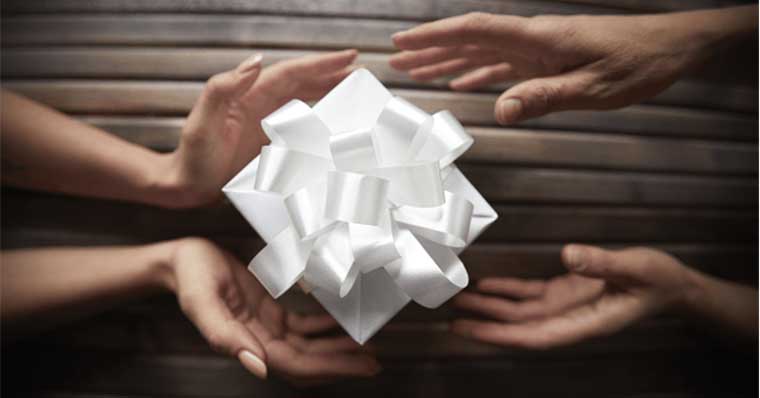 However impolite, you should perhaps ask a few questions before saying "thank you".
Have you exceeded your annual exemption allowance?
What is the value of the gift?
If you fail to do so, then you may be liable to pay Inheritance Tax on that gift.
How much can I give per year before tax?
Each tax year, an individual can give away up to £3,000 in gifts for any reason they choose. These gifts will be exempt from Inheritance tax. The unused amount can be rolled forward to the next tax year, but expires after that time.
Even if the gift is on a smaller scale, it may still be worthwhile asking the questions just to be certain.
A person can give a small gift to as many individuals as they may wish in any single tax year, but the value of each gift must not exceed £250 to remain exempt from Inheritance Tax.
Tax rules for wedding and civil partnership gifts
For those of you who are celebrating a wedding or civil partnership this year, it's worth noting that your guests can each give you a gift up to the value of £1,000. Parents can each give wedding gifts of cash or presents of up to £5,000, and each grandparent £2,500.
Tax rules for birthdays, Christmas, and wedding anniversaries
However, do not fret too much. Regular gifts such as Christmas presents, birthday gifts and those given on wedding anniversaries are exempt from Inheritance Tax, as long as the value of the gift falls within the gift givers' taxed income and they have enough income afterwards to maintain their normal lifestyle.
Outside of the annual exemption and exempt gifts, any further gifts made to individuals will be exempt from Inheritance Tax as long as the gift giver goes on to live for a further seven years. These are known as potentially exempt transfers and in the event of death, the total value of the gifts given in the last seven years is calculated to see if any Inheritance Tax is due.
If you are planning to be particularly generous to your friends and family, it might be worth keeping a log of all the gifts you hand out each year. By doing so, your executors and personal representatives will be able to sort out your affairs and calculate how much tax (if any) is payable.
---
If you have any queries about gift giving or Inheritance Tax, contact a wills expert on + 44 (0) 20 7759 5531 or email us at wills@sableinternational.com.
We are a professional services company that specialises in cross-border financial and immigration advice and solutions.
Our teams in the UK, South Africa and Australia can ensure that when you decide to move overseas, invest offshore or expand your business internationally, you'll do so with the backing of experienced local experts.