Benefits of subscribing
Currencies included: USD, EUR, GBP, ZAR, AUD and NZD
Data releases and relevant current affairs for the week
Currency movement forecasts, market analysis and expected data release results
Important events and predicted effects on currencies
Read all our Weekly Market Watch reports
Market predictions and forex forecasts for the week of 18 April 2022.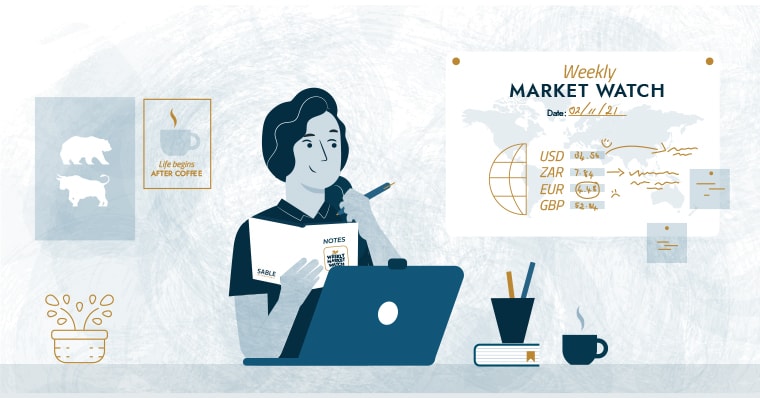 Week starting 18-04-2022
---
We have excluded the Russian Ruble from the analysis in our report due to the extreme volatility associated with the currency.
USD
US March inflation data was released last week. The annual inflation rate in the US accelerated to 8.5%, the highest since December 1981. The reading slightly outperformed market expectations of 8.4%, up from 7.9% for February.


Yet again, energy prices were the largest contributor to upwards price pressure. Petrol prices soared 48% higher, and fuel oil skyrocketed upwards by 70.1% as Russia's invasion of Ukraine pushed crude oil prices higher. Food prices also increased by 8.8%.


Rising oil prices, fresh inflation data and heightened consumer price fears have turned the markets away from risk. Yields on US 10-year bonds rose by 4.28%, leading to coinciding strength in the US Dollar. Most notably, the USD gained 1.71% against the Japanese Yen (JPY) and 0.88% against the AUD. The USD also appreciated by 0.58% against the EUR, while losing 0.23% on the GBP.


This week will be light on data coming out of the United States. The only importa data will be March figures for building permits, housing starts, and existing home sales.
---
EUR
Last week, the European Central Bank (ECB) unveiled its most recent interest rate decision. Policymakers opted to hold interest rates at 0.0%, whilst reinforcing their expectations that ECB asset purchases will wind down in Q3 of 2022. Analysts are only anticipating a rise interest rates once this tapering has been completed.
This week, the March inflation figures for the Euro area will be released. Consumer prices are expected to rise by another 3% (YoY) after the 2.5% jump in the previous month. The February balance of trade, as well as current account balance, will also be released.
Overall, the EUR had a mixed week, making marginal gains against the NZD, AUD, and the Swiss Franc (CHF), whilst losing ground against the Canadian Dollar (CAD), USD and GBP.
---
GBP
Last week, the UK's most recent employment data was released. The February unemployment rate came in at 3.8%, slightly lower than the 3.9% reading for January. Additionally, the number of persons claiming unemployment benefits declined by 46,900 in March.
The UK's March inflation rate was also released last week. Inflation moved higher yet again, in line with market expectations, rising from 6.2% to 7.0%.
Due to a more hawkish global outlook, the Pound has found strength in the FX markets. Last week, the GBP gained 081%, 0.55% and 0.23% against the EUR, CAD and USD, respectively.
This week, the UK's March retail sales growth data will be released, along with the GfK consumer confidence index. Retail sales are expected to shrink by 0.20% in March, while GfK consumer confidence is also expected to drop off slightly.
---
ZAR
A range of South African economic data was released last week. Retail sales growth was 0.5% (MoM) in February, after a 2.3% uptick in the previous month.
Mining and gold production numbers for February were also reported. Despite an anticipated increase, production numbers slumped significantly. Mining production is now 6% lower than it was in February of 2021, and gold production is down 9.3% from the year prior.
South Africa's March inflation rate will be released on Wednesday. Inflation is expected to be 0.6% over the past month, adding to the 0.8% rise in price pressure during February. On a yearly basis, the inflation rate is expected to be reported at 5.9%. This would mark the eleventh consecutive month that inflation has been higher than the midpoint of the SARB'S target inflation rate (3%-6%).
---
AUD
A plethora of Australian economic data was released last week. The country's most recent employment figures were released, along with updated consumer confidence numbers.
Australia's March unemployment rate came in at 4%, in line with market expectations and unchanged from the month prior. Full-time employment opportunities increased by 20,500, while available part time jobs fell by 2,600.
Last week, the NAB business confidence index rose to 16 in March, up from a reading of 13 in February. However, the Westpac consumer confidence index declined by 0.90% in April, slipping to 95.7 from a 96.6 reading in March.
There will be minimal significant data coming out of Australia this week. Nevertheless, the Reserve Bank of Australia's (RBA's) meeting minutes will be released, providing further insight into the intentions of the RBA. This will come after the RBA chose to keep its cash rate at the ultra-low level of 0.1%. Analysts will be looking for any hints of movement to a more a hawkish monetary outlook. However, the RBA has already stated that it will need to see consistent and persistent price pressure before making any changes to interest rates.
---
NZD
Last week, the Reserve Bank of New Zealand (RBNZ) chose to increase their benchmark interest rate by 50 basis points, from 1% to 1.50%. This uptick was more than the anticipated 0.25% rise, to 1.25%, and marks the largest rate hike in 22 years.
The surprising hike in interest rates has led to NZD weakness in the FX markets. Analysts now believe that the RBNZ are front-loading their interest rate tightening, considering their 2.00% official cash rate (OCR) target. Last week, the NZD lost approximately 1.35%, 1.09%, and 0.54% against the GBP, USD and EUR, respectively.
This week, New Zealand's inflation rate for Q1 of 2022 will be released. Inflation is expected at 2.2%, after the 1.4% reading in Q4 of 2021. New Zealand services PSI will also be released.
---
If you would like further information on the market along with personalised hedging strategies for you or your business, you can get in touch with our team at fxhedging@sableinternational.com.
We are a professional services company that specialises in cross-border financial and immigration advice and solutions.
Our teams in the UK, South Africa and Australia can ensure that when you decide to move overseas, invest offshore or expand your business internationally, you'll do so with the backing of experienced local experts.