Benefits of subscribing
Currencies included: USD, EUR, GBP, ZAR, AUD and NZD
Data releases and relevant current affairs for the week
Currency movement forecasts, market analysis and expected data release results
Important events and predicted effects on currencies
Read all our Weekly Market Watch reports
The Rand outperformed almost all major currencies, while the UK's easing of lockdown boosts economic activity and consumer confidence.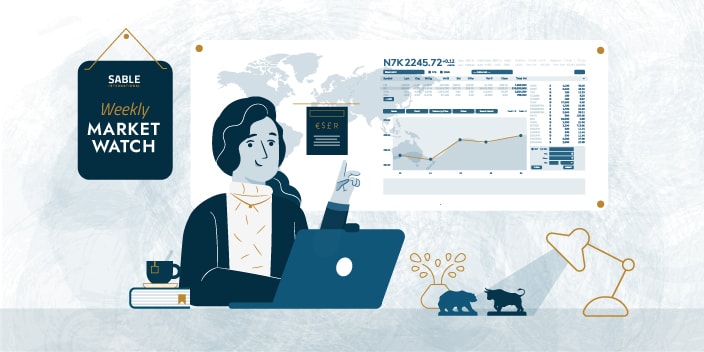 Week starting 19-04-2021
---
USD
In the US, the onset of higher inflation has left markets unsettled. Consumer prices rose to 2.6% in March, largely attributed to rising energy prices. Most notable was the rise in the prices of gasoline, which increased by 22.5%. Jerome Powell, chairman of the Federal Reserve attempted to calm the markets by attributing the uptick in inflation to the "base effect", as the result of record-low inflation in March of last year.
Despite the concerns over upwards price pressure, last week's US data continued to bolster the positive sentiment and optimism over the country's economic recovery. Retail Sales rebounded by 9.8% in March, after a 3% decline in February. Furthermore, weekly jobless claims fell to 576,000, with 193,000 fewer Americans filing for unemployment benefits, helping the Fed to support their case for their dovish policy and current use of monetary tools.
The risk-on mood in the market also saw US equities reach new highs, with the S&P 500 and Down Jones rising by 1.37% and 1.18%, respectively. This marks the fourth consecutive week of gains for the S&P 500. Global optimism has stifled any Dollar momentum, which lost ground against all of the G7 countries. The Dollar Index dipped by 0.66%, closing the week at 91.55. GBP/USD rose by 0.89%, closing the week around 1.3830, with an open of 1.3710 on Monday.
This week, Durable Goods Orders (March) are forecasted to rise by 0.7%, after the previous month's 1.1% decline. All eyes remain on the Federal Reserve and the progression towards full employment, as well as their handling of rising inflation.
EUR
Over in the EU, Retail Sales were released for February. Sales fell by 2.9%, exceeding the expected of 5%.
The lack of any major catalyst left the Euro in a relatively flat position, with EUR pairs moving mostly on counter-currency flows. The Euro made gains against US Dollar weakness and took losses against Australasian currency pairs. While the EUR/GBP dipped slightly, EUR/USD moved 0.73% higher. After opening the week at 1.189, the EUR/USD pair closed at 1.1983.
This week, the EU's inflation rate for March will be released and is expected to come in at 1.3%, higher than February's YoY figure of 0.9%.
GBP
The UK re-emerged from lockdown this last week, with pubs, gyms, and non-essential retail re-opening last week Monday. The easing of lockdown has already begun to boost economic activity and consumer confidence, with brick-and-mortar retail surging to Christmas-like levels. The easing of lockdown restrictions is likely to help support a strong Q2 for the UK, provided that the region can keep the coronavirus under control. Upcoming COVID-19 data and the rate of new infections will be closely monitored.
Despite early indications of a full economic recovery, the Pound struggled to hold onto its multi-week highs, giving up some ground against emerging markets. Risk-taking market behaviour has seen investors shy away from the Pound, while the FTSE 100 reached 7,000 for the first time since the beginning of the pandemic.
A widening trade deficit further limited the Pound's potential for upside, as February's Balance of Trade came in at -£7.1 billion. The increasing deficit, from a figure of -£3.4 billion in January, contributed to excess sterling supply, as imports far outstripped exports.
This week, the UK's inflation rate for March is due and is forecasted at 1% YoY after February's 0.9% figure. Claimant Count Change is expected to increase by 150 thousand, after February's rise by 86.6 thousand, to 2.76 million. GFK Consumer Confidence for April will also be released this week.
ZAR
The Rand had another strong week in the markets, outperforming almost all major currencies. Making large moves on the back of risk-taking trading, the Rand gained 1.13% and 2.01% on the Pound and US Dollar, respectively. The GBP/ZAR pair managed to break through the R20.0 resistance and fell towards R19.50, before rebounding slightly and closing the week around the GBP/ZAR R19.75 mark. The USD/ZAR pair touched lows of R14.15, after kicking off the week around R14.625, and closed at R14.30.
Retail Sales climbed by 2.3% in March (YoY), exceeding the consensus of a further decline after last month's Retail Sales came in at -3.7%. This week, South Africa's March Inflation Rate will be released and is forecasted to rise back to 3.2% after last month's decline to 2.9%.
AUD
The Aussie Dollar was one of the week's biggest gainers, as business conditions continue to surge. The Westpac Consumer Confidence is up to 118.8 for April, from 111.8 in March. The unemployment rate fell to 5.6% in March, from 5.8%. It is worth noting that, while 70,700 jobs were added in March, 91,500 part-time jobs were added and full-time employment fell by 20,800.
The Aussie Dollar, combined with greenback weakness, saw the USD/AUD pair depreciate by 1.45%. While GBP/AUD held up relatively better, the pair still fell by 0.56% and closed the week at 1.788. Only the South African Rand was able to overshadow the strong performance of the Aussie Dollar, with the AUD/ZAR pair falling by 0.57%.
Next week, Australian Retail Sales will be reported for March, which is expected to rise by 0.2% after the drop of 0.8% in February.
NZD
The Kiwi Dollar was another winner in the markets last week. GBP/NZD dipped by 0.69% during the week's trade, closing at 1.9355 from an open of 1.950. The USD/ZAR pair moved downwards by 1.57%, underpinned by bearish US Dollar price action.
Last week, the Reserve Bank of New Zealand indicated that interest rates will remain at 0.25%. Business PMI (NZ) jumped to a record high of 63.6, from 53.4 in the previous month, smashing the forecasted estimates of around 54.5.
This week, New Zealand's inflation rate for Q1 will be released, and is forecasted to rise to 0.8%, from previous quarterly inflation of 0.5%.
---
Contact one of our consultants at forex@sableinternational.com or give us a call on +44 (0) 20 7759 7554 to get started on everything foreign exchange related.
We are a professional services company that specialises in cross-border financial and immigration advice and solutions.
Our teams in the UK, South Africa and Australia can ensure that when you decide to move overseas, invest offshore or expand your business internationally, you'll do so with the backing of experienced local experts.