Benefits of subscribing
Currencies included: USD, EUR, GBP, ZAR, AUD and NZD
Data releases and relevant current affairs for the week
Currency movement forecasts, market analysis and expected data release results
Important events and predicted effects on currencies
Read all our Weekly Market Watch reports
While the major markets flounder, the British Pound and Aussie Dollar are soaring amid positive economic updates and better-than-expected jobs reports.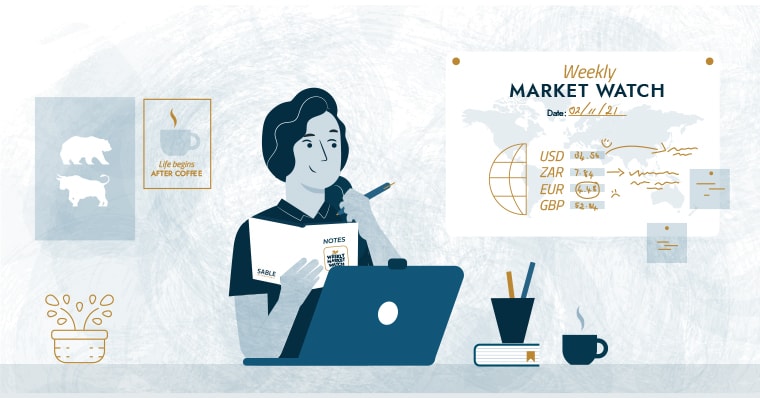 Week starting 22-02-2021
---
USD
Despite a valiant effort from Dollar bulls last week, the greenback couldn't be forced back into the green.
Improving economic data and vaccine hopes buoyed riskier assets as investors moved away from safe havens.
In the coming week, Jerome Powell will be delivering speeches, which should give some optimism to the market by downplaying the odds of tighter policies in the future.
Wednesday will see the second GDP reading. Quarter four is anticipated to reflect 4.1% growth, which would be higher than the initial reading of 4.0%.
EUR
Risk sentiment drove the markets last week as the Euro took hits from movement away from safe havens and lower yielding currencies.
In the absence of major reports, the Euro will be driven by pandemic-related updates and a few middle-tier reports out of Germany.
Germany, which just announced that lockdown will be extended until 14 March, will be releasing its business climate index on Monday. An increase from 90.1 to 90.5 is expected.
Then on Thursday, the GFK consumer climate should rise from -15.6 to -14.0.
GBP
The British Pound took the top spot last week as it continued its drive towards herd immunity.
Positive comments from the Bank of England (BoE) regarding negative interest rate speculation also caused the Pound to fly.
Employment data is due out on Tuesday. The claimant count is expected to show an increase of 35,000 in joblessness for January.
Boris Johnson will be giving the roadmap to recovery on Monday, which is expected to move the markets and give an outline as to when we should see an easing of movement restrictions.
ZAR
Last week the Rand was choppy as risk sentiment ebbed and flowed along with other emerging market currencies.
The State of the Nation Address was a non-mover, but we expect this week's budget speech to have a significant impact on the ZAR pairs.
South Africa's unemployment rate is due on Tuesday. Expectations are that it will fall from 30.8% to 29.8%. Although this shouldn't move the markets, if the actual figure misses the 29.8% forecast, we can expect intraday movements.
AUD
The Australian Dollar continues its domination as it finished the week in the green.
Positive economic updates and a better-than-expected jobs report caused the AUD to put some space between itself and the other majors.
Australia will be trading on the back of a few mid-tier releases this week. Construction figures and wage price index are due out on Wednesday, while private capital expenditure is due out on Thursday.
Traders should know that iron ore, Australia's main export, flew last week, leaving it vulnerable to a bounce-back at some stage in the coming few days.
NZD
Last week saw a largely uneventful week for the Kiwi Dollar, as risk-sentiment drove it higher along with a weaker US Dollar.
The Reserve Bank of New Zealand (RBNZ) will meet on Wednesday. This week we expect additional stimulus and a positive economic outlook to boost the NZD with Governor Orr and his team likely to express optimism.
Retail sales are due out for the fourth quarter and analysts expect a drop by 2.5%, which is likely due to lockdown restrictions.
---
Contact one of our consultants at forex@sableinternational.com or give us a call on +44 (0) 20 7759 7554 to get started on everything foreign exchange related.
We are a professional services company that specialises in cross-border financial and immigration advice and solutions.
Our teams in the UK, South Africa and Australia can ensure that when you decide to move overseas, invest offshore or expand your business internationally, you'll do so with the backing of experienced local experts.