Benefits of subscribing
Currencies included: USD, EUR, GBP, ZAR, AUD and NZD
Data releases and relevant current affairs for the week
Currency movement forecasts, market analysis and expected data release results
Important events and predicted effects on currencies
Read all our Weekly Market Watch reports
With a light week of data ahead, major and emerging markets are still subject to widespread volatility.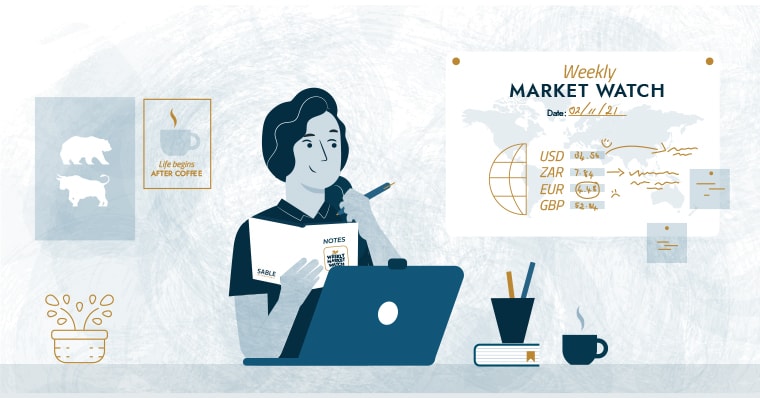 Week starting 25-01-2021
---
USD
Last week, risk sentiment forced the USD down from the get-go. Improving economic data and increased chances of more stimulus had a subdued impact on the Greenback.
On Wednesday, the durable goods order for December is expected to increase by 0.8%.
The Federal Reserve will also be making its interest rate decision, followed by a press conference. No rate change is expected, but we should keep an ear to the ground for any commentary from Fed members.
Personal income and spending for December is due out on Friday. The former is expected to rise by 0.1% and the latter should decrease by 0.6%.
EUR
Surprisingly positive economic data from Europe, despite the shaky vaccine rollout, caused the Euro to gain during the week. Positive commentary from European Central Bank (ECB) president Christine Lagarde also pushed the Euro higher.
No major catalysts for the Euro are expected this week, but that doesn't mean there won't be any movement for the single European currency.
German ifo business climate is expected to dip from 92.1 from 91.5, while the consumer climate should fall from -7.3 to -7.8. Spanish flash Consumer Price Index (CPI) should decline by 0.6% and the flash Gross Domestic Product (GDP) should show a 1.5% contraction.
GBP
Despite a quiet week for the British Pound, it managed to gain against most majors, likely due to counter-currency weakness, risk sentiment and better-than-expected inflation numbers.
The UK jobs report will likely have the greatest impact on Pound strength this week as the claimant count change should show an increase in joblessness of 40,000 for December.
The unemployment rate is expected to rise from 4.9% to 5.1%. With last week's flash Purchasing Managers' Index (PMI) readings missing expectations, there are hints that weaker-than-expected results could be a theme for UK data.
ZAR
The South African Rand continued its rally last week despite the impact of Covid-19 restrictions.
The ZAR is likely on the rise thanks to a weak US Dollar and the positive risk sentiment for the risk-friendly asset.
This week, the only data report of interest out of South Africa will be the balance of trade for December, which is expected to decrease from ZAR 36.72 Billion to ZAR 28.0 Billion.
The ZAR is likely to move in line with emerging market currencies and anti-Dollar movements.
AUD
The Aussie Dollar ended the week in the red after a disappointing retail sales update on Friday.
Australia has a light week of data ahead with just the quarterly inflation of interest.
Markets expect a quarterly increase of 0.8% with annualised prices climbing up by the same amount.
Risk appetite should impact the risk-friendly AUD as Biden looks to increase fiscal stimulus in his first week in charge of the world's biggest economy.
NZD
Another light week for the New Zealand Dollar this week means that risk sentiment should drive the Kiwi Dollar's strength.
Trade data is due out on Wednesday, after showing a trade surplus in November.
Exports are expected to fall by 0.2%, while imports are forecast to drop by 17% for the month.
Analysts see a slight decrease in the trade balance for December and forecasts show the figure falling from NZD 252 Million to NZD 150 Million.
---
Contact one of our consultants at forex@sableinternational.com or give us a call on +44 (0) 20 7759 7554 to get started on everything foreign exchange related.
We are a professional services company that specialises in cross-border financial and immigration advice and solutions.
Our teams in the UK, South Africa and Australia can ensure that when you decide to move overseas, invest offshore or expand your business internationally, you'll do so with the backing of experienced local experts.