Benefits of subscribing
Currencies included: USD, EUR, GBP, ZAR, AUD and NZD
Data releases and relevant current affairs for the week
Currency movement forecasts, market analysis and expected data release results
Important events and predicted effects on currencies
Read all our Weekly Market Watch reports
Heavy data releases will capture market attention over the coming week.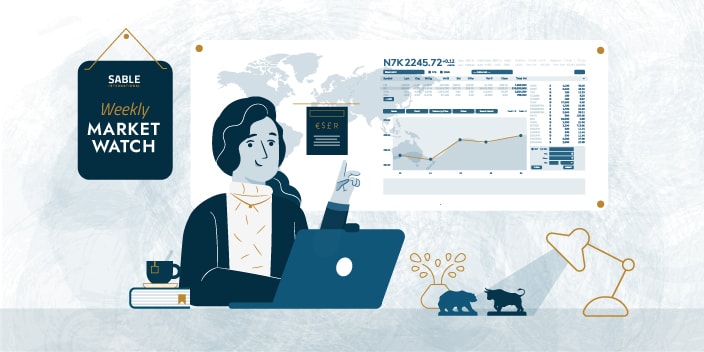 Week starting 01-02-2021
---
USD
Non-farm payrolls are set to be this week's major market mover, as it printed a surprise decline of 140,000 jobs in December when analysts predicted a rise of 50,000.
This week, we expect an addition of 30,000 jobs into the market while unemployment is expected to rise from 6.7% to 6.8%.
Worse than expected numbers should have an exaggerated impact on the markets following last week's miss.
Other medium-tier data will be sprinkled throughout the week but should not cause any medium-term fluctuations.
Dollar demand is likely to be next in line for catalysts that should be impacting the markets with the Fed's dovish stance.
EUR
There is no major catalyst out of Europe this week, but we do have a batch of leading indicators that should influence the Euro's value.
Germany will be releasing its retail sales on Monday while the flash Gross Domestic Product (GDP) for the Eurozone is expected to fall by 1.4% in the fourth quarter.
Eurozone flash Consumer Price Index (CPI) is expected to increase by 0.4% while German factory orders is expected to decline by 1.2% in December.
GBP
It is shaping up to be an exciting week for the British Pound with the Bank of England (BoE) set to make its policy announcement on Thursday.
No change is expected to the current interest rate of 0.1% or the GBP 895 Billion asset purchases, but any votes to cut rates should trigger a bearish reaction from Pound traders.
The quarterly monetary policy report, which includes inflation and economic growth projections for the next two years is also due out at the same time.
ZAR
South Africa continues to come under scrutiny due to high levels of corruption and lack of accountability. As such, the emerging market currency is in a dire state.
The country already had an exceptionally high level of unemployment before the pandemic and things have only deteriorated.
In the absence of significant data reports, the Rand will be taking cues from risk-sentiment and anti-Dollar movements.
AUD
Aussie Dollar traders should brace themselves for the Reserve Bank of Australia's (RBA) interest rate decision on Tuesday during the Asian trading session.
We do not expect any changes to the interest rates, but we are anticipating positive economic projections from the RBA and optimism regarding growth forecasts.
The trade balance is expected to show a tighter surplus in December, while retail sales are expected to fall by 4.3% in November.
Doubts surrounding the AstraZeneca vaccine, which constitutes most of Australia's orders, is likely to limit AUD gains throughout the week.
NZD
It looks to be a busy week for the Kiwi Dollar with major data releases set to drive the currency's strength.
Quarterly job data took off last week as the unemployment rate sky-rocketed from 4% to 5.3%. Analysts expect a further rise to 5.4% in the fourth quarter.
Major data releases from New Zealand's two biggest trading partners, China and Australia, should drive the rates as the RBA is expected to refrain from tapering interest rates while Chinese PMIs are expected to decrease for December.
Market risk should drive the high-yielding Kiwi Dollar as vaccine-related updates should impact investor sentiment.
---
Contact one of our consultants at forex@sableinternational.com or give us a call on +44 (0) 20 7759 7554 to get started on everything foreign exchange related.
We are a professional services company that specialises in cross-border financial and immigration advice and solutions.
Our teams in the UK, South Africa and Australia can ensure that when you decide to move overseas, invest offshore or expand your business internationally, you'll do so with the backing of experienced local experts.