Benefits of subscribing
Currencies included: USD, EUR, GBP, ZAR, AUD and NZD
Data releases and relevant current affairs for the week
Currency movement forecasts, market analysis and expected data release results
Important events and predicted effects on currencies
Read all our Weekly Market Watch reports
The Pound and Aussie Dollar finished last week as winners, while the Rand's rally appears to be slowing.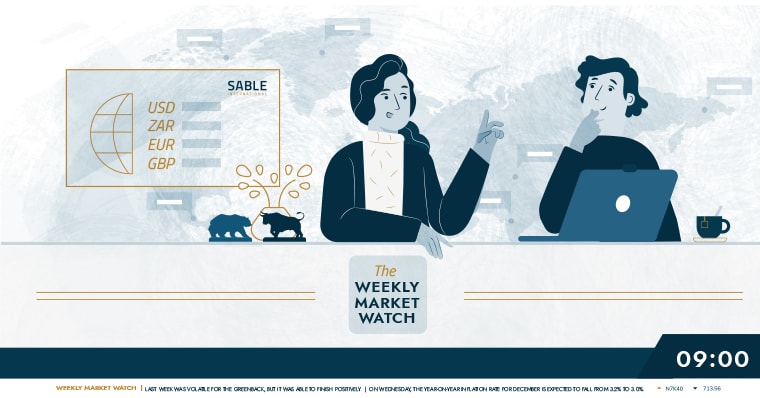 Week starting 10-05-2021
---
USD
Major USD weakness appeared at the end of last week following dismal employment data in the form of Nonfarm payrolls. This adds weight to the belief that the US Fed will keep rates lower for longer. USD weakness is anticipated to continue for the time being.
Wednesday will see the release of US inflation data, which is expected to increase – this would generally help the USD, but with the disappointment of Nonfarm payrolls on Friday, it might not help as much.
On Friday, US Retail sales data will be released. This is expected to drop and would have a negative effect on the USD.
EUR
This week saw positive data come from the EU. Market Manufacturing PMI picked up slightly to 6.9 in March (from 6.5 in April). This coincided with a higher market composite index of 53.8. All this is indicative of expanding economic activity. It is also telling to note that the German balance of trade (the biggest economy in the EU) came significantly higher (20.5 billion compared to 18.2 billion) than the previous month.
Despite the positive fundamentals, we still saw the EUR lose ground against the GBP for most of the week, with a low at EUR/GBP 0.862 on Wednesday from a 0.871 open on Monday. The EUR started trending positive on Thursday, closing at 0.868. Volatility remained the order of the day as the currency ranged between 0.868 and 0.866 for the rest of the week.
The focus this week will be on the European Central Bank's (ECB) monetary policy meeting on Wednesday and accounts meeting on Thursday. All eyes will be on prospects of the Pandemic Emergency Purchase Programme (PEPP) and any signs of tapering.
GBP
The UK remains on track to fully re-open by mid-June and recover to pre-pandemic levels sooner than expected. The Bank of England (BoE) has revised its GBP forecasts upwards and is expecting the economy to experience 7.25% growth in 2021.
The central bank announced its decision to hold rates at 0.1% in April, after the unanimous vote to do so in March. Bond-buying will remain at £875 billion. Construction Purchasing Managers' Index (PMI) stood at 61.6 in March.
The sterling pushed back against the faltering US Dollar, which saw the Dollar Index fall by 1.15%. The GBP/USD kicked off the week around the 1.3825 mark before rising and trading around the 1.3970 level, resulting in a 1.14% appreciation for the currency pair.
Next week, Balance of Trade for March will be released. The UK trade deficit is expected to rise to £8 billion. This widening of the trade deficit comes after the region reported a deficit of from £7.1 billion in February. Imports advanced by 12.9%, while exports experienced a relatively slower growth of 5.4%. GDP growth for Q1 of 2021 will also be released next week and is expected to come in at -4%.
ZAR
The Rand has made a strong push this last week off the back of some positive data around the country's trade surplus, which increased exports by 28.9% month-on-month.
The rate is currently trading at 19.76 to the Pound. The rate is showing signs of turning as it was trading around 19.55 on Friday last week.
This upcoming week will have many technical and fundamental data releases as inflation-based statistics are expected to rise.
AUD
The Aussie Dollar strengthened about 1.7% against the greenback last week and has continued its rally into the new week. It is currently trading at 1.272 USD/AUD.
The National Australia Bank (NAB) Business Confidence index figures for April were released this morning and reached a record high of 26 with confidence improved in all industries.
Retail sales figures for March were also released this morning and resulted in an increase of 1.3% month-on-month.
With not too much data set to be released this week, market sentiment is likely to take cues from the prevailing trend.
NZD
NZD pairs held up fairly well in the markets last week. After enduring headwinds in the mid-week trade, the Kiwi Dollar was able to hang onto previous gains against developed-market currencies. The GBP/NZD pair closed the week down by 0.43%, at 1.920 against the Pound.
New Zealand's Balance of Trade for March was released last week. While the country's trade surplus was forecasted to rise past NZD 200 million, the surplus narrowed to NZD 33 million, from NZD 181 million in February. While exports fell by 2.3% in March, imports rose by 11%.
Last week, the unemployment rate for Q1 was released, and fell to 4.7% after last quarter's 4.9% reading. While unemployment remains above pre-pandemic levels, the labour market has made a partial recovery from the highs of 5.3% unemployment.
The ANZ Business Outlook Index for New Zealand jumped by nine points in May, rising to seven from a reading of -2 in April and -4.1 in March.
---
Contact one of our consultants at forex@sableinternational.com or give us a call on +44 (0) 20 7759 7554 to get started on everything foreign exchange related.
We are a professional services company that specialises in cross-border financial and immigration advice and solutions.
Our teams in the UK, South Africa and Australia can ensure that when you decide to move overseas, invest offshore or expand your business internationally, you'll do so with the backing of experienced local experts.