Benefits of subscribing
Currencies included: USD, EUR, GBP, ZAR, AUD and NZD
Data releases and relevant current affairs for the week
Currency movement forecasts, market analysis and expected data release results
Important events and predicted effects on currencies
Read all our Weekly Market Watch reports
Monthly, quarterly and yearly reports will drive the global market this week.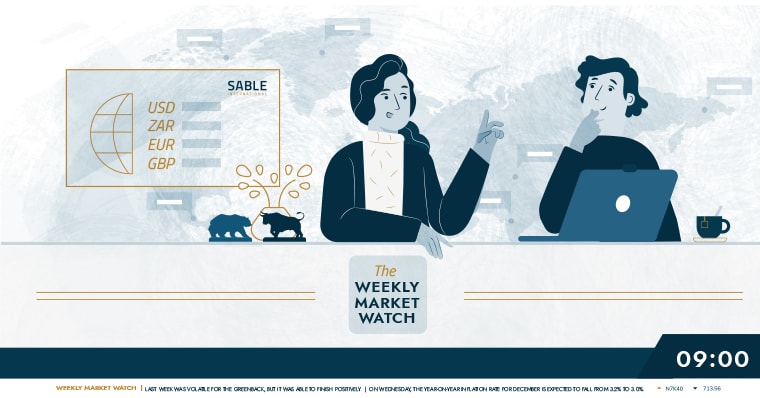 Week starting 15-02-2021
---
USD
The Dollar struggled once again this past week, despite a late rally on Friday.
Data out of the US was less than impressive due to concerns surrounding the employment situation and the maintaining of low interest rates.
Biden's stimulus bill is expected to remain a hot topic this week, but in terms of hard-hitting data reports, the greenback will be driven by January's retail sales data, which is expected to rise by 0.9%.
The Federal Open Market Committee (FOMC) will release its minutes on Wednesday, which will give some hints as to how the Federal Reserve will approach the resurgence of the American economy.
Purchasing Managers' Index (PMI) numbers are also due out on Friday and the expectations are that manufacturing, services and composite PMIs for February will fall.
EUR
It was a mixed, quiet week for the Euro.
European Central Bank (ECB) head, Christine Lagarde, has alluded to significant economic risk stemming from a potential resurgence in the virus.
We have some big data reports out of Europe this week, starting off with the German ZEW economic sentiment. Analysts predict a dip from 61.8 to 60, while the Eurozone's figure should improve from 58.3 to 59.2.
ECB meeting minutes are due out on Thursday. Dovish remarks could drag the Euro down upon its release.
PMI readings for France and Germany are expected out on Friday, French services should fall from 47.3 to 47.0, while the manufacturing figure should climb from 51.6 to 51.7. German manufacturing is expected to fall from 54.8 to 54.6, while the services figure has been forecast to dip to 46.5.
GBP
The sterling was able to make a late rally on Friday on the back of optimism that the UK is on track to reopen their economy.
The British Pound took significant gains on Friday after the Gross Domestic Product (GDP) grew by 1% from October to December, likely due to government spending and a boom in construction.
UK inflation data is due out on Wednesday – headline Consumer Price Index (CPI) for January is expected to fall from 0.6% to 0.5%, while the core CPI is forecast to decline to 1.2% year-on-year (YoY) from 1.4%.
Experts say that retail sales for January will tumble by 2.6%. Flash PMI reports are likely to have a significant impact on GBP pairs as the manufacturing index is set to reveal a slower pace of industry expansion with forecasts showing that it will fall from 54.1 to 53.1. The services index is likely to improve from 39.5 to 42.3, highlighting the slower pace of contraction.
ZAR
Cyril Ramaphosa's State of the Nation address seemed to have a subdued impact on the ZAR as it continued to rally.
The Rand is strengthening on the back of improved risk sentiment and anti-Dollar movements.
Inflation data and retail sales numbers are due out on Wednesday, the former is expected to rise to 3.2% YoY for January while the retail sales for December is expected to fall by 2.7% compared to last year and 2% compared to November.
Dollar movements, risk sentiment and the hesitant vaccine rollout are expected to move the Rand this week.
AUD
Once again, the Australian Dollar took the top spot last week.
Positive risk sentiment and optimistic updates from economic reports seemed to have contributed to the Aussie's gains.
This week, the AUD could be under some pressure as Victoria implements a circuit-break lockdown. Traders should also keep an eye out for speculations of an extended lockdown as it could trigger an AUD sell-off.
It will be a busy week for the AUD with the Reserve Bank of Australia (RBA) set to release its meeting minutes on Tuesday. We expect the minutes to give some insight on the key factors central bankers are looking at to warrant any policy changes.
Thursday will see the release of Australia's January employment data. It is expected that 30,000 jobs were added to the economy resulting in the unemployment rate sliding from 6.8% to 6.6%, the lowest since April 2020. Australia's biggest trading partner, China, has bank holidays in the first half of the week, which could put a lid on the Aussie's volatility.
NZD
The Kiwi Dollar retreated last week despite rising risk sentiment and better-than-expected NZ data.
Trade issues with China could have taken a toll on the Kiwi Dollar as China suspended seafood imports from New Zealand. A lack of market movers from New Zealand means that it could be down to counter-currency flows to move the comdoll.
The quarterly Producer Price Index (PPI) is out on Thursday, but it is expected to only make intraday movements.
NZD traders should keep an eye out for PMI releases from major economies, which should drive overall risk-taking throughout the week.
---
Contact one of our consultants at forex@sableinternational.com or give us a call on +44 (0) 20 7759 7554 to get started on everything foreign exchange related.
We are a professional services company that specialises in cross-border financial and immigration advice and solutions.
Our teams in the UK, South Africa and Australia can ensure that when you decide to move overseas, invest offshore or expand your business internationally, you'll do so with the backing of experienced local experts.