Benefits of subscribing
Currencies included: USD, EUR, GBP, ZAR, AUD and NZD
Data releases and relevant current affairs for the week
Currency movement forecasts, market analysis and expected data release results
Important events and predicted effects on currencies
Read all our Weekly Market Watch reports
Market predictions and forex forecasts for the week of 28 June 2021.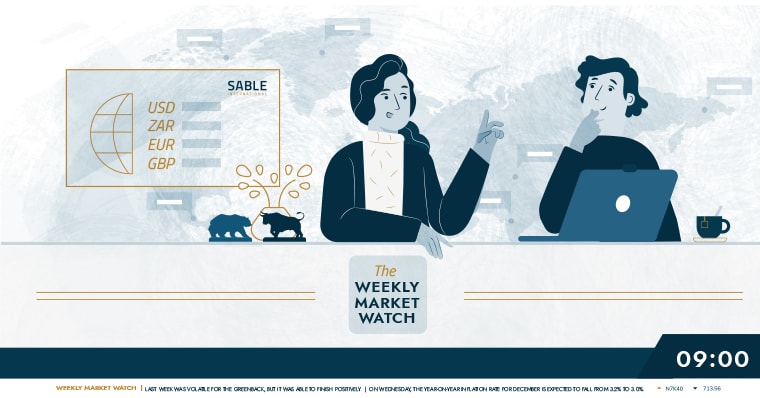 Week starting 28-06-2021
---
USD
The past week saw the USD edge back and forth, coming from a dramatic strengthening streak, to weaken into the close of the week, to strengthen once again as the markets opened on Monday. It was not a big week for data releases.

This coming week will be mostly quiet, but on Friday we have the nonfarm payrolls report. The figures have disappointed the past two months, which has caused a lot of the woes for the USD. If this report surprises to the upside, we should see some major USD strength following that.

---
EUR
This past week we saw a return of EUR volatility as fears of higher inflation played off against continued support for economic stimulus by the ECB and the resultant economic activity growth. Overall, we saw the EUR end the week stronger amid record increases in economic activity.
Positive PMI figures illustrated a significant growth in economic activity as lockdown measures are relaxed across the Eurozone. On the flip side, this has also accelerated inflation which weakened the EUR for most of the week. The currency only regained some ground on Friday after falling to 0.854 on Wednesday (closing at 0.859 on Friday).
The ECB president has reiterated her positive outlook on the Eurozone economy and has noted that inflation is rising. However, she has continued to say that inflation is temporary and is forecast to decrease by 2023. Much of the economic growth has been attributed to the effects of the PEPP. Thus, the ECB sees no need to end stimulus just yet.
---
GBP
This week, The Bank of England maintained its decision to keep interest rates at the ultra-low level of 0.1%, with 8/9 votes to hold the bond buying programme at £865 billion. Despite there being no changes to interest rates, nor the BoE's bond buying programme, the Pound was hit by a wave of weakness upon the BoE's interest rate announcement. Surprisingly, dovish monetary policy led to Sterling headwinds and GBP pairs took a mid-week hit.
After opening on the front foot, climbing up from 1.3810 and touching the 1.40 resistance level, the GBP/USD pair fell back down and closed the week around the GBP/USD 1.3875 mark.
Services PMI for June came in at 61.7, down from 62.9 in May. Manufacturing PMI also slipped slightly, from 65.6 in May, coming in at 64.2 for June. GfK consumer confidence came in at -9 again in June, after a reading of -9 in May.
The UK GDP growth rate Q1 will be released next week. Quarter-on-Quarter growth is expected to fall by 1.5%, after the previous quarter reported growth of 1.3%. Current account figures for Q1 of 2021 are also due, and are expected to report a current account deficit around £26 billion.
---
ZAR
The Rand weakened early on Monday morning after the country was moved to an adjusted level 4 restriction for 14 days. This will most likely keep the Rand under pressure in the coming months as a third Covid-19 wave moves across the country.
The Rand is currently trading at 19.83 against the Pound and 14.23 USD/ZAR, which is a gain of approximately 1.7% compared to last week Friday.
Emerging markets have an uphill battle this week as many developed countries release PMI data that will indicate the path forward amidst a struggling Covid-hit economy
---
AUD
Aussie pairs were fairly well supported in the markets last week, with GBP/AUD trending downwards and closing 0/95% lower. The GBP/AUD pair closed the week at 1.8290, after kicking off at 1.8450 on Monday.
This week, preliminary retail sales for May came in at 0.1%, falling short of the expected 0.5% growth. Manufacturing PMI for June came in at 58.4, underperforming the expected rise to 61, from 60.4 in May.
The balance of trade for May will be released next week Thursday. The trade surplus is expected to fall towards AUD $7 billion, from a reading of AUD $8.028 billion in April. Services PMI for June will also come due and is expected to fall slightly, from 58 in May to 56 in June. Final retail sales for May will also be released and is expected to rise by 0.1% (MoM) after April's reading of 1.1% growth. This is in line with the preliminary reading of 0.1% recorded this week.
---
NZD
The New Zealand Dollar had a week full of green days against the greenback. In total, the Kiwi Dollar gained about 2% against the USD and made significant gains against all other major currencies.
It's going to be a quiet week for the NZD this week as there are no major local news events scheduled.
We can expect the NZD to take cues from global data and market sentiment this week.
---
Contact one of our consultants at forex@sableinternational.com or give us a call on +44 (0) 20 7759 7554 to get started on everything foreign exchange related.
We are a professional services company that specialises in cross-border financial and immigration advice and solutions.
Our teams in the UK, South Africa and Australia can ensure that when you decide to move overseas, invest offshore or expand your business internationally, you'll do so with the backing of experienced local experts.