Benefits of subscribing
Currencies included: USD, EUR, GBP, ZAR, AUD and NZD
Data releases and relevant current affairs for the week
Currency movement forecasts, market analysis and expected data release results
Important events and predicted effects on currencies
Read all our Weekly Market Watch reports
The Jackson Hole symposium caused some volatility on Friday as US policymakers reiterate their dovish stance and alluded to the start of tapering for end of this year.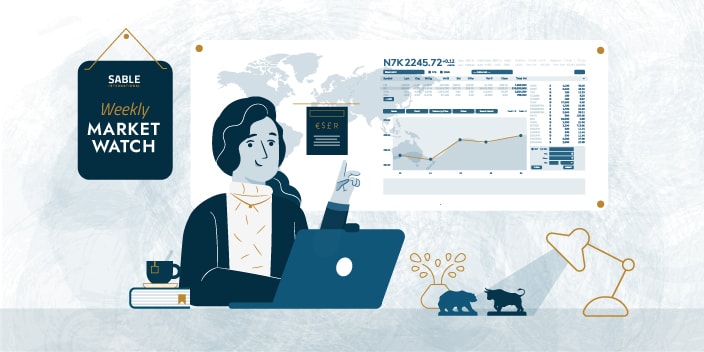 Week starting 31-08-2021
---
USD
The USD has been strong recently, which gave it scope to weaken. This week, we saw the USD weaken against 18 of the top 20 currencies worldwide, most dramatically against the ZAR, with a 2.86% movement.

On the data front, we have seen a slight increase in US initial jobless claims, which could have contributed to the observed weakness. Furthermore, US growth for the second quarter moderated to 6.6% from an expected 6.7%, which added to the turn in sentiment.

The annual Jackson Hole Symposium, where central bankers from around the world gather to coordinate plans for the year, took place on Friday. The main takeaway from this year was that the US will be delaying the tapering of bond buying slightly, which signals a further delay in US rate hikes.

Coming up this week, we have US nonfarm payrolls data on Friday, which is expected to moderate further and could mean more USD weakness on the horizon.
---
EUR
This week saw the Euro continue its bullish trend against most majors (USD and CHF cases in point). However, the EEA currency mainly ranged against the GBP (between 0.857 and 0.854) with an increase in volatility compared to the previous week.
The main driver of volatility this week was the decrease in EEA economic sentiment and rising inflation.
The Jackson Hole symposium also caused some volatility on Friday as US policymakers reiterate their dovish stance and alluded to the start of tapering for end of this year. This was one of the main factors causing the EUR to strengthen against "safe haven" currencies.
---
GBP
Counter-clockwise currency flows helped to offset the drastic moves seen in the forex market last week, after the release of the FOMC minutes led investors toward safer assets.
Last week, the UK provided further insight into the state of the economy, through preliminary services and manufacturing PMI releases. Services PMI fell to 55.5 in August, further than expected, from 59.6 in July. Staff shortages saw the lowest figure recorded since February.
Manufacturing PMI was recorded at 60.1 in August. Although the reading saw a decline, from 60.4 in July, manufacturing PMI declined by less than expected. Nevertheless, the reading still highlights the robust state of factory activity in the UK, despite manufacturing PMI dipping to a five-month low.
This week, nationwide housing prices for August will be released after 10.5% (YoY) growth was recorded in July. Mortgage lending and approvals for July will also be released along with final manufacturing and services PMI.
---
ZAR
The Rand bounced back significantly after last week's "flight to safety" saw the emerging market currency take a sizeable hit.
Despite the correction in the global forex market, the Rand suffered local headwinds in the form of poor unemployment data. The unemployment rate moved another 1.8% higher during the second quarter of 2021, coming in at 34.4%. Furthermore, the youth unemployment rate hit a new record high of 64.4%.
This week, South Africa will be releasing its balance of trade figures for July. The trade surplus is expected to narrow towards R53 billion, after a reading of R57.66 billion in June.
---
AUD
Last week was rather light on data from Australia. Preliminary retail sales came in at 2.7% for July, after a 1.8% (MoM) decline in June. Those most adversely effected were cafés, restaurants and takeaway services.
This week, Australia will release its GDP growth rate, for the second quarter of this year. GDP is expected to advance further, after Q1 saw year-on-year growth of 1.1% and month-on-month growth of 1.8%.
Balance of trade for July is due to be released this week, after a trade surplus of AUD 10.496 billion was reported last month. Final retail sales will also come due.
---
NZD
Last week saw the release of the balance of trade pertaining to July. The balance of trade reverted from a surplus in June to a deficit of NZD 425 million.
Building consents issued in July increased by 2.1% (MoM) to a record high of 4,207.
Today we saw the release of business confidence for August which resulted in the third consecutive drop in the index at -14.2.
We can expect the data relating to the second quarter's terms of trade to be released on Thursday.
---
Interested in keeping up with the market watch? Subscribe now for weekly updates
We are a professional services company that specialises in cross-border financial and immigration advice and solutions.
Our teams in the UK, South Africa and Australia can ensure that when you decide to move overseas, invest offshore or expand your business internationally, you'll do so with the backing of experienced local experts.