Benefits of subscribing
Currencies included: USD, EUR, GBP, ZAR, AUD and NZD
Data releases and relevant current affairs for the week
Currency movement forecasts, market analysis and expected data release results
Important events and predicted effects on currencies
Read all our Weekly Market Watch reports
The Rand reached its strongest point for the year last week, due in part to Dollar uncertainty.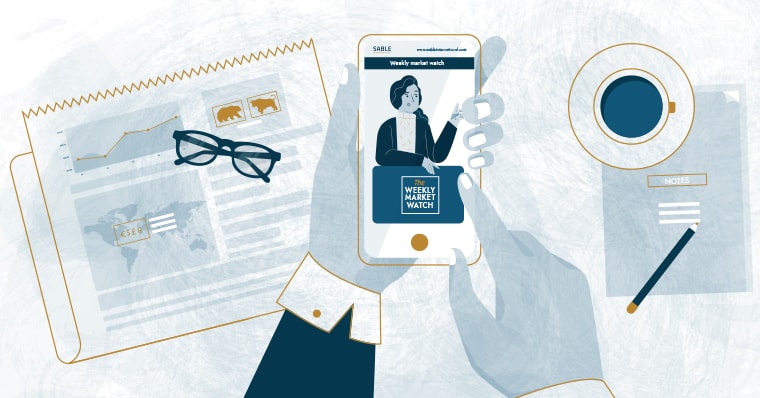 Week starting 14-06-2021
---
USD
In the past week we have seen the USD trade in a moderately narrow band, fluctuating in a range of approximately 0.6%. This shows that the market is not sure where things will be going over the next while.

The main data point from last week was the inflation print, which came out on Thursday. Although it was expected to be high; it was even higher than anticipated – raising concerns over "runaway inflation" while employment growth lags. This could be troublesome for the US in the medium-term.

Coming up this week, our focus shifts to the US interest rate decision. It has remained at 0.25% for quite a while and is not expected to change anytime soon, although this increased inflation will be a cause for concern for policymakers. This should be closely monitored as the tone used in the FOMC press conference post the decision will be a market-moving event.
---
EUR
This week saw a strong EUR, breaking the EUR/GBP 0.863 mark. The EUR gained significant ground against the GBP for most of the week due to a weaker Pound. We also saw the EUR trade mainly sideways against the USD and other majors as inflation fear still caps gains.
On Tuesday we saw employment change and GDP data being released. Although GDP figures for Q3 came in as expected, employment change data indicated a lower decrease than what was forecast. This is still indicative of increasing economic activity as lockdown measures are being slackened. However, input prices remain a concern for investors.
The ECB kept monetary policy virtually unchanged on Thursday and reiterated its stance on maintaining the PEPP. Again, saying that higher prices (both PPI and CPI) are still tolerable given the current economic conditions (supply bottlenecks and recovery from lockdown restrictions).
---
GBP
Balance of trade in the UK narrowed from a trade deficit of £2 billion to £0.9 billion, in contrast with an expected rise above £3 billion. Exports advanced by 2.5%, while imports moved forward by a marginal 0.4%.
Industrial production in the UK rose by 27.5% in April (YoY), while Manufacturing Production advanced by 39.7%. Although these figures highlight the uptick in production since this time last year, the readings slightly underperformed expected increases.
This week, the UK will release its unemployment rate for April, which is expected to fall marginally, from 4.8% to 4.7% (MoM). Retail Sales growth for May is also due, after last month's 9.2% rise.
Inflation is also due and is expected at 1.8% (YoY) after April's 1.5% reading. MoM inflation is expected to rise by 0.3%, after April saw a 0.6% increase.
---
ZAR
The continued bearish trend of the USD/ZAR rate has pushed the Rand to its strongest point for the year.
Coming to a key support level around 13.52 USD/ZAR has seen the Rand back off at the start of this week and currently trading at 13.72.
Large movements within emerging market sectors could be seen this week as the FX industries get ready for the US FOMC policy statement on Wednesday.
On the data front, we have SA retail sales data on Thursday. This is expected to improve by a staggering 55% YoY, but that is expected since the country was in the midst of a lockdown a year ago.
---
AUD
Last week Tuesday we saw the release of the NAB business confidence index for May. The index fell to 20 in May from a record high of 23 in April.
The Australian Dollar weakened by 0.5% against the greenback last week but has already showed some recovery this week.
Thursday will be a busy day for the Australian Dollar as employment figures for May will be released. The Reserve Bank of Australia is also expected to make a speech in the early hours of Thursday morning.
---
NZD
Over in New Zealand, manufacturing sales rose by 4.3% in the first quarter of 2021, exceeding the anticipated 3.5% rise. This was in line with business PMI (Performance of Manufacturing Index) in New Zealand, which edged slightly higher, to 58.6.
The Business NZ PSI (Performance of Services Index) in New Zealand increased to 61.2 in April 2021 from an upwardly revised 52.9 in the previous month. This is the highest reading since the survey began in 2007, mainly due to a stronger expansion in new activity employment inventories.
This week, New Zealand will release its Q1 current account reading, which is expected to narrow from a current account deficit of NZD 2.695 billion to NZD 1.1 billion.
GDP growth figures will be released and are forecasted to rise by 0.3% QoQ, after the -1% growth reading in Q4 of 2020.
We are a professional services company that specialises in cross-border financial and immigration advice and solutions.
Our teams in the UK, South Africa and Australia can ensure that when you decide to move overseas, invest offshore or expand your business internationally, you'll do so with the backing of experienced local experts.