Benefits of subscribing
Currencies included: USD, EUR, GBP, ZAR, AUD and NZD
Data releases and relevant current affairs for the week
Currency movement forecasts, market analysis and expected data release results
Important events and predicted effects on currencies
Read all our Weekly Market Watch reports
The US Dollar and Euro remained stagnant last week following mixed data releases.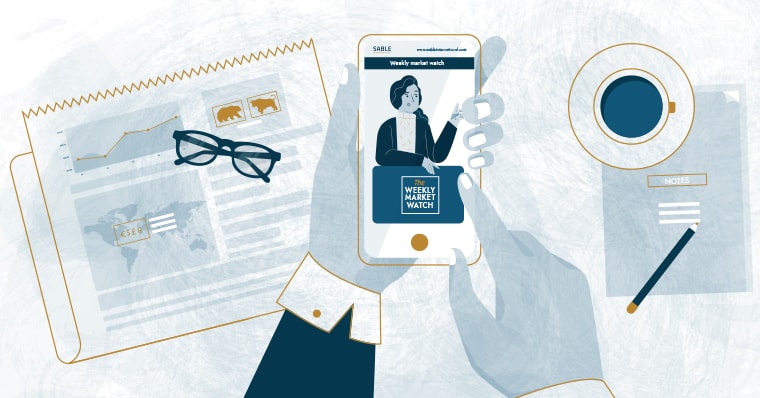 Week starting 24-05-2021
---
USD
The past week saw the USD rangebound, remaining on the back foot after two weeks of decline.
There were no major data events last week, resulting in the USD treading water.
GDP numbers for the first quarter will be released this week. They will likely rise from 6.4 - 6.5%; this is largely expected, with inflation hitting new highs recently.
EUR
The EUR started strong last week. This, despite continued tapering fears and further attention on the spread of the Indian Coronavirus variant.
A slew of Eurozone data was released as well – largely mixed, leading to significant volatility in the EUR/GBP pair. This is evidenced by the fact that the EUR/GBP traded in a very loose band for most of the week (between 0.859 and 0.863).
On Tuesday, it was confirmed that the Eurozone was officially in recession (as expected) with the release of negative GDP data. This followed employment change data dropping lower than expected for the month (-0.3% vs. 0.4%). However, it became evident that the European economy is still making strides towards recovery as the market composite Purchasing Managers' Index (PMI) showed significant activity, coming in higher than what was expected on Friday (56.9 vs. 52.6).
The European Central Bank (ECB) has again reiterated its commitment to maintaining the Pandemic Emergency Purchase Programme (PEPP) and stated that the need for tapering is still far off.
GBP
The sterling performed fairly well in the markets last week. GBP/USD moved upwards by 0.2%.
The unemployment rate in the United Kingdom fell by 0.1% in March, to 4.8%. The number of employed workers in the region increased by 84,000 during the first quarter of 2021. Furthermore, Claimant County Change declined in April, with 15,100 fewer people claiming unemployment benefits.
The UK Inflation rate is up to 1.5% (YoY), from 0.7% in March and 0.3% in February. Consumer Price Index (CPI) rose by 1.3% in April (YoY), while Core Producer Price Index (PPI) increased by 2.5%.
ZAR
The Rand has continued its strong rally off the back of the South African Reserve Bank (SARB) easing policy decisions and is keeping a straight course to meet upcoming growth forecasts.
Inflation forecasts for the coming year are lowered, but SARB warns that consumer prices could increase.
The global "risk on" sentiment is driving the Rand's strength and could continue to do so as commodity prices continue to climb higher.
AUD
The Australian Dollar weakened about 0.7% against the greenback and about 1.05% against the Pound last week.
Australian retail sales figures for April were released on Friday and revealed a 1.1% increase from March.
The Australian construction work done for the first quarter is expected to be released on Wednesday and is expected to increase by 1% compared to the previous quarter.
NZD
The Kiwi Dollar weakened about 1.16% against the greenback last week.
New Zealand's retail sales figures for the first quarter were released in the early hours of this morning and resulted in a 2.5% increase on quarter-on-quarter figures.
We can expect the balance of trade data for April to be released on Wednesday. It is forecast to decrease by NZD 100 million.
The Reserve Bank of New Zealand (RBNZ) is expected to make an interest rate decision on Wednesday, no change is expected. The interest rate decision will then be followed by a RBNZ press conference.
---
Contact one of our consultants at forex@sableinternational.com or give us a call on +44 (0) 20 7759 7554 to get started on everything foreign exchange related.
We are a professional services company that specialises in cross-border financial and immigration advice and solutions.
Our teams in the UK, South Africa and Australia can ensure that when you decide to move overseas, invest offshore or expand your business internationally, you'll do so with the backing of experienced local experts.