Benefits of subscribing
Currencies included: USD, EUR, GBP, ZAR, AUD and NZD
Data releases and relevant current affairs for the week
Currency movement forecasts, market analysis and expected data release results
Important events and predicted effects on currencies
Read all our Weekly Market Watch reports
Market predictions and forex forecasts for the week of 18 October 2021.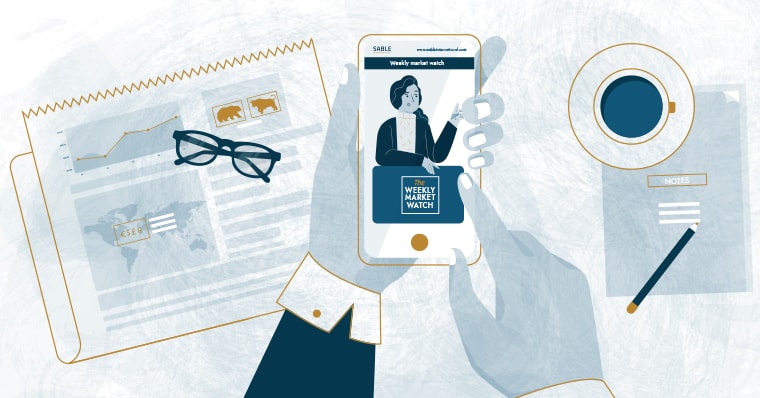 Week starting 18-10-2021
---
USD
The US inflation rate came in at 5.4% for September, marking a new 13-year high after the 5.3% reading in August. Food, shelter, and energy prices were major contributors to inflation figures. Federal Reserve policymakers have agreed that the tapering of emergency pandemic support should start in November or December, as stated in the minutes from the latest FOMC meeting.

The Dollar Index (DXY) fell by 0.46%, from 94.52 to a low of 94.00 on the day of the inflation rate data release. The EUR/USD pair moved 0.29% higher during last week's trade, closing at 1.160. Additionally, GBP/USD appreciated by 1.01% and closed the week just below the 1.3750 resistance level.

Another round of high inflation numbers re-sparked concerns over the persistence of upward price pressure seen during the economic recovery this past year. Markets are starting to weigh in the realistic possibility of a sustained high-inflation environment, as opposed to the transitionary conditions portrayed by many of the world's most powerful central banks. Investor skepticism can be seen in the bond market, with bond yields on 10-year US government bonds rising by roughly 10% over the past month, from 1.45% to 1.60%.

This week, US building permits and housing starts for September will be released. Building permits are forecast to shrink by 1.8%, after the previous month's 5.6% growth. Similarly, housing starts are expected at recline by 0.9%, after August's 3.9% expansion.
---
EUR
This past week we saw a significant decrease in the strength of the EUR. The common currency opened strong on Monday, reflecting some stability after the volatile previous week. By Tuesday, the EUR fell against most major currencies, including the GBP, closing at 0.842 on Friday. This was almost a 0.7% drop since Monday.
It appears that a shift in sentiment on the EUR has occurred. Rhetoric from the European Central Bank (ECB) points to more permanent inflation prospects. ECB policymakers have warned investors about the potential inflation risk which may persists in the medium term, thereby partially doing away with their "inflation is temporary" stance.
Data out during this past week points towards a stalling economy as supply chain issues persist and an energy crisis places upward pressure on inflation.
---
GBP
The number of employed people in the UK increased by 235,000, to 32.42 million, during the May-July period. While this figure marginally undercut analyst forecasts, the rise in job numbers highlights the continued re-stabilisation in the UK labour market.
The unemployment rate moved 0.1% lower in August, in line with market expectations, coming in at 4.5%. Furthermore, the claimant count change was reported at -51,100 for September, slightly exceeding the anticipated decline. Claims for unemployment benefits fell by 58,600 in August.
The balance of trade report was also released last week for the month of August. The UK's trade deficit widened further to £3.7 billion from a reading of £2.9 billion in July.
The UK's September inflation rate will be released this week. Year-on-year inflation figures are expected to hold steady at 3.2%. Month-on-month numbers are predicted to rise by another 0.4%, adding to the 0.7% uptick in August.
Furthermore, September's retail sales growth figures are expected to rise by 1.5% after the 0.9% decline in the previous month. GfK consumer confidence will be released for the month of October after the previous reading came in at -13.
---
ZAR
The South African Rand moved in accordance with recent inflation data and developed-market currency weakness. Both USD/ZAR and EUR/ZAR made drastic moves to the downside, in accordance with their safe-haven status, depreciating by 2.40% and 2.14%, respectively.
The Dollar closed off the week at R14.60 against the Rand, from an open of R14.96 on Monday. The Euro's similar price trajectory saw EUR/ZAR fall from R17.30 to R16.92 during the week's trade.
The Pound managed to endure the recent inflation headwinds relatively well compared to its safe-haven counterparts. The Pound held up better against the wave of emerging market strength, nevertheless shedding 1.40% in value against the Rand. After kicking off the week at R20.36, the GBP/ZAR closed off on Friday around the R20.06 mark.
Last week, the retail sales data released for August. Retail sales experienced 4.9% month-on-month growth after the previous month's 11.1% contraction. However, despite the monthly uptick in retail activity, year-on-year figures indicate a 1.3% decline in retail sales. Mining, gold, and manufacturing production figures were also released, yielding mixed results reported for the month of August.
This week, South Africa's inflation rate reading for September will be released. Forecasts indicate that analysts expect inflation to rise to 5% (YoY) after an increase from 4.6% to 4.9% was recorded in August.
---
AUD
The unemployment rate increased to 4.6% in September, up from 4.5% in the month prior. Results indicate that job numbers declined by 138,000, adding to the 146,300-decline seen in August. However, this decrease can be largely attributed to a drop-off in part-time employment, which declined by 164,700. On the other hand, full-time employment increased by 26,700 openings.
The National Australian Bank (NAB) business confidence index skyrocketed in September, rising from -2 in August up to a reading of 13. This increase comes after continued vaccination efforts and easing lockdown restrictions in the region, thus boosting economic optimism. However, the Westpac consumer confidence index declined by 2% in October, from 106.2 to 104.6.
Flash manufacturing PMI for October will come due after last month's recorded reading of 56.8. Flash services PMI for October is also scheduled for release after September's 45.5 figure.
---
NZD
The NZD strengthened against all its main trading partners, strengthening around 1% against the Pound and about 2% against the USD.
The inflation rate pertaining to the third quarter of 2021 increased by 2.2% on quarter. This is the largest increase since 2010 and well above the 1.2% forecast.
There is not much data expected in the coming week, but the NZD will look to continue its rally against a weaker USD.
---
Interested in keeping up with the market watch? Subscribe now for weekly updates
We are a professional services company that specialises in cross-border financial and immigration advice and solutions.
Our teams in the UK, South Africa and Australia can ensure that when you decide to move overseas, invest offshore or expand your business internationally, you'll do so with the backing of experienced local experts.