Benefits of subscribing
Currencies included: USD, EUR, GBP, ZAR, AUD and NZD
Data releases and relevant current affairs for the week
Currency movement forecasts, market analysis and expected data release results
Important events and predicted effects on currencies
Read all our Weekly Market Watch reports
Despite a new administration taking office in the US, retail sales, consumer prices and economic trend indexes will drive the data-heavy week ahead.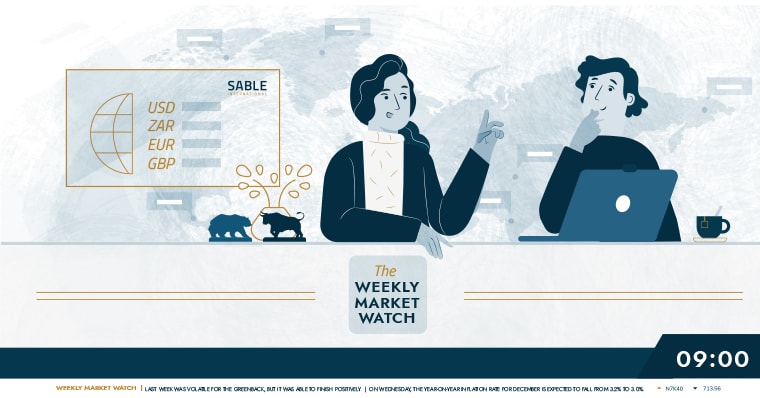 Week starting 18-01-2021
---
USD
Last week was volatile for the greenback, but it was able to finish positively thanks to risk aversion and the hopes of a smooth Presidential transition.
With Joe Biden's inauguration scheduled for Wednesday, the USD is likely to be under pressure.
Housing Starts for December should fall from 1.2% to 0.2%. Covid-19 cases and vaccination rollouts are likely to drive the US Dollar's price this week.
EUR
Growing expectations of further lockdowns forced the Euro to take the bottom spot out of the majors last week.
Signs of a mutated virus are also putting pressure on the Euro and should keep a lid on its gains.
The European Central Bank (ECB) will be making its monetary policy decision on Thursday. No rate changes are expected but we anticipate some remarks from the president of the ECD, Christine Lagarde on the Euro's appreciation.
ZEW economic sentiment for Germany should rise from 55.0 to 55.1 in January, while the Eurozone figure should dip from 54.4 to 54.1.
GBP
The Pound sterling rallied last week following Bank of England (BoE) Governor Bailey's comments on negative interest rates.
A few mid-tier reports out of the UK in the second half of the week are likely to impact the rates.
The Consumer Price Index (CPI) is expected to improve from 0.3% to 0.5% in December on Wednesday, then on Friday, retail sales for December is expected to rebound to 0.8%, following a 3.8% decline in November.
Purchasing Managers' Index (PMI) readings are also due out for the UK this week. Manufacturing PMI is expected to drop from 57.5 to 53.1, while the services PMI should drop from 49.4 to 45.4.
ZAR
The South African Rand struggled last week as the US Dollar started to rise.
Split talk of a rate cut and unchanged interest rates from the South African Reserve Bank (SARB) is keeping ZAR traders on their toes.
The Reserve Bank will be making its decision on Thursday afternoon, shortly after the release of its November retail sales figure, which is expected to decline by a further -0.6%.
On Wednesday, the year-on-year inflation rate for December is expected to fall from 3.2% to 3.0%.
The South African Rand has been under pressure following Eskom's announcement of another batch of load shedding that is likely to be in place until the end of April.
AUD
Without any catalysts out of Australia last week, global risk aversion was the main driver for the Aussie Dollar, but rising Coronavirus cases and the increased possibility of a lockdown pushed the AUD into the red.
It looks like it will be a busy week for the Aussies as we expect an increase of 40,000 jobs in January, while the unemployment rate could rise to 7%. On Friday, the retail sales figures for November should fall by 3% after climbing 7% in October.
On Monday morning, China will be dropping a load of data reports which should impact the AUD, as China remains the country's biggest trading partner.
NZD
Risk aversion drove the NZD down last week despite positive economic updates.
The country's quarterly CPI is due out on Thursday. It is expected to check in at 0.5% in the fourth quarter of last year, while the annual prices should slow down from 1.4% to 1.1%
The New Zealand Institute of Economic Research's (NZIER) business confidence should improve from -40 to -30 in the final quarter of last year, while the BusinessNZ manufacturing index should fall from 55.3 to 53.7.
---
Contact one of our consultants at forex@sableinternational.com or give us a call on +44 (0) 20 7759 7554 to get started on everything foreign exchange related.
We are a professional services company that specialises in cross-border financial and immigration advice and solutions.
Our teams in the UK, South Africa and Australia can ensure that when you decide to move overseas, invest offshore or expand your business internationally, you'll do so with the backing of experienced local experts.