Benefits of subscribing
Currencies included: USD, EUR, GBP, ZAR, AUD and NZD
Data releases and relevant current affairs for the week
Currency movement forecasts, market analysis and expected data release results
Important events and predicted effects on currencies
Read all our Weekly Market Watch reports
This week's economic calendar will be a little busier than last week, with key data due. Surprising UK growth, Australian job market results and looming rate hikes in the US could all influence the market.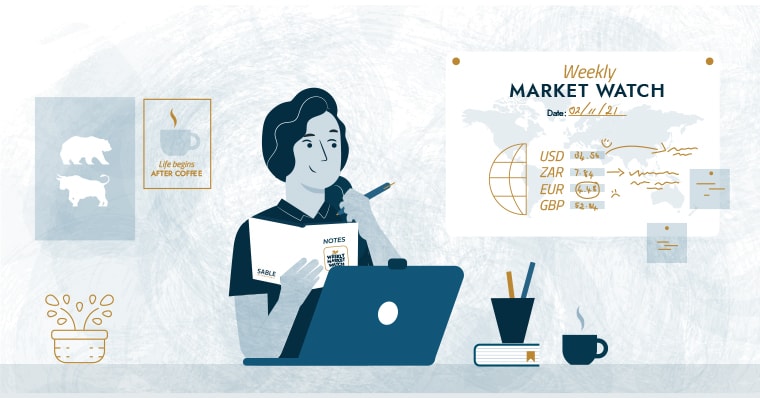 Week starting 12-04-2021
---
USD
The US Dollar pulled back slightly on concerns of rising inflation and higher cost of borrowing, highlighted by another round of rising Treasury yields. The Dollar Index (DXY) was down 0.92%, closing the week at 92.16, after opening at the 93.0 mark.
Nevertheless, the US produced another strong round of data, highlighting the country's progress towards a full economic recovery. ISM Services Purchasing Managers' Index (PMI) for March jumped to 63.7 from 55.3 (month-on-month) marking the highest ever-recorded growth in services. The countries Balance of Trade (February) indicates that its trade deficit widened to $71.1 billion from $67.8 billion month-on-month, as imports fell lower than exports.
While the economic recovery has been supported by enormous monetary stimulus, implications of looming tax rate hikes remain. Unemployment is still a major focus and concern. Weekly jobless claims rose up to 744,000, from 728,000 month-on-month, after analyst forecasts came in around 680,000.
This week, Retail Sales are expected to grow by 4% to 5% in March, after February's 3% decline. US Inflation Rate (March) is expected to rise towards 2%, after inflation rose from 1.4% to 1.7% in February. Federal Reserve Chair Jerome Powell believes that inflation will rise above 2% in the short term, exceeding target. Nevertheless, the Fed has indicated that it is more worried about average inflation.
EUR
While the US and UK are looking to re-open their doors, the Eurozone is battling to contain Covid-19. Rising numbers of infections and lockdown restrictions remain a major concern for the region.
Nevertheless, the Euro saw an improvement in the markets this last week, supported by the European Central Bank's (ECB) continued bond-buying programme. GBP/EUR saw some improvement, driven by fresh optimism over the Euro Area's vaccination campaign and the sterling sell-off. GBP/EUR fell by 2.05%, ending a five-week appreciation streak for the pair. GBP/EUR closed the week around 1.1515, after opening at 1.1757 on Monday.
This week, Retail Sales data is expected to come in lower than last month, which could weigh negatively on the Euro. Consumer Price Index (CPI) data will also be released this week, on Friday. Manageable inflation figures are likely.
GBP
The sterling experienced a notable sell-off in the markets, ending the currency's multi-week rally. The Pound depreciated against most G10 currencies, as a risk-on market mood turned investors away from the developed currency. The GBP/USD pair declined by 0.87% during the week, closing around 1.3710 after opening at 1.3825 on Monday.
Despite the short-term correction in the Pound, the UK's fundamentals remain strong. Services PMI (March) rose up to 56.3, up from 49.5 in February, highlighting the region's economic progress. Construction PMI for March came in at 61.7, jumping up from 53.3 in the previous month.
Furthermore, Boris Johnson indicated that his Covid recovery roadmap is on track, with non-essential retail, gyms and pubs reopening on 12 April. With the uptick in economic activity, analyst forecasts indicated that the UK will reach pre-covid economic activity by the beginning of Q4 this year. However, despite good growth forecasts, concerns of withdrawal of stimulus and tax rate hikes are starting to weigh on market participants. The threat of sustained unemployment could see another UK rate cut, especially if jobless numbers rise.
This week, the Balance of Trade for February will be released and the trade deficit is expected to widen to more than £2 billion, after January's -£1.6 billion. Nevertheless, the upcoming week will be a slow week for data, with not much on the cards. The main focus will be on the vaccine rollout and easing of lockdown restrictions.
ZAR
The Rand strengthened drastically against most of the majors, riding on the back of an emerging market bounce back. Leading the way for emerging market currencies, the ZAR continued to rally throughout the week against developed market currencies.
The GBP/ZAR pair depreciated by 1.25% during the week's trade. The pair fell from an open of R20.22 and touched lows of R19.90, before settling and closing the week around the R20.00 resistance level. While the USD/ZAR pair held up slightly better, the pair also moved downwards by 0.53%, closing around R14.60.
This Wednesday, we have Retail Sales due, which is expected to come in lower than previous months. Not much else is expected on the data front, which is likely to lead to a quiet week for the Rand. More likely, the ZAR will be influenced by global factors and risk-on sentiment.
AUD
The Aussie Dollar ended the week on the front foot against developed market currencies, benefitting from emerging market strength and Pound weakness. In the markets, the Aussie Dollar firmed by 0.21% and 1.11% against the US Dollar and Pound, respectively.
Last week, the Reserve Bank of Australia (RBA) did not surprise anyone with its decision to leave interest rates unchanged at 0.1%, while Services PMI for March climbed up to 55.5 (from 53.4).
This week, National Australia Bank (NAB) Business Confidence for March is expected to rise further to 18, after February came in at 16. This will mark the highest Business Confidence since 2010. Westpac Consumer Confidence Index is also expected to rise, highlighting the improved sentiment for the region. Australia's unemployment rate for March will be released on Thursday, after February's 5.8% figure. Any rise in unemployment could weigh negatively on the Aussie Dollar, while an improvement will contribute to the country's current optimism.
NZD
Last week, the Kiwi Dollar was favourably influenced by the wave of emerging market strength and sterling weakness. In the absence of any notable local data releases, NZD pairs moved mostly on counter-currency ebbs and flows.
While the USD/NZD pair ended the week flat, GBP/NZD fell by 0.88%. GBP/NZD closed the week around 1.9480, after opening at 1.9660 on Monday.
This week will be another light week of local data. NZ Business PMI is forecasted to rise above 54, after February came in at 53.4.
---
Contact one of our consultants at forex@sableinternational.com or give us a call on +44 (0) 20 7759 7554 to get started on everything foreign exchange related.
We are a professional services company that specialises in cross-border financial and immigration advice and solutions.
Our teams in the UK, South Africa and Australia can ensure that when you decide to move overseas, invest offshore or expand your business internationally, you'll do so with the backing of experienced local experts.