Benefits of subscribing
Currencies included: USD, EUR, GBP, ZAR, AUD and NZD
Data releases and relevant current affairs for the week
Currency movement forecasts, market analysis and expected data release results
Important events and predicted effects on currencies
Read all our Weekly Market Watch reports
Market predictions and forex forecasts for the week of 12 July 2021.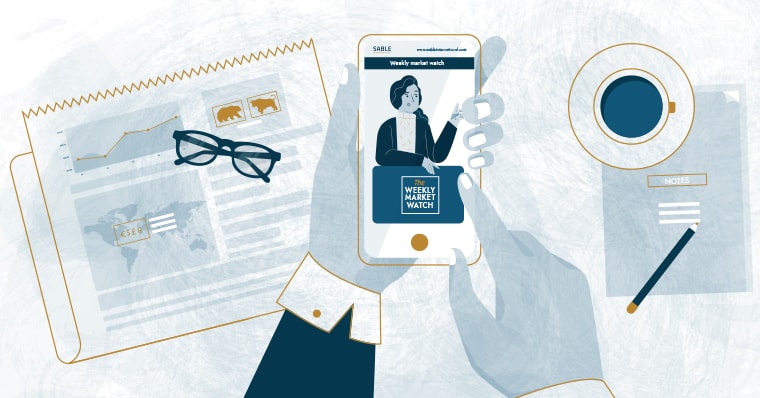 Week starting 12-07-2021
---
USD
Last week, the Federal Open Market Committee minutes provided further insight into the perceived recovery of the US economy. The Fed noted that progress on vaccinations has led to the easing of lockdown restrictions, thus aiding in the reopening of the economy. Coupled with monetary and fiscal policy, the Monetary Committee believes that the economy is continuing to make steady progress.

Equity markets opened at record highs, as markets appear to favour positive growth data over inflationary fears. The S&P 500 Index reached 4,380, while the Dow Jones moved up by 0.3%, towards the 35,000 mark.

The central bank reinforced it will be appropriate to maintain the current target range for the federal funds rate until full employment in the labour market has been acceptably achieved. The Fed also expects QE purchases to continue at least at the current pace until substantial further progress has been made toward its maximum employment and price stability goals. The Fed reiterated their beliefs that inflation will moderately exceed 2% in the near term, but remain confident in their long-term forecasts of inflation returning to more sustainable levels.

This week, investors will keep their eyes on the upcoming inflation data. Core inflation is expected to rise to 4% for June, up from the 3.8% reading in May. Retail sales will also come due, after June's month-on-month decline of 1.3%.
---
EUR
In the Eurozone, the ECB announced their medium-term inflation target of 2%. European Central Bank President, Christine Lagarde, indicated that the ECB will continue to maintain sustainable financial conditions and support the economy, suggesting that further financial support is necessary for the economy to reach full operational capacity.
Retail sales in the Eurozone experienced 4.6% month-on-month growth during May, exceeding expectations and improving on the 3.9% decline seen in April. Services PMI also advanced, coming in at 58.3 in June, after a reading of 55.2 in the previous month.
This week, the core inflation rate for the Eurozone will come due. Markets are expecting inflation of 1%, for June, similar to May's report. Balance of trade figures will also be released, as the trade surplus is forecast to rise from April's recorded surplus of €10.9B.
---
GBP
Last week, the UK released its balance of trade figures for May. After recording a trade deficit of -£1.6 billion in April, the UK reported a trade surplus of £0.9 in May. This is the first trade surplus recorded in almost a year, as exports reached a 16-month high of £51.64 billion.
Construction PMI came in at 66.3 in June. This reading exceeded the previous month's 64.2 figure, despite an anticipated decline. Manufacturing production increased by 27.7% in May after April's year-on-year rise of 39.1. Industrial production increased by 20.6% (year-on-year) in May and 0.8% (month-on-month).
This week, the UK will report its inflation rate for June. Year-on-year inflation is expected to come in slightly higher, at 2.2%, after May's reading of 2.1%. Month-on-month inflation is expected to rise by 0.2%, after the previous month's sizeable 0.6% uptick.
The UK's unemployment rate for May will come due and is expected to remain around 4.7%. The number of individuals claiming unemployment benefits is expected to fall by a further 120,000 claims, for June, after May's Claimant Count Change reading of -92,600.
---
ZAR
The Rand kicked off the week with a significant pullback, largely attributable to the rapid uptick in Covid-19 cases throughout the country. Coupled with the disappointing vaccination rollout, the oncoming third wave has left investors concerned about future growth. Political unrest, relating to the arrest of former president Jacob Zuma, has also led to further market skepticism. While investors appear to sit on the sidelines for the time being, the Rand depreciated against most major currency counterparts.
On Monday, the Rand depreciated by 1.50%, 1.03%, and 1.49% against the Pound, Dollar and Euro, respectively. GBP/ZAR is currently trading below the R20.0 support level, while the USD/ZAR pair has moved upwards to the R14.40 level. EUR/ZAR rose from an open of R16.91 to R17.08.
---
AUD
Last week, the Reserve Bank of Australia held its interest rate at the ultra-low level of 0.1%. Economic data indicates that retail sales increased by 0.4% in May, building on the 1.1% growth in April. Services PMI, however, fell from 58.0 in May to 56.8 in June.
This week, data out of Australia will provide further insight into the overall economic confidence in the region for July. NAB consumer confidence is forecast to fall slightly to 19, from a previous reading of 20 in June. Westpac consumer confidence is expected to decline by 2.5%, after June's 5.2% decline.
Australia's unemployment rate will be released for June. Markets anticipate a rise in unemployment, up from 5.1% towards the 5.5% level. Employment change is expected to come in at -25K, with 10K new part-time jobs expected to net off the 35K expected decline in full-time employment. This comes after Australia added 115.2K new jobs in May, of which 97.5K were related to full-time employment.
---
NZD
On Wednesday, we can expect the Reserve Bank of New Zealand to make an interest rate decision. It is unlikely that the Reserve Bank will change interest rates from the record low of 0.25%, set in May 2020.
The inflation rate for the second quarter of the year is set to be released on Friday. Inflation is expected to increase by 0.3% compared to the previous quarter.
---
We are a professional services company that specialises in cross-border financial and immigration advice and solutions.
Our teams in the UK, South Africa and Australia can ensure that when you decide to move overseas, invest offshore or expand your business internationally, you'll do so with the backing of experienced local experts.