Benefits of subscribing
Currencies included: USD, EUR, GBP, ZAR, AUD and NZD
Data releases and relevant current affairs for the week
Currency movement forecasts, market analysis and expected data release results
Important events and predicted effects on currencies
Read all our Weekly Market Watch reports
Risk sentiment is set to drive major economies over the coming week, on the back of widespread vaccine deployment.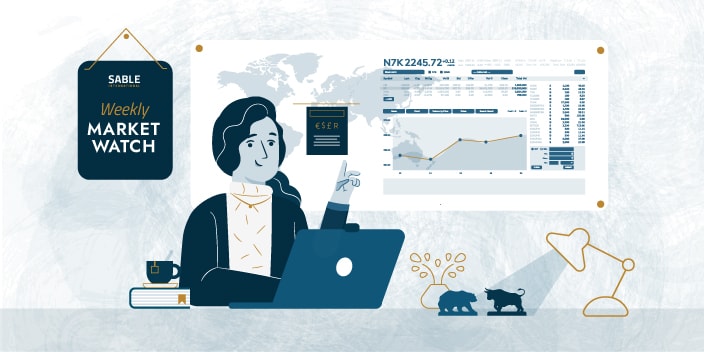 Week starting 14-12-2020
---
USD
The US Dollar is in the red again, alongside a slight positive lean in risk sentiment with Covid-19 vaccine approvals spurring on global risk trends.
This week the US Dollar is set to bounce around with the Federal Reserve Bank anticipated to make its interest rate decision on Wednesday. No change is expected, but we should keep our eyes peeled for economic projections and the press conference that follows for any updates on the stimulus package.
On Wednesday afternoon, retail sales are expected to fall by 0.3% for November. However, risk sentiment should be the biggest driver this week as we see the Covid-19 vaccine rolled out in major economies.
EUR
Economic updates came out better than expected last week, but all the Brexit drama has traders tiptoeing around the Euro ahead of the finale this weekend.
PMI readings out of Europe is expected to drive the Euro with any Brexit developments. French PMI's are expected to climb while Germany and the Eurozone's figures are anticipated to slide.
Germany's ifo business climate index should also fall on Thursday from 90.7 to 90.2.
Risk-off flows should see the Euro climb higher while increased focus on the distribution of the Covid-19 vaccine would be positive for risk sentiment.
GBP
The British Pound ended up as the biggest loser last week as a no-deal Brexit looked increasingly likely and the Bank of England's (BoE) financial stability pushed the GBP down further.
This week, medium-tier UK data is expected to take the backseat to Brexit talks and the BoE's policy decision.
On Thursday, no changes are expected to the interest rates and asset purchases should remain unchanged.
Contingency plans are expected to be announced in the event of a no-deal Brexit.
ZAR
The South African Rand continues to trade in a narrow band as it waits on risk sentiment to break past the respective ZAR 20/EUR and ZAR 15/USD levels.
Locally, increasing Covid-19 cases and updates on lockdown restrictions could move the Rand.
President Cyril Ramaphosa is expected to implement further restrictions this week. As such, the Rand could be negatively influenced by any major changes to the current approach to contain the virus, which has started to spike into a second wave.
AUD
Risk appetite and better-than-expected domestic data drove the AUD higher last week as Covid-19 vaccine approvals led to a boost in global optimism.
This week, Australia will be releasing its labour market numbers, we expect no change to the unemployment rate after it rose to 7.0% in October.
The AUD is expected to be unmoved by this event as the result should not impact the Reserve Bank of Australia's (RBA) policy plans.
China will be releasing a load of data this week, its fixed asset investment, industrial production, retail sales and unemployment rates are all expected to tick higher on signs of improvement.
While increased tensions on the Chinese-Australian trade spat could push the AUD lower, positive developments can lead to overall AUD strength.
NZD
The NZD ended as a net winner last week in what was a subdued week. Brexit developments and vaccines drove the rate, so it was likely counter-currency action that took the Kiwi Dollar higher.
This week, New Zealand will be releasing its GDP results for the third quarter, after officially entering a recession in the second quarter. Analysts expect a jump of 15.1% in the third quarter.
Business confidence should climb to 7.4 in December from the -6.9 in November when Australia and New Zealand Banking Group (ANZ) release the data on Friday.

---

Contact one of our consultants at forex@sableinternational.com or give us a call on +44 (0) 20 7759 7554 to get started on everything foreign exchange related.
We are a professional services company that specialises in cross-border financial and immigration advice and solutions.
Our teams in the UK, South Africa and Australia can ensure that when you decide to move overseas, invest offshore or expand your business internationally, you'll do so with the backing of experienced local experts.