Benefits of subscribing
Currencies included: USD, EUR, GBP, ZAR, AUD and NZD
Data releases and relevant current affairs for the week
Currency movement forecasts, market analysis and expected data release results
Important events and predicted effects on currencies
Read all our Weekly Market Watch reports
A week of heavy data releases from the US, UK and SA will lead to some overall volatility.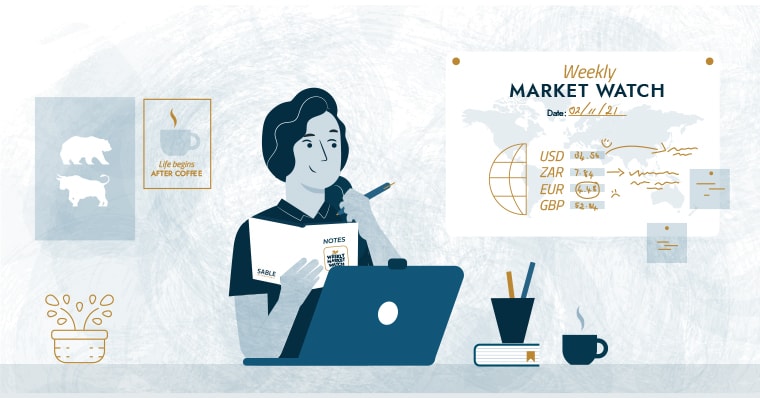 Week starting 17-05-2021
---
USD
Last week we saw US inflation data skyrocket to 4.2%. This caught the market off-guard, and the effects were seen across asset classes.
This week there isn't much on the data front, but we are still waiting to see the repercussions of the Consumer Price Index (CPI) shocker of last week.
The main event this week is the release of the Federal Open Market Committee's (FOMC) minutes on Wednesday. This, coupled with weak jobs growth from two weeks ago, should lead to new developments on the inflation front. The US Fed will have to manage an intricate balancing act to keep the economy growing without overheating.
EUR
The EUR/GBP traded in a tight band for most of the week, hovering between 0.861 and 0.858. The EUR lost significant ground against the GBP, breaking a low of 0.8566 on Wednesday. Thereafter we saw the EUR gain some ground later in the day, before ranging within the above-mentioned price band for the rest of the week.
The EUR held on to its gains from the previous week and opened the week on a strong note. These gains could not be maintained however, and the EUR lost some ground against the GBP due to inflation fears.
The European Central Bank (ECB) foresees no change in the Pandemic Emergency Purchase Programme (PEPP), as reiterated in its non-monetary meeting on Wednesday.
The EU economy continues to grow, however, not at a quick enough pace to drive inflation higher. This is evident in the industrial production data released on Wednesday (a lower-than-expected increase). The EUR ZEW economic index pointed to highly positive sentiment in the economy (84 compared to 70.7 in April). It is hoped that further growth will be possible as vaccination progress, combined with the PEPP stimulus, will boost the economy in the medium to long term.
GBP
GDP data indicates that the UK economy contracted by 1.6% in Q1 of 2021, amid a hard lockdown where economic conditions were severely curtailed by Covid-19.
The Balance of Trade for the United Kingdom came in at -£0.9 billion in March, from -£2 billion in February. The trade deficit narrowed by £1.1 billion.
Manufacturing production jumped by 4.8% in March (year-on-year), while industrial production rose by 3.6%. In both cases, production increased for the first time since the beginning of 2019.
The GBP/USD pair experienced a 0.89% rise during the week, pushing back against the faltering US Dollar. After kicking off around the 1.3975 mark on Monday, GBP/USD touched highs of 1.4166, before experiencing a partial correction and closing the week just below the 1.41 resistance level.
Next week, retail sales growth figures for April will be released, along with the GfK Consumer Confidence Index for May. Investors will also be keeping an eye on the inflation rate for April, which will be released this week, after March saw inflation rise from 0.4% to 0.7%. The UK unemployment rate will also be released next week and is expected to tick back up to 5% for March, after a 4.9% reading in February.
ZAR
The ZAR has weakened over the past week. Its winning streak had been going quite some time and a pullback was expected.
The possible threat of a third wave of Covid-19 infections, coupled with the lack of an adequate vaccination rollout, has also weighed on the currency.
Inflation data will be released on Wednesday and the interest rate decision will be announced on Thursday. These figures could possibly move the markets and should be monitored.
Furthermore, S&P's rating review of South Africa will be out on Friday.
AUD
The AUD is mostly driven by regional economics and is highly influenced by commodity price dynamics. This week saw the AUD lose significant ground against the GBP as Asian Pacific economies reacted to a tech sell-off and renewed pandemic reactions in Japan.
On the data front, we noted a decrease in building permits compared to April, as well as a decrease in new home sales. Australia also registered a higher unemployment rate on Thursday compared to the previous month. This points to a weaker short-to-medium-term economy and will continue to place downward pressure on the AUD.
The AUD was mainly weaker against the GBP this week. However, we saw a slight pullback at the end of the week as commodity prices continued to grow.
NZD
The Kiwi Dollar underperformed in the markets last week, ending a six-week winning streak. Both the GBP/NZD and USD/NZD pairs appreciated throughout the week's trade, by 1.15% and 0.26%, respectively. After opening last Monday at 1.9190, GBP/NZD jumped to highs of 1.9675 on Wednesday, before closing the week around 1.9420.
Last week, the Business Purchasing Managers' Index (PMI) came in at 58.4 for April, after it jumped to a record high of 63.6 in March.
This week, retail sales for Q1 of 2021 will be released and are expected at 2.5% after a 2.7% quarter-on-quarter decline in Q4 of 2020.
The Business Performance of Services Index (PSI) will be released this week, after PSI increased to 52.4 in March from an upwardly revised 49.7 in the previous month.
SGD, HKD and AED
Both the HKD and AED fell in line with the US Dollar last week, with GBP/HKD and GBP/AED pairs rising by 0.91% and 0.88%, respectively. SGD faired comparatively worse in the markets, as a spike in Covid-19 infections sent the region back into lockdown. The Singapore Dollar took losses against the Pound, appreciating by 1.46% and closing the week at GBP/SGD 1.8780.
In Hong Kong, the GDP growth rate was released, coming in at 5.4% after the region experienced 0.5% quarter-on-quarter growth in Q4 of 2020. This week, the unemployment rate for April will be released, after March saw unemployment come in at 6.8%. The year-on-year inflation rate will be out too, after last month's 0.5% reading.
Singapore's balance of trade widened to $5.685 billion, from $5.61 billion in March. Non-oil exports slumped by 8.8%, the first month-on-month decline since last October. Next week, Singapore's inflation rate for April will be released and is expected to rise towards 2%, after a year-on-year inflation reading of 1.3% for March.
---
Contact one of our consultants at forex@sableinternational.com or give us a call on +44 (0) 20 7759 7554 to get started on everything foreign exchange related.
We are a professional services company that specialises in cross-border financial and immigration advice and solutions.
Our teams in the UK, South Africa and Australia can ensure that when you decide to move overseas, invest offshore or expand your business internationally, you'll do so with the backing of experienced local experts.