Aston University in Birmingham is offering several scholarships for international students for the September 2022 intake.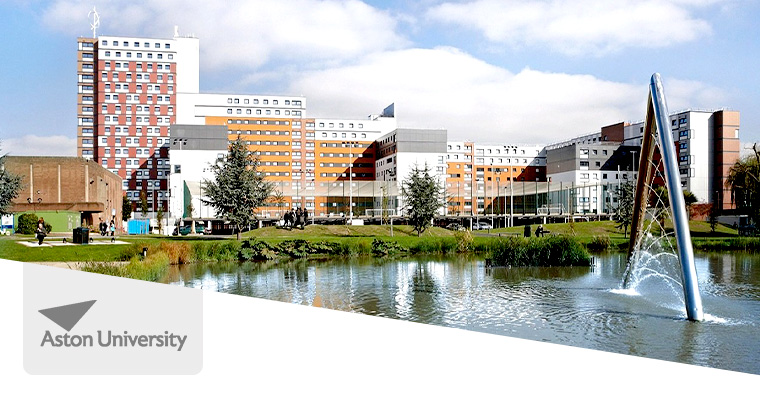 Aston University welcomes students from over 120 different countries every year. Located in the centre of Birmingham, Aston University is an international centre of learning in a dynamic city.
Aston University is investing over £1 million in scholarships to support international students in achieving their career ambitions. Here are the international scholarships that they are offering in 2022.
Aston University's Vice-Chancellor's International Scholarship
This is Aston University's most prestigious scholarship. The Vice-Chancellor's International scholarship is valued at £8,000 and available to undergraduate and postgraduate students. Aston University is looking for the most outstanding students who have achieved exceptional academic results and can demonstrate a passion for their subject through professional work experience, volunteering, or extracurricular projects and activities.
The final application deadline is 31 July 2022.
Global Ambassador scholarship
This scholarship of £3,000 is for students who want to be the future face of Aston University. The Global Ambassador scholarship is awarded to 25 students who can represent Aston University on the global stage and tell future generations of students what Aston is like. Global ambassadors can represent Aston University in various ways, including attending open days, events, or posting on social media.
The final application deadline is 31 July 2022.
Aston Enterprise scholarship
Aston University is offering a 100% scholarship and two 40% scholarships to students who demonstrate that they have the potential to be successful entrepreneurs in the future. The Aston Enterprise scholarships are for students who plan to study a one-year master's course beginning in September 2021.
Applicants will need to submit a minute-long video of an idea for a future business which demonstrates that:
Their idea is different to what currently exists
Their idea can grow despite starting small
The business can start immediately after graduation
Their the business is founded in the Birmingham or West Midlands region
The application deadline is 25 April 2022
Women in Engineering scholarship
The Women in Engineering Scholarships is designed to attract the brightest and best female students to study at Aston University. This scholarship offers successful applicants a tuition fee discount of £6,000, a mentorship programme throughout their course, and networking opportunities with business and industry.
The final application deadline for this scholarship has yet to be decided.
GREAT scholarships for select African and South Asian students
GREAT Scholarships are jointly funded by Aston University with the UK government's GREAT Britain campaign and the British Council. They are offering £10,000 towards tuition fees for any one-year postgraduate-level taught course to one student from each of the following countries who will enrol at Aston University in the 2022-23 academic year.
Bangladesh
Egypt
Nepal
Kenya (justice and law only)
In order to apply for this scholarship, you must have achieved the equivalent of a UK 2:1 degree qualification. You must also be a national and a current resident of a country listed above.
The final application deadline for the GREAT scholarships is 12 June 2022.
Aston University's MBA scholarships
Aston University offers a range of MBA scholarships which recognise academic professional and personal experience.
There are three different scholarships available for MBA applicants:
MBA Dean's Award scholarship
MBA Future Leaders Award scholarship
MBA Aston Edge scholarship
The final application deadline for this scholarship has yet to be decided.
Ferguson scholarships for Indian and African students
Ferguson scholarships of £10,500 will be exclusively available to seven students from Africa and India. These scholarships are supported by the Allan and Nesta Ferguson Charitable Trust who are dedicated to improving educational opportunities for students who would not otherwise be able to consider studying in the UK.
Applications close on 30 April 2022.
Can I apply for more than one scholarship?
You can only receive one scholarship, but you are able to apply for multiple scholarships. If you are successful in being awarded multiple scholarships, the highest value scholarship will be awarded to you. Scholarships will automatically be credited to your student account in the form of a tuition fee reduction.