Read more about our business immigration service
We cover all aspects of business immigration in this section. Select a card below to read more about that topic.
The UK's points-based immigration system
The Tier 2 (General) category was replaced by the Skilled Worker route. Employees must obtain a total of 70 points to be eligible for a Skilled Worker visa. Requirements include, but are not limited to:
Meeting the minimum skills threshold
Meeting the minimum salary level of £26,200 or the going rate for the job (as per the applicable Standard Occupational Classification), whichever is higher
Passing the English language requirement
Apply for a sponsor licence
To employ a worker from outside of the UK, you must first obtain a sponsor licence. This includes workers from the EU, Iceland, Liechtenstein, Norway and Switzerland who arrived in the UK after 31 December 2020.
You won't need a licence to employ workers from Ireland and those with indefinite leave to remain, settled status or pre-settled status.
The licence you will need to apply for will depend on whether you are hiring temporary or long-term employees. A Worker licence is for long-term or permanent job offers and a Temporary licence is for temporary job offers. You can apply for a licence that covers either or both of these tiers.
How to register as a licenced UK visa sponsor
You must apply online, submit all the necessary documents and pay a fee. There are various requirements set by UK Visas and Immigration that must be met in order to gain your sponsor license– we can help ensure that your business satisfies all the criteria.
Talk to the UK visa and immigration experts.
Employ workers on short-term work visas
We can assist and advise on the process of hiring short-term international employees for all your seasonal job roles or temporary contracts. The process is much the same as hiring a long-term employee.
The Global Business Mobility route
The Global Mobility route is a collection of visas designed for businesses wishing to establish a presence in the UK, or transfer employees from an overseas branch for specific purposes.
You can employ experienced workers or graduate trainees.
Talk to the UK visa and immigration experts.
Immigration skills charge
You need to pay an additional fee for each non-UK employee you hire. This is called the immigration skills charge, which was introduced in 2016.
You must pay the immigration skills charge if you have workers who are applying from:
Overseas, to work in the UK for six months or more
Inside the UK for any length of time
How much it costs
The fee depends on:
The size of your organisation
How long the worker will be employed by you
Immigration compliance audits
The Home Office can, at any point, conduct an inspection of your company to make sure you are complying with your immigration duties. This inspection will ensure that the information you provided as part of your sponsor licence application is accurate and that you are able and continue to comply with the duties and responsibilities of a licensed sponsor. You may also receive a visit before a decision on your sponsor licence is made. These visits can be announced or unplanned, so it's important to always be prepared.
Our knowledge and understanding of the Home Office's auditing procedures and standards will ensure your company remains compliant. We'll conduct all the necessary checks and offer advice on where improvements can be made. The Home Office also make a commitment to visit each licenced sponsor at least once during the life cycle of the licence, which is normally four years
Meet your business immigration team
Talk to our experienced consultants, OISC-registered advisers to see how we can help with your business immigration needs.
Darren Faife

Managing Director: Business immigration

Saskia Johnston

Service Delivery Director

Melissa King

UK Consultant Support

Samantha Beukes

UK Consultant Support

Jodi Adams

UK Consultant Support

Tobias Strom

Business Immigration Consultant

Maxine Furlong

Business Immigration Consultant

Nicola Digby

Senior Consultant

Julian Dearson

Head of Immigration Compliance

Coco Chen

Education Corporate Service Consultant

Steve Paxton

Managing Director: UK Education Corporate Services
Darren Faife

Managing Director: Business immigration

Darren has over 25 years' experience heading award-winning organisations as well as providing immigration and compliance services to large-scale, multinational businesses.

Having run his own successful immigration practice for over 20 years, Darren possesses a strong commercial mindset and provides an efficient delivery of strategic solutions, while consistently driving value contributing to core business objectives.

Darren joined Sable International in 2020 to bring his wealth of expertise to our business immigration services. He is registered with the OISC at level 2 in UK Immigration.

Outside of work, Darren is a "car man", who makes his annual trip to Le Mans every year.

Saskia Johnston

Service Delivery Director

Saskia has over 10 years of experience within the Sable International Team. Saskia graduated from the University of Cape Town with a B. Sc. (Masters) in finance and a sub-major in economics. She has a keen interest in financial services and immigration which made her the perfect candidate to help drive our Business Immigration team forward. Saskia has a passion for exceptional customer service and is now responsible for the Business Immigration team's service delivery.

A confident, enthusiastic individual with a great attitude and a keen motivation to learn. Saskia has spent the last decade growing a very strong and powerful professional business development network in London. Her growth and strategic approach to relationship-led new business has produced some fantastic results and she has enjoyed implementing these successful sales strategies with her team in London. She has extensive experience in all aspects of foreign exchange and business immigration and can apply her high-level, target-driven sales and account management approach to the success of her role.

Outside of work, Saskia loves experiencing new cultures and travel is at the top of her "spare time" list."

Melissa King

UK Consultant Support

Melissa is a culinary trained chef and she has predominantly worked in the hospitality industry. She is passionate about customer service and attention to detail. Prior to joining Sable International, she was a restaurant manager for Chart Farm as well as a part-time events coordinator.

She is a bubbly, creative person who loves to travel and experience new things. In her free time she enjoys cooking, spending time with family and watching movies.

Samantha Beukes

UK Consultant Support

Samantha was born and bred in Cape Town, South Africa. After spending the last nine years in various customer service and a team lead role, Samantha has decided to make a career change and applied for the role of UK Consultant Support at Sable International, where she will assist the Business Immigration team.

Samantha is dedicated to always provide excellent customer service. She is ambitious and goal driven.

In her free time, she loves to spend time with her family and friends.

Jodi Adams

UK Consultant Support

Jodi is a goal orientated and dedicated individual with an honours finance educational background and shares a passion for people with over five years of experience within the customer service industry. After Jodi completed her studies she decided to embark on a new experience and applied to Sable International, where she will assist the Business Immigration team.

In Jodi's spare time she enjoys taking scenic pictures and adventuring outside Cape Town admiring the beautiful views nature has to offer.

Tobias Strom

Business Immigration Consultant

Tobias was born and raised in London to American and German parents. After completing his law degree from Nottingham Trent University he has worked across both the UK and USA before finding his passion in immigration.




He joined Sable as a registered adviser with the OISC at level 1 and has extensive knowledge in both immigration and nationality, assisting private and corporate clients with their UK immigration matters.




He loves playing football amongst other sports and is an avid Tottenham Hotspurs fan.

Maxine Furlong

Business Immigration Consultant

Maxine grew up in Cape Town, South Africa and has completed her BComm degree.

She joined our Immigration team in our Cape Town office where she gained valuable experience in UK immigration and citizenship casework.

Maxine has since moved to our London office and has completed her OISC level 1 exam; and continues to broaden her knowledge and experience in UK immigration.

In her spare time Maxine will take any opportunity to travel, explore new cities and cultures.

Nicola Digby

Senior Consultant

Nicola has over 14 years of immigration experience in private and corporate immigration, with a focus on large-scale, multinational business immigration. She graduated from the University of Wolverhampton with a Bachelor of Law and has worked in the immigration sector since this time.

She joined Sable International as a Senior Consultant and is registered with the OSIC as a level 2 UK immigration adviser.

Outside of work, she enjoys seeing as much of the world as possible, spending time with friends, family and her two cats. She also plays netball for her local club.

Julian Dearson

Head of Immigration Compliance

Julian joined the Home Office, Immigration Department in 1983 where he processed and managed multiple immigration and nationality applications. In 1991 he established Dearson Winyard, a company that went on to be one of the largest and most successful independent immigration advisory firms in the UK. After 26 years of success, the company was sold and Julian has spent the last five years pursuing his own personal ambitions.

Julian is responsible for establishing and managing an immigration compliance offering for business immigration clients. This includes undertaking compliance audits to evaluate our clients' compliance with the UKVI sponsor licence requirements. Julian has a broad and varied immigration experience, covering both corporate and private client work, including sponsor licence applications.

Outside of work, Julian spends much of his free time either dog walking or away in his RV with his family.

Coco Chen

Education Corporate Service Consultant

Coco was born in Taiwan and raised in Hong Kong. She completed her bachelor law degree in the United Kingdom.

Before joining Sable International she worked in a London city law firm as an immigration paralegal.

Outside of work she enjoys oil painting and spending time with family and friends.

Steve Paxton

Managing Director: UK Education Corporate Services

Steve is the Managing Director of the UK Education Corporate Services division. He is an experienced international investment business owner, UK independent school boarding expert, UK Child/Student sponsor licence specialist, including overseeing many UKVI compliance inspections and has been the Commercial Director of a UK immigration firm.

As a student global mobility specialist, he intends to make Sable International a trusted supplier of advice and support to UK independent schools and their worldwide agents, in the complex sector of Home Office compliance and visa acquisition for UK-bound international students.

Outside of work, Steve loves travelling, spending time with his family and new grandchild, a quadruple World Cup hockey coach and player, and is currently an England hockey masters player.
Get in touch
Fill in your details below and one of our expert advisers will be in touch as soon as they are able.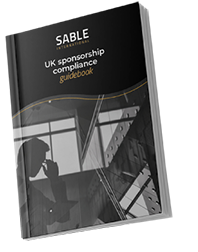 Get your free UK sponsorship compliance guidebook
Making sure you're fully compliant as a UK visa sponsor can be a headache.
That's why we're providing this essential guidebook with expert tips.
Close