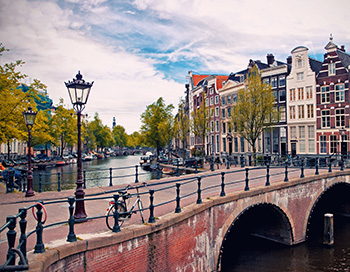 There are more bicycles in the Netherlands than people – over 22 million and counting.
An estimated 90% of the population can speak English.
"Holland" is the combined name for two of the provinces. There are a total of 12 provinces.
The Netherlands is famous for cheese, windmills, clogs and Armin van Buuren.

Education system in the Netherlands
The education system is the Netherlands differs somewhat from others around the world and is split into two types:
Universities
Dutch higher education offers two types of education: Research-oriented education (offered by research universities) and higher professional education (offered by universities of applied sciences). A third, smaller, branch of higher education is provided by institutes for international education, which offer programmes designed especially for international students.
Colleges
Vocational education (known locally as "beroepsonderqijs") varies from six-month programmes to programmes that last four years, depending on the level of specialisation. There are two pathways: school-based and work-based. There are around 70 colleges in the Netherlands, split into agriculture, specialised (for a specific industry) and multidisciplinary, which offers courses across technology, social services, economics and more.
Postgraduate studies in the Netherlands
Most postgrad programmes in the Netherlands are taught in both English and Dutch, so there is no need for incoming students to be fluent in Dutch.

Pre-master's
A pre-master's helps to bridge the gap if your previous education does not fully meet the entry requirements of a master's programme. It helps you bring your knowledge and skills to the required level in six months to a year. Many universities offer pre-masters courses to prepare students for the rigours of a master's programme.
Master's
Dutch master's degrees are second-cycle qualifications meaning that they require a bachelor's degree for entry. Both Research Universities and Applied Science Universities offer master's degrees. However, only a master's obtained from a Research University allows you to enrol for a PhD. Master's degrees take between one and two years to complete depending on the course.
PhD
A PhD from a Dutch university is highly regarded because of the country's high academic standards. In the Netherlands a PhD will take you four years to complete and consists of original research and a dissertation. A PhD is not regarded as study, but as serious research and candidates in the Netherlands are often in paid employment.
Why study in the Netherlands
English is widely spoken
Every year students from all over the world come to study in the Netherlands. Approximately 90% of Dutch citizens speak English, which makes living, studying and working in Netherlands easy and pleasant for international students. Several universities also offer courses that are taught in English, as long as you can submit proof of the required level of English.
Excellent career opportunities
The Netherlands has one of the largest economies in the world. Some of the world's biggest multinationals are Dutch, including Philips, Heineken, KLM, Shell, ING and Unilever. The Netherlands is a world leader in many areas of expertise, including agriculture, water management, art & design, logistics and sustainable energy.
Affordable study costs
Compared to other English-speaking countries such as the UK or US, studying in the Netherlands is a lot more affordable. With such a high standard of living, it's great value for money. There are also a lot of scholarship opportunities.
Safe and happy country
The Netherlands is one of the world's safest countries and has a reputation for providing an excellent quality of life. Netherlands also often ranks high on the world happiness report and has a very high standard of living.
Cost of studying in the Netherlands
For non-EU students, the average tuition fee for a bachelor's programme is between €6,000 and €15,000. A master's programme costs between €8,000 and €20,000. Students living and studying in the Netherlands for one year spend between €800 and €1,100 a month.
Student visas for the Netherlands
To study in the Netherlands for more than 90 days you will need a Provisional Residence Residence Permit and a Residence Permit. Your sponsor (the educational institution) will have to apply for this visa for you.
Health insurance
It is a legal requirement to have health insurance. There are different types and which one you need depends on your personal situation.
We'll help you apply for admission and your visa
Working in the Netherlands (as a student)

There are some rules if you want to work in the Netherlands while studying, if you are not from the EU/EEA or Switzerland. Your employer has to provide you with a personal work permit, which allows you to either work for a maximum of 16 hours a week during the year, or full time during the months of June, July and August.

The exception to this rule is if you want to do an internship which is relevant to or a part of your study programme, in this case you will not need a work permit.
Post-study opportunities in the Netherlands
In the Netherlands, the most common post-study work visa for international students is called the "Orientation Year residence permit".

There are two main benefits to this residence permit:

You and a partner or spouse can live and work without restriction in the Netherlands for a year after your graduation. This means you can take on any kind of work, paid or unpaid, without a work permit.
You are increasingly likely to eligible for the highly skilled migrant residence permit, making you more appealing to potential employers.
To be eligible for the Orientation Year residence permit, you need to have completed an accredited bachelors or masters degree, or a PhD, at a Dutch university in the last three years.
If you find work and wish to stay in the Netherlands for longer than a year, you can apply to change your residence permit, depending on the job you have.
What Study Abroad can do for you
Browse through our catalogue of international universities and educational institutions to discover what they have to offer.
2. Tailored admissions advice
We guide you through the various study abroad programmes and help you choose what and where to study, tailored to your education and career goals.
3. Application and admissions support
Our access to the admissions department at our partner universities and educational institutions means that students get a quicker, more streamlined application process.
4. Visa application assistance
Once you've been accepted at an international university, our advisers will guide you through the visa application process and assist you in preparing the necessary documents required for submission.
5. Pre-departure assistance
We can help you organise everything from on-campus accommodation to airport pickups and orientation in your new home.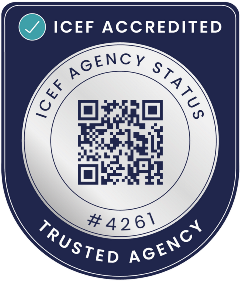 Accredited members of ICEF
As the official, direct, in-country representative for our university partners, we continually train to ensure we are up to date with the correct procedures for each country and educational institute. We're proud to be accredited members of the ICEF, and confident in the exceptional service offered by all our study advisers.
Get in touch
Fill in your details below and one of our expert advisers will be in touch as soon as they are able.