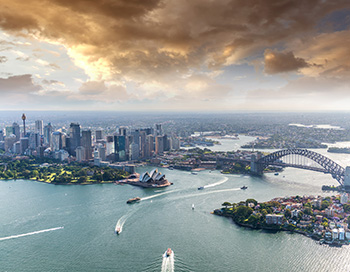 Australia is the only country that is also a continent.
About a third of the country's population consists of foreigners.
Australia is famous for The Great Barrier Reef, the Outback, surfing beaches, kangaroos, fairy bread and Jacob Elordi.
Education system in Australia
There are two main types of tertiary education in Australia: vocational education and training (which includes Technical and Further Education institutions (TFEs)) and higher education (which includes universities and leads to bachelor's, master's and doctoral degrees).
In Australia it is quite common for students to enrol in a double or combined bachelor degree programme, which leads to the award of two bachelor degrees. This is most common in the fields of arts, commerce, law and science.
Australia has 43 universities, 40 of them being Australian, two international universities and one private university, offering international students a wide variety when it comes to choosing where they want to study.
Australian institutions rank among the world's best by discipline, particularly in engineering and technology, medicine, environmental science, and accounting and finance. Australia's number one university, Australian National University (ANU) also ranks 31st in the QS World University Rankings 2021.
Postgraduate studies in Australia
Australian universities offer a range of postgraduate study options. They can be a great way to fast-track your career or take your studies in a new direction. Once you complete your course program, you may have the opportunity to work in Australia.
Pre-master's
After completing your undergraduate degree, you can follow it up with a postgraduate certificate or diploma. Certificates are short courses that take six months to complete and give you a chance to focus on a specific area covered in your undergraduate programme or to gain skills in a new area.
A postgraduate diploma is a more intense course and takes 12 months to complete and admission can be based on significant work experience.
Master's
A master's is a degree in a specialised course of independent research, traditional coursework, or a combination of the two. Traditional academic programmes taught entirely by coursework are generally 18 months long. Courses that include foundational training or require vocational placements may be longer. A master's degree from an Australian university can help make you a leader in your field.
Most master's programme degrees take between one and two years to complete. Some two-year master's courses have work placement in the second year, so you can graduate with work experience.
PhD
A PhD is the highest award offered at Australian universities. A doctorate differs from a master's in that you will be conducting original research which makes a major contribution to your field of study. It usually takes up to four years to complete.
Top quality universities
International students who choose to study in Australia have a wide variety of course options available. When it comes to Australia's 43 universities, it's a case of quality as well as quantity. Seven Australian universities ranking in the top 100 of the QS World University Rankings of 2022.
Excellent career opportunities
Australia offers a Temporary Graduate Visa (subclass 485) that allows some international students to remain in Australia and continue to work for up to two years after they have graduated on a student visa. If you enjoy your time studying in Australia, you may be tempted to extend your stay.
Cultural diversity
Australia is a melting pot of cultures. This presents the opportunity to experience many new cultures but it also means it's very easy to find an expat community where you will feel welcome. Australia is home to one of the biggest international student communities in the world.
The great outdoors
Australia is famous for its amazing weather and diverse terrain, which lends itself to an adventurous outdoor lifestyle, with great opportunities for surfing, bushwalking and exploring the outback. It's also home to species of wildlife that you won't encounter anywhere else in the world.
Cost of studying in Australia
Tuition and accommodation fees will depend on your location, educational institution and course of choice.
The average fee for a bachelor's degree in Australia is between AUD 20,000 and AUD 45,000 per year. While a master's or PhD degree will set you back between AUD 22,000 and AUD 50,000 per year. Vocational education and training costs from around AUD 4,000 to AUD 22,000 per year.
Accommodation costs in Australia start at around AUD 165 per week to rent a room.
Getting an Australian student visa
To apply for an Australian Student visa (subclass 500) you will need to provide evidence that you are enrolled in a course of study at an Australian university, meet the English language requirement and prove that you have enough money to support yourself while staying in Australia.
Our study abroad advisers are here to help you with every step our your journey to studying in Australia and this includes assistance with applying for your student visa.
Health insurance
International students in Australia and their dependents (for example, spouses and children under 18 years old), must obtain Overseas Student Health Cover (OSHC). It includes cover for visits to the doctor, some hospital treatment, ambulance cover and limited pharmaceuticals.
Working in Australia (as a student)
Most student visas allow you to work for up to 40 hours every two weeks while your course is in session, and unrestricted hours during any scheduled course break. Jobs in industries like retail, hospitality, services, tutoring and administration offer flexible hours that work well with student schedules.
Working while you study in Australia can help complement your study and living experience. Australia also pays some of the highest minimum wages in the world, which means having a job can help make studying abroad in Australia much more affordable and even budget-friendly.
Post-study opportunities in Australia
If you truly enjoy your time studying in Australia, you may be tempted to stay on longer. Australia offers a Temporary Graduate visa (subclass 485) that allows some international students to stay in Australia and continue to work after they have graduated. Australia relies heavily on skilled graduates to fill employment shortages in the country and so well-paying jobs are common.
We'll help you apply for admission and your visa
What Study Abroad can do for you
Browse through our catalogue of international universities and educational institutions to discover what they have to offer.
2. Tailored admissions advice
We guide you through the various study abroad programmes and help you choose what and where to study, tailored to your education and career goals.
3. Application and admissions support
Our access to the admissions department at our partner universities and educational institutions means that students get a quicker, more streamlined application process.
4. Visa application assistance
Once you've been accepted at an international university, our advisers will guide you through the visa application process and assist you in preparing the necessary documents required for submission.
5. Pre-departure assistance
We can help you organise everything from on-campus accommodation to airport pickups and orientation in your new home.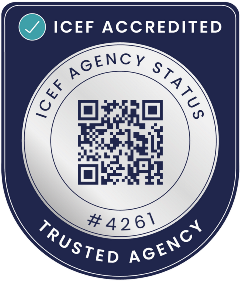 Accredited members of ICEF
As the official, direct, in-country representative for our university partners, we continually train to ensure we are up to date with the correct procedures for each country and educational institute. We're proud to be accredited members of the ICEF, and confident in the exceptional service offered by all our study advisers.
Get in touch
Fill in your details below and one of our expert advisers will be in touch as soon as they are able.