UK work visas
How does the old Tier 2 visa differ from the Skilled Worker visa?
The Skilled Worker visa replaces the Tier 2 visa. The two visas are largely the same, but there have been some favourable amendments:
The Tier 2 skill requirement of NQF level 6 has been reduced to NQF level 3 (A Level) under the Skilled Worker category
There is no resident labour market test i.e., there is no need to advertise the role prior to sponsorship
The minimum salary requirement has been lowered from £30,000 to £26,200
No cooling off period – if you leave the UK, you no longer need to wait before applying for another Skilled Worker visa.
Due to the lowered skills threshold referred to above, the scheme is now open to a much broader range of occupations that were previously excluded.
Does a worker need an offer letter to apply for a Skilled Worker visa?
An offer letter is not a requirement. However, a secured offer is. The employer needs to issue a Certificate of Sponsorship (CoS) for the candidate, using the Sponsor Management System. The worker will then use the CoS to apply for their Skilled Worker visa.
Can I bring my family to the UK on a work permit?
Yes, dependants can accompany the main applicant. Dependants include a married partner or children under the age of 18. They can work free of restrictions – meaning they can find any job they like or set up a business. Your children can attend UK state schools free of charge.
What happened to the Intra-Company Transfer visa?
The ICT visa has been discontinued to make way for the Senior and Specialist Worker visa under the Global Business Mobility route.
There are a few key differences between the two:
Workers on this visa are no longer allowed to take on supplementary work
The salary threshold has increased from £41,500 to £42,400
Creative sector jobs below RQF level 6 are no longer eligible for the route
Like the ICT visa, the Senior and Specialist Worker visa is not a route to settlement.
One welcome change is that Senior and Specialist Workers may switch to Skilled Worker visas, which was not possible under the old Tier 2 route.
What is the difference between the Sole Representative of a Business visa and the new Expansion Worker visa?
The Expansion Worker visa replaces the Sole Representative visa and there are a few key differences between the two:
The shareholder percentage rule has been done away with. Under the old rules, the applicant couldn't own or control more than 50% of the shares in the overseas parent company. This is no longer the case as long as it can be demonstrated that the overseas business will continue to operate as the parent business once the UK branch is formed.
The Sole Representative visa did not require sponsorship, whereas the Expansion Worker visa requires the UK business to be incorporated and registered as a licensed sponsor.
There is no need to prove your knowledge of the English language for the Expansion Worker visa.
The Expansion Worker visa does not lead to indefinite leave to remain like the Sole Representative visa did. You will have to switch to another visa (e.g., Skilled Worker) after you have arrived in the UK to settle permanently.
The Sole Representative route only allowed one person to go to the UK to expand the business. However, the Expansion Worker visa allows a team of up to five to be sponsored and set the business up.
Can a person enter the UK on a Standard Visitor visa to look for work?
Seeking employment isn't prohibited on the Standard Visitor visa. However, an Immigration Officer can refuse entry to anyone they suspect is not a genuine visitor and intends to engage in employment in the UK without the necessary permissions.
Apply for your Skilled Worker visa today with the help of expert consultants
The Resident Labour Market Test
If a role has already been advertised and you've been unable to recruit, will this be enough for the Resident Labour Market Test?
This is no longer a requirement for the Skilled Worker visa, but any evidence of unsuccessful recruitment for the role should be retained as part of the employee's HR file.
Although there is no Resident Labour Market Test, is there still a need to prove the role cannot be filled by a settled worker?
While there is no longer a mandatory requirement to conduct a Resident Labour Market Test, it remains a requirement that any role filled by a migrant worker is for a genuine vacancy. We would therefore recommend advertising for certain occupations to ensure you can demonstrate you've met this requirement.
Sponsor licences for employing overseas workers
How long is a sponsor licence valid for?
Once approved, a sponsor licence is valid for four years.
What are the reasons that a sponsor licence could be revoked?
Common reasons for a sponsor licence being revoked or suspended include:
Providing false information when making your application
Employing migrants for jobs that do not meet the requisite skill level
Failure to pay the migrant the appropriate salary
Failure of human resource policies and procedures
Employing a migrant worker in a role that is different to that specified on the Certificate of Sponsorship
Can recruitment agencies apply for a sponsor licence?
A recruitment agency can apply for a sponsor licence to employ their own staff members, but not for the purposes of sponsoring workers to work for other employers.
What is the minimum length of time an employee can be sponsored for?
There is no minimum length on how long the Certificate of Sponsorship (CoS) may be valid.
If the company that offers you a job does not yet hold a sponsorship licence we can help them apply for one.
Right to work checks
What is a statutory excuse?
A statutory excuse is an employer's defence against a civil penalty in the event that an employee is found to be working illegally.
To establish a statutory excuse, employers must do one of the following before the employee commences employment:
A "manual" right to work check
A right to work check using Identity Document Validation Technology (IDVT) via the services of an Identity Service Provider (IDSP)
A Home Office online right to work check
What happens if I don't perform a right to work check?
All UK employers must perform a right to work check on every person they employ. If you are found employing someone who doesn't have the right to work in the UK and you have not performed a compliant right to work check, you could face a fine of up to £20,000. You could also lose your sponsor licence.
We're here to help. Speak to our business immigration experts today.
Immigration charges
Is the immigration health surcharge paid by the employee or employer?
The IHS can be paid for by either you or your employee.
Is the immigration skills charge paid by the employee or employer?
The immigration skills charge was introduced in 2017 in a bid to encourage UK businesses to train British citizens to fill skilled roles and reduce the UK's reliance on migrant labour. Therefore, employers are liable to pay this fee when sponsoring a Skilled Worker from outside of the UK.
Settling in the UK
Can an employer offer a permanent role to an individual on the Graduate route?
Yes, they can, and the student is able to switch to the Skilled Worker visa should this be appropriate. It is important to note that any time spent on the Graduate route does not count towards the five-year qualification period for indefinite leave to remain.
How long does it take to qualify for indefinite leave to remain and citizenship?
If you are on a qualifying visa, you must be present in the UK for five years, before you can qualify for permanent residency, otherwise known as indefinite leave to remain (ILR). Once you hold ILR for 12 months, you may be eligible for British citizenship.
Can you change jobs or switch employers while on the Skilled Worker visa?
It's possible to change your job while on a Skilled Worker visa, as long as you remain with the same employer and your new role has the same standard occupation code (SOC) as your current position. If you wish to change employers or move to a role with a different SOC, you will need to apply to update your Skilled Worker visa.
It's important to note that if you do switch employers or move to a role with a different SOC, the clock will restart on the five years required for ILR.
Read more about our business immigration service
We cover all aspects of business immigration in this section. Select a card below to read more about that topic.
Get in touch
Fill in your details below and one of our expert advisers will be in touch as soon as they are able.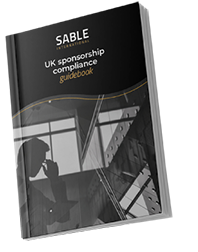 Get your free UK sponsorship compliance guidebook
Making sure you're fully compliant as a UK visa sponsor can be a headache.
That's why we're providing this essential guidebook with expert tips.

Close

;