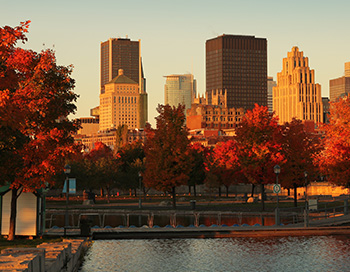 Canada is the largest country in the Western hemisphere and the second largest country in the world after Russia. It borders only one country, the United States of America.
As of 2021 there are 226,203 foreign nationals living in Canada.
Canada is famous for the Niagara Falls, the Royal Canadian Mounted Police aka Mounties, poutine and Ryan Reynolds.
Education system in Canada
Canada offers two types of higher education: Research-oriented education (such as universities, which award both undergraduate and postgraduate degrees) and technical-based education (such as community colleges and technical, applied arts or applied science schools, which award certificates, diplomas, associate's degrees and bachelor's degrees).
Postgraduate studies in Canada
Canada is a global leader in research and has a long history of developing innovations such as the electric wheelchair, IMAX film and the JAVA programming language. Pursuing your postgraduate career in Canada means that you will be exposed to great minds and a stimulating learning environment.
Pre-master's
A pre-master's is a support program that helps students with a bachelor's degree to make an easier transition towards their master's studies.
The point of a pre-master's is for students to get introduced to the theories, concepts of the field of study and get familiar with the requirements, teaching style, and learning methods that are typically used in Canada. You will develop a background in one area of study and will be fully prepared for a master's degree.
Master's
In Canada, like in the USA, master's degrees are also known as 'grad' programmes or simply 'grad school'. It is a second level degree that is done after you've earned a bachelor's degree. A master's in Canada usually results in a MA (Master of Arts) or MSc (Master of Science).
Canadian Master's programmes usually take between one and two years to complete although there might be additional internships or job placements.
PhD
In most cases you'll need to hold a master's degree in order to gain admission to a standard Canadian PhD programme. PhD study in Canada has more in common with the UK than the neighbouring USA. Whereas the US PhD normally begins with one or two years of taught classes and examinations before a student defines their thesis topic, a Canadian PhD is often more research-focused from the outset.
Most courses require at least three years of full-time study and research, but some students study for longer, with a typical maximum registration of six years.
Safe and friendly country
Canada is well known for its friendly and welcoming people. It ranks tenth in The Global Peace Index and fifteenth in World Happiness Report, and as having the best quality of life in the world for 2022.
Excellent career opportunities
Canada offers students a Post-Graduation Work Permit (PGWP), which allows you to work in the country for up to three years if you completed a course that was at least two years long. The PGWP can last anywhere from eight months to three years depending on the length of your course.
Affordable study costs
The unique advantage of studying in Canada is that, while it is a developed, western country, it offers education at a comparatively lower cost than its other western counterparts.
Plenty to do
Soaking up arts and culture in the big cities or enjoy the great Canadian outdoors. You can go camping and hiking in summer and try your hand at skiing and skating during the winter months.
Cost of studying in Canada
The cost of studying in Canada can vary depending on your level of study. College and vocational schools will cost you between CAD 10,000 and CAD 18,000. While with universities, you're looking at anything between CAD 12,000 and CAD 30,000.
The cost of living can vary depending on the province. On average it's approximately CAD 12,000 per year.
Getting a Canadian student visa
To study in Canada you will require a study permit. This document, which is issued by the Canadian government, allows foreign nationals to study at designated learning institutions (DLI). Students are automatically sent an eTA (electronic travel authorisation) or a visitor visa at the same time as their port of entry letter of introduction, which is used to issue their study premit at the port of entry (airport)
Health insurance
All international students in Canada must have health insurance. Medical coverage available to international students varies from province to province. In provinces where international students are not covered under provincial health care plans, students must arrange for private health insurance coverage.
We'll help you apply for admission and your visa
Working in Canada (as a student)
You may work part-time for up to 20 hours per week so long as you meet the following eligibility requirements:
You're a full-time student at a designated learning institution.
You're enrolled in a post-secondary academic, vocational or professional training programme or your study programme is at least six months long and leads to a degree, diploma or certificate.
You've started studying.
You have a Social Insurance Number (SIN)
Post-study opportunities in Canada
The Post-Graduation Work Permit Program (PGWPP) allows students who have graduated from eligible Canadian designated learning institutions (DLIs) to obtain an open work permit to gain valuable Canadian work experience.
How long the PGWP is valid for depends on your length of study. If you programme was longer than eight months but shorter than two years, it will be valid for up to the same length as your study programme. If your study programme was more than two years then your PGWP will be valid for three years.
What Study Abroad can do for you
Browse through our catalogue of international universities and educational institutions to discover what they have to offer.
2. Tailored admissions advice
We guide you through the various study abroad programmes and help you choose what and where to study, tailored to your education and career goals.
3. Application and admissions support
Our access to the admissions department at our partner universities and educational institutions means that students get a quicker, more streamlined application process.
4. Visa application assistance
Once you've been accepted at an international university, our advisers will guide you through the visa application process and assist you in preparing the necessary documents required for submission.
5. Pre-departure assistance
We can help you organise everything from on-campus accommodation to airport pickups and orientation in your new home.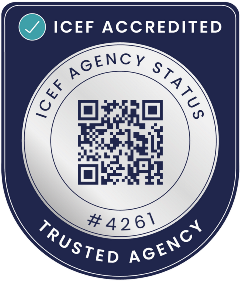 Accredited members of ICEF
As the official, direct, in-country representative for our university partners, we continually train to ensure we are up to date with the correct procedures for each country and educational institute. We're proud to be accredited members of the ICEF, and confident in the exceptional service offered by all our study advisers.
Get in touch
Fill in your details below and one of our expert advisers will be in touch as soon as they are able.