Mauritius is a diverse and multicultural country due to it's past, and because of this it's the only African country with a Hindu majority.
The country is more than one island. It comprises the islands of Mauritius, Rodrigues and the outer islands of Cargados Carajos Shoals (or Saint Brandon), and the Agalega Islands.
It is home to two UNESCO World Heritage sites – the Aapravasi Ghat and Mont Le Morne Brabant.
Famous for being the home of the now extinct Dodo bird, Mauritian rum, and beautiful, white sandy beaches.
Education system in Mauritius
Higher education in Mauritius includes colleges, universities and other technical institutions. Mauritius has two public universities: the University of Mauritius and the University of Technology. There are also private institutions, covering areas of study such as management, information technology, dentistry, medicine, tourism and engineering.
Postgraduate studies in Mauritius
Our partner universities in Mauritius are international branches of their UK and Australian counterparts. They offer degrees in English, are accredited by the national government and can be fully or partially recognised by universities in other countries. This means you will be getting a world-class, international, postgraduate degree from a UK or Australian university in Mauritius at a more affordable cost.
Pre-master's
If you don't meet the academic or English language requirement to enter into a master's degree, then a premaster's course can bridge that gap. Another reason you could have for doing a premaster's course is if you realise that your bachelor's degree is vastly different from what is required for your future academic goals or career plans.
Premaster's can come in the form of a specific programme or postgraduate diplomas and certificates.
Master's
Because our partner universities are UK and Australian, the structure of a master's will follow ones that you would have done in any of those countries. Master's courses can either be taught programmes or research-based, and their length depends on which university you study at.
PhD
None of our partner universities in Mauritius offer PhD programmes at this time. However, if any of them do offer PhD programmes in the future. they will follow the UK or Australian structures, depending on the home residence of the university.
No language barrier
English is the official language of Mauritius but French is also widely spoken. Most Mauritians are multilingual, speaking English, French, and Creole.
Affordable study costs
Tuition for tertiary education in Mauritius is more affordable than most countries. A number of well-known institutions have opened branches in Mauritius, offering high quality, internationally-recognised education at a reasonable cost.
Amazing weather
The weather in Mauritius is a major attraction for many – a tropical paradise with amazing weather and white, sandy beaches. While thunderstorms are common, the sun shines even in the wettest months.
Multicultural environment
Feel at home in a socially, economically and politically stable society that blends cultures from Europe, Africa and Asia. International students come from all over the world, making Mauritius a diverse place to study.
Cost of studying in Mauritius
On average, you should expect to pay between MUR 90,000 and MUR 160,000 per year, depending on what programme you study and at what level.
Your living costs will depend on where you live in Mauritius. If you choose to study in a bigger city then you will pay more than if you were in a smaller town. On average, you should budget for between MUR 207,000 and MUR 276,000 per year. This accounts for accommodation, groceries, travel, and other necessities.
Student visa for Mauritius
All international students need a Student visa when studying part-time or full-time in Mauritius. You will need proof of admission before you apply for your visa at your local Mauritian embassy or consulate. Once you arrive in Mauritius, you must apply for a residence permit, which typically lasts the duration of your studies.
Health insurance
It's not a requirement by law to have health insurance, but it is recommended because private healthcare can be costly. You will also need a health certificate indicating that you do not have any contagious diseases, as well as stating your HIV and hepatitis B status.
We'll help you apply for admission and your visa
Working in Mauritius (as a student)

International students, over the age of 16, are allowed to work part-time for a maximum of 20 hours a week if they are enrolled in a study programme of at least one year at an academic public, private, or technical higher institution.
Post-study opportunities in Mauritius
As an international student, once you've completed at least an undergraduate degree, you can apply for the Young Professional Occupation Permit. You must apply for the permit within six months of completing your studies and it is valid for three years. After that, you can transition to a normal work permit that will lead to residency and then citizenship.
This work permit allows you to find work if you have a contract with a Mauritian company in artificial intelligence, biotechnology, fintech, robotics, financial services or information technology.
What Study Abroad can do for you
Browse through our catalogue of international universities and educational institutions to discover what they have to offer.
2. Tailored admissions advice
We guide you through the various study abroad programmes and help you choose what and where to study, tailored to your education and career goals.
3. Application and admissions support
Our access to the admissions department at our partner universities and educational institutions means that students get a quicker, more streamlined application process.
4. Visa application assistance
Once you've been accepted at an international university, our advisers will guide you through the visa application process and assist you in preparing the necessary documents required for submission.
5. Pre-departure assistance
We can help you organise everything from on-campus accommodation to airport pickups and orientation in your new home.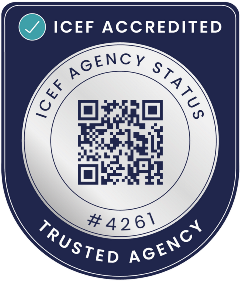 Accredited members of ICEF
As the official, direct, in-country representative for our university partners, we continually train to ensure we are up to date with the correct procedures for each country and educational institute. We're proud to be accredited members of the ICEF, and confident in the exceptional service offered by all our study advisers.
Get in touch
Fill in your details below and one of our expert advisers will be in touch as soon as they are able.










;