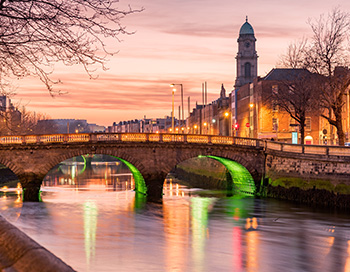 Ireland is the only nation in the world with a musical instrument (the Irish Harp) as its national symbol.
English and Irish (Gaeilge) are the official languages in the Republic of Ireland.
The longest place name in Ireland is Muckanaghederdauhaulia.
Ireland is famous for Oscar Wilde, Guinness and leprechauns.

Education system in Ireland
Higher level education in Ireland is made up of three sectors that are substantially funded by the State: the university sector, the technological sector and colleges of education. In addition, there are a number of independent private colleges.
Ireland has seven universities, which are autonomous and self-governing. They offer degree programmes at bachelor's, master's and doctorate levels. The technological sector includes institutes of technology which provide programmes of education and training in areas such as business, science, engineering, linguistics and music to certificate, diploma and degree levels.
Postgraduate studies in Ireland
Irish universities are academic research and teaching institutions with broad coverage across various fields and subject areas. They offer a wide range of master's programmes and around 25% of their students are usually postgraduates.
Pre-master's
A pre-master's is for international students who need to improve their English and develop research, academic writing, and seminar skills ahead of a taught master's degree. Pre-master's programmes in Ireland are designed to enhance the English language skills of international students interested in studying at a postgraduate level, as well as to improve their ability to adapt to a different learning culture.
Master's
Studying toward a master's degree in Ireland is much the same as getting one in the UK. It also generally takes one year to complete; however, some research-based programmes might extend to two years. Students from outside the EU and EEA can expect to pay around €9,950 per year as a minimum in terms of fees.
PhD
PhD programmes in Ireland are organised in a similar way to those in the UK. Doctoral degrees are third-cycle programmes. As elsewhere, the core component of doctoral work is the advancement of knowledge through original research.
A standard full-time PhD in Ireland is usually completed in 3-4 years. For more structured programmes this is normally 4 years.
Top research institutions
Irish universities are in the top 1% of research institutions in the world in terms of research impact in 19 fields, spanning natural sciences, social sciences and the humanities. This creates a unique opportunity for you at undergraduate and postgraduate level to join research programmes that are driving innovation and changing lives worldwide.
Unique career opportunities
There are amazing career opportunities for international graduates in Ireland as many multinational businesses have their European headquarters based in Ireland. In fact, Ireland is home to five of Forbes top 10 companies: Apple, Google, Alphabet, Amazon and Samsung.
You may be able to study without a visa
Some nationalities, like South Africans, can enter and study in Ireland without requiring a visa. If you're studying for under three months, you will only need to go through immigration at the airport (or your "port of entry").
If you plan to study for longer than three months, you will need an Irish Residence Permit (IRP)
Safe and happy country
Ireland is one of the safest countries in the world, ranking eighth in the 2021 Global Peace Index and 13th in the 2021 World Happiness Report. The capital city of Dublin was voted by Lonely Planet as the seventh best city in the world in 2022. The Irish people's welcoming nature coupled with an unrivalled sense of fun, ensures that studying in Ireland will be an unforgettable experience.
Cost of studying in Ireland
Tuition when studying in Ireland can cost between €8,000 and €14,000 per year for an undergraduate programme. For postgraduate programmes it may cost between €11,000 and €20,000 per year.
Precisely how much you will need will vary depending on where you are studying in Ireland, on the type of accommodation you choose and, of course, on your own personal lifestyle. On average, we estimate that a student will spend between €7,000 and €12,000 per year.
Getting a student visa
Students who need a visa to enter the country are required to demonstrate that they have access to €7,000 before they may be issued with a visa.
After successfully registering with the Garda National Immigration Bureau (GNIB), you will be given a certificate of registration indicating that you have been given an immigration permission allowing you to study in Ireland.
Health insurance
Students are strongly advised to arrange insurance for private medical care as this ensures choice of hospital, doctor and hospital accommodation in the event of illness. Please note that you can only arrange health insurance with an Irish Health Insurance Provider when you are living in Ireland.
We'll help you apply for admission and your visa
Working in Ireland (as a student)
International students engaged in full-time study of at least one year's duration (on a course leading to a qualification which is recognised by the Irish Department of Education and Skills currently do not need a work permit to work in Ireland.
It may be possible to stay in Ireland after you complete your studies for the purpose of seeking employment under the Irish Third Level Graduate Scheme. This scheme exists to allow legally resident non-EU third level graduates to remain in Ireland in order to look for employment or apply for a work permit.
Post-study opportunities in Ireland
It may be possible to stay in Ireland after you complete your studies for the purpose of seeking employment under the Irish Third Level Graduate Scheme. This scheme exists to allow legally resident non-EU third level graduates to remain in Ireland in order to look for employment or apply for a work permit.
Students who have completed an undergraduate degree will be given permission to stay for 12 months while those with a postgraduate or masters degree will be allowed to extend this permission for another 12 months.
What Study Abroad can do for you
Browse through our catalogue of international universities and educational institutions to discover what they have to offer.
2. Tailored admissions advice
We guide you through the various study abroad programmes and help you choose what and where to study, tailored to your education and career goals.
3. Application and admissions support
Our access to the admissions department at our partner universities and educational institutions means that students get a quicker, more streamlined application process.
4. Visa application assistance
Once you've been accepted at an international university, our advisers will guide you through the visa application process and assist you in preparing the necessary documents required for submission.
5. Pre-departure assistance
We can help you organise everything from on-campus accommodation to airport pickups and orientation in your new home.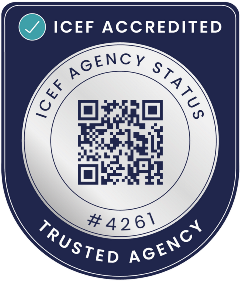 Accredited members of ICEF
As the official, direct, in-country representative for our university partners, we continually train to ensure we are up to date with the correct procedures for each country and educational institute. We're proud to be accredited members of the ICEF, and confident in the exceptional service offered by all our study advisers.
Get in touch
Fill in your details below and one of our expert advisers will be in touch as soon as they are able.










;