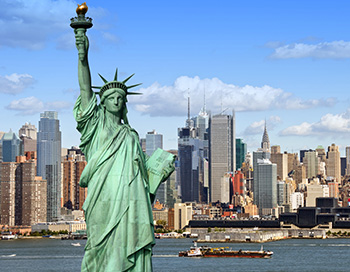 The USA is home to the longest cave system in the world.
There is more bourbon than people in Kentucky.
The United States had the largest economy in the world – a title it's held since 1871.
The USA is famous for Hollywood, Las Vegas and Beyoncé.

Education system in the United States
The US offers undergraduate (associate and bachelor's) degrees and postgraduate (master's and doctorate) degrees. Associate degrees are offered by colleges and can either be used to bridge the gap between high school and university, or can teach you technical and industry-related skills.
Applied arts and science associate degrees focus on vocational skills – skills that are hands-on and are aimed at getting you ready for the workforce with industry-related experience. The courses train you for careers such as web developers, paralegals and air traffic controllers. The others are for those who want to transfer to a bachelor's degree at a later stage.
Associate degrees take half as long as bachelor's degrees and the costs tend to be lower. As a result, associate degrees can be done part-time and stretched over four years, similar to a bachelor's degree.
Bachelor's degrees in the USA take four years to complete and you only need to declare your major in your second year. This allows you to explore your options in your first year to get a better understanding of what is available.
Postgraduate studies in the USA
Postgraduate degrees obtained from a US university are recognised by employers and educational institutions around the world. They are respected for the standard of teaching on offer, the research options, the transfer of knowledge and for having an international outlook.
Pre-master's
If you haven't finished a bachelor's degree in the USA, getting admitted to a graduate or master's program can be difficult. A pre-master's is a support program that helps students with a bachelor's degree make an easier transition towards their master's studies.
Master's
A master's degree in the US is known commonly as a "grad" programme and takes around two years of full study to complete. The main differences between postgraduate studies in the US compared to their international equivalents are structural. You will usually enrol in a graduate programme where you will work towards your degree with regular assessments and training tasks.
PhD
A PhD from an American university is one of the most sought after and highly ranked degrees in the world. A PhD in the US differs from others around the world in that it normally begins with one or two years of taught classes and examinations before a student defines their thesis topic. It also takes longer to complete a PhD in the US than the UK. It can take anywhere between four and eight years. US students are expected to undertake a great deal of teaching and marking, as opposed to PhD students in Europe.
Why study in the United States
Associate degrees
A common way to get into some of the more competitive universities in the US is through associate degrees. Associate degrees are above a high school certificate or matriculation but below a bachelor's degree.
Once the programme is completed, you are able to enter the workforce with a vocational qualification or transfer to another university more easily to complete your bachelor's degree.
Work while studying in the US
First year international students can work up to 20 hours per week in on-campus jobs. This includes jobs such as baristas, admin assistants and dining hall servers but can also include jobs which train you for popular careers after graduation such as research assistant, social media manager or radio DJ.
Range of options
Spanning over six different time zones, the US has a range of cities and climates that are guaranteed to suit everyone's needs. From icy Alaska, the bustling city life of New York City, to sunny California, you're bound to find a place to fall in love with
Diverse cultures from all over the world
The US has been described as a melting pot of different cultures and ethnicities. This is further amplified by the many international students who attend American institutions. During your studies, you will have the opportunity to network and meet people from all over the world.
Cost of studying in the United States
The price of tuition will change depending on what you study:
Two-year courses, will cost less than $10,000.
Four-year courses at public institutions cost between $20,000 and $50,000 per year.
Four-year courses at private institutions cost between $30,000 and $100,000.
Room and board costs will vary depending on the institution, but will cost between $10,000 and $25,000. Universities often have meal plans where you can dine at on-campus facilities. You will also need to pay for health insurance and textbooks.
Student visas for the United States
To apply for an F-1 US Student visa, you will need to complete an I-20 form and register for the Student and Exchange Visitor Information System (SEVIS). More information on this will be provided from your institution after it accepts your enrollment. You will also need to complete a DS-160 form and provide a photograph of yourself. You will be interviewed at your nearest US embassy or consulate.
You will need to prove you have a good understanding of English. Usually, your secondary school English results will be enough to prove your English capabilities. If this is not enough, most institutions in the US will accept tests from large testing companies such as IELTS, TOEFL and PTE if they cannot test your English themselves.
Health insurance
F-1 student visa holders do not require health insurance to study in the USA but it may be required by the institution. However, even if it is not required by the institution, international students are encouraged to get health insurance as not having it can be costly.
We'll help you apply for admission and your visa
Working in the United States (as a student)
First year international students can work up to 20 hours per week in on-campus jobs. This includes jobs such as baristas, admin assistants and dining hall servers but can also include jobs which train you for popular careers after graduation such as research assistant, social media manager or radio DJ. After your first year at a US institution, you may apply for permission to work off-campus for 20 hours per week. Another popular option is to undertake practical training or internships in exchange for university credit.
Post-study opportunities in the United States
The US has the Optional Practical Training (OPT) programme which allows students to remain in the US for up to 12 to 24 months to work in their chosen field after graduation. Some companies may sponsor you for a H1-B temporary work visa. US institutions also have career services on campus which help with important skills such as interview training, CV assistance and finding students job opportunities.
What Study Abroad can do for you
Browse through our catalogue of international universities and educational institutions to discover what they have to offer.
2. Tailored admissions advice
We guide you through the various study abroad programmes and help you choose what and where to study, tailored to your education and career goals.
3. Application and admissions support
Our access to the admissions department at our partner universities and educational institutions means that students get a quicker, more streamlined application process.
4. Visa application assistance
Once you've been accepted at an international university, our advisers will guide you through the visa application process and assist you in preparing the necessary documents required for submission.
5. Pre-departure assistance
We can help you organise everything from on-campus accommodation to airport pickups and orientation in your new home.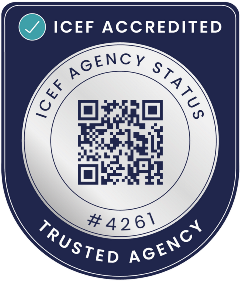 Accredited members of ICEF
As the official, direct, in-country representative for our university partners, we continually train to ensure we are up to date with the correct procedures for each country and educational institute. We're proud to be accredited members of the ICEF, and confident in the exceptional service offered by all our study advisers.
Get in touch
Fill in your details below and one of our expert advisers will be in touch as soon as they are able.










;