Home Office compliance visit
As a sponsor licence holder, you should expect an inspection visit from a representative from the Home Office's UK Visas and Immigration division at some point during the validity period of your licence. This is to ensure that the information supplied in your application is correct and to ensure that the business remains compliant with regard to the duties and responsibilities as a licensed sponsor.
The purpose of a compliance visit
What is key is that these checks may be conducted at random, or intelligence led and can be announced or unannounced. The compliance visit is a key part of UK immigration control and ensures that sponsors have the correct processes and human resource practices in place and have not breached any immigration laws.
What happens during a compliance visit?
When a compliance officer visits your company, they will check for the following:
You are able to offer employment at the Skilled Worker visa skill level
The information you provided on your application is accurate
Your company is genuine and operating lawfully
You represent no threat to immigration control
You are compliant and committed to the duties as a sponsor
Your documentation and processes will also be reviewed, such as your record-keeping and processes regarding reporting and immigration status monitoring.
If you are found to be fully compliant, your company will receive an "A" rating from the UKVI. If you are found to be non-compliant, you could lose your licence or be prosecuted or both.
Talk to our business immigration experts.
How can Sable International help
We understand the complexity of UK immigration law and the issues that could lead to non-compliance. The UK government regularly implements policy changes that could have a significant impact on your business. We remain up to date on all new and proposed regulations on your behalf and can advise on the best way to manage your company's immigration strategy.
Our immigration audit service will help you to ensure that your company meets all the requirements of the Home Office, thus easing the burden of you having to do so alone. We will guide you through the process of securing a sponsor licence and the ongoing compliance obligations.
Our experienced specialists will ensure:
That you have the correct processes and human resources practices in place that enable you to meet your sponsorship duties
You are compliant with your legal responsibilities as an employer to prevent any breach of immigration law
Read more about our business immigration service
We cover all aspects of business immigration in this section. Select a card below to read more about that topic.
Get in touch
Fill in your details below and one of our expert advisers will be in touch as soon as they are able.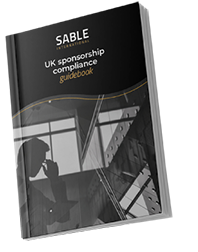 Get your free UK sponsorship compliance guidebook
Making sure you're fully compliant as a UK visa sponsor can be a headache.
That's why we're providing this essential guidebook with expert tips.

Close

;