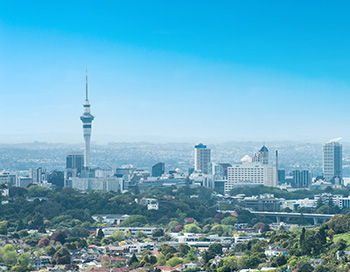 Over 5 million people live in New Zealand.
Nearly 30% of the country's population was not born in there, with over half living in Auckland.
New Zealand is the home country of Peter Jackson, director of the Lord of the Rings movies trilogy, where the majority of filming took place.

Education system in New Zealand
Tertiary education in New Zealand is provided by:
Universities
Institutes of technology and polytechnics
Private training establishments
Industry training organisations
There are eight universities in New Zealand that are governed by the New Zealand Qualifications Framework. The universities are located in various parts of the country including in main cities such as Auckland and Wellington. The programmes on offer and the cost of fees vary across the different schools. However, no matter where you study, you'll be getting a high-quality education.
New Zealand universities have an academic year that runs from February to November, with the semesters split during June and July.
World-class education institutions
Every New Zealand university ranks on the QS World University Rankings. The University of Auckland is ranked in the top 100 and boasts a student population of 7,000 international students from over 120 countries.
Work while you study
In addition to being able to work while you study, you can also stay and work for a full year after graduating. What's more, if your job is relevant to your degree, you can stay for a further two years after graduating, after which you may be able to apply for permanent residency.
Natural beauty
New Zealand is famous for its picturesque landscapes, including glaciers, mountains, rainforest and of course stunning coastlines.
Safe and welcoming
A survey conducted by New Zealand's immigration department in 2015 revealed that 90% of foreigners considered locals to be very friendly, which played a big role in them being able to settle in easily.
Cost of studying in New Zealand
One of the advantages of studying in New Zealand is value for money. While tuition fees differ across institutions, they are comparatively affordable.
Tuition Fees in New Zealand start at NZD 19,000 per academic year and accommodation starts at around NZD 190 per month to rent a room. It's important to note that tuition and accommodation fees will depend on your location, and your university and course choice may further impact your tuition fees.
The cost of living is somewhat high, so you need to take this into account when you make the choice to study abroad. Immigration New Zealand's requirement for students is NSD 15,000 per year plus return airfare or additional NZD 2,000.
Student visas for New Zealand
To be able to apply for a New Zealand student visa, you will need to show that you have enough money to support yourself while you're living and studying in the country. This includes things such as your living expenses, education costs and travel costs for the duration of your stay.
You may also need the following documents:
An offer letter from the New Zealand Qualifications Authority (NZQA) that is provided to international students.
Students under 18 will need a Guarantee of Stay from the institution or a person that states that you will have suitable accommodation to live in while in New Zealand.
A tuberculosis screening is required for students who are staying in New Zealand for more than six months. If you are staying for more than 12 months you may be required to provide medical and X-ray certificates.
Health insurance
International students will need to purchase health insurance in New Zealand as they are not covered under the national healthcare system. Although it is not required to show proof of health insurance as part of your visa application, you will need to declare that you will purchase coverage.
We'll help you apply for admission and your visa
Working in New Zealand (as a student)
As an international student, you can work up to 20 hours a week if you're studying full time and:
your course is at least 2 years long, or
you're studying for a qualification that gives you points towards an application for a Skilled Migrant Category Resident Visa.
During holidays and between semester breaks you are allowed to work full-time. Masters and PhD students have no restrictions on the amount of hours they're allowed to work.
Post-study opportunities in New Zealand
If you have acceptable qualifications that you completed in New Zealand, you can apply for a post-study work visa. Depending on your qualification and where you studied, you can work for any employer for between one and three years, and do almost any work.
What Study Abroad can do for you
Browse through our catalogue of international universities and educational institutions to discover what they have to offer.
2. Tailored admissions advice
We guide you through the various study abroad programmes and help you choose what and where to study, tailored to your education and career goals.
3. Application and admissions support
Our access to the admissions department at our partner universities and educational institutions means that students get a quicker, more streamlined application process.
4. Visa application assistance
Once you've been accepted at an international university, our advisers will guide you through the visa application process and assist you in preparing the necessary documents required for submission.
5. Pre-departure assistance
We can help you organise everything from on-campus accommodation to airport pickups and orientation in your new home.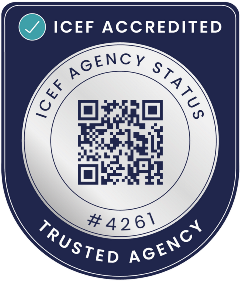 Accredited members of ICEF
As the official, direct, in-country representative for our university partners, we continually train to ensure we are up to date with the correct procedures for each country and educational institute. We're proud to be accredited members of the ICEF, and confident in the exceptional service offered by all our study advisers.
Get in touch
Fill in your details below and one of our expert advisers will be in touch as soon as they are able.