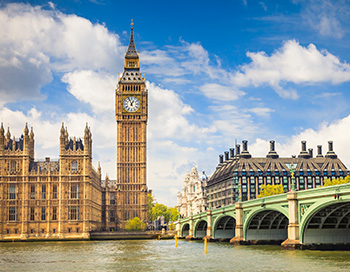 There are no fewer than 165 universities in the UK.
London's transport network is one of the oldest and largest in the world. There are 272 functioning stations on the London Underground and 450 escalators.
The UK is famous for great writers (like William Shakespeare), ancient landmarks and delicious pub food.

Education in the UK
The UK offers two types of higher education: universities (which award both undergrad and postgrad degrees) and further education institutions or colleges (which award vocational diplomas or provide complete courses leading to recognised UK degrees).
Undergraduate degrees in the UK last three years instead of the usual time of four years. Scotland is the exception where degrees take four years. The UK also offers "sandwich courses" which last four years and contain a placement year. While England is known for top-tier universities, you do not need to go to one of the top 10 ranked universities for a respectable education as top quality education is accessible in all UK universities. The UK university year runs from September to June of the following year.
Great research opportunities
The UK's academic research productivity is 3.6 times higher than the world average. If you decide to continue to postgrad, you will work with some of the best minds at leading institutions which, in the past, have held honours such as producing 15.2% of the most-cited articles.
Excellent work opportunities
The UK Student visa allows you to work for up to 20 hours per week in the school term and full-time during the vacation periods. You may apply for the post-study Graduate Visa to remain in the UK for up to three years (depending on your level of study) while you search for work.
Shorter courses
The UK has shorter, more intensive courses than the rest of the world, with courses giving you an undergraduate degree and honours within three years. This means you can save time and money while also being workforce ready in a shorter time.
High quality education
The UK has a well-earned reputation for excellence when it comes to higher education. UK universities are held to strict standards by the government and have to pass a number of requirements before they're able to award degrees.
Cost of studying in the UK
The average cost of studying in the UK ranges between £9,000 and £25,000 (plus/minus £45,000 for medicine) per academic year. When you apply for your visa, you will need to demonstrate that you have at enough money to support yourself while studying. This is currently £1,334 per month (for up to 9 months) for courses in London and £1,023 per month (for up to 9 months) for courses outside London. It's important to note that tuition and accommodation fees will depend on your location, and your university and course choice may further impact your tuition fees.
Student visas for the UK
The UK Student visa is a points-based visa that requires at least 70 points for you to be eligible. The points are awarded for:
Confirmation of acceptance from an approved UK educational institution
Proof of funds to pay for both your course and to support yourself
Proof of English proficiency
Parental consent if you are 16 or 17 years old
You will also need to:
Pay the immigration healthcare surcharge
Submit a tuberculosis test if you are from a country which requires one to enter the UK
Provide additional documentation depending on your circumstances
We'll help you apply for admission and your visa
Working in the UK
The UK has a Graduate visa route which allows university and college graduates to search for work for up to two years (three years for doctorate graduates) and remain in the UK. While you do not need to be employed during that time, you may do any kind of work and there are no salary requirements or number caps. The Graduate visa helps build your work experience after studying. Thereafter, you may be eligible for a Skilled Worker visa, which may lead to indefinite leave to remain and eventually British citizenship.
Health insurance
For courses longer than six months, you will need to pay the NHS immigration health surcharge of £470 per year of your visa. This allows you to use the UK's National Health Services (NHS) while you study.
What Study Abroad can do for you
1. Institution search
Browse through a catalogue of international universities and educational institutions to discover what they have to offer.
2. Career and study advice
We guide you through the various study abroad programmes and help you choose what and where to study.
3. Application and admissions support
Our access to the admissions department at our partner universities and educational institutions means that students get a quicker, more streamlined application process.
4. Visa application assistance
Once you've been accepted at an international university, we can help you secure your student visa.
5. Pre-departure assistance
We can help you organise everything from accommodation to airport pickups and orientation in your new home.
6. Immigration advice
If you'd like to make a permanent move to the country where you're studying, Sable International's immigration team has over 25 years of experience with helping our clients immigrate to the UK and Australia.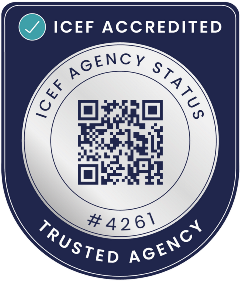 Accredited members of ICEF
As the official, direct, in-country representative for our university partners, we continually train to ensure we are up to date with the correct procedures for each country and educational institute. We're proud to be accredited members of the ICEF, and confident in the exceptional service offered by all our study advisers.
Get in touch
Fill in your details below and one of our expert advisers will be in touch as soon as they are able.
We use cookies to provide the best website experience for you. Using this website means that you agree to this. How we use cookies Close