Temporary Worker licence
A Temporary Worker licence allows you to employ migrant workers on a short-term basis and each category has its own requirements and time frames. Since 2021, these visas cannot lead to permanent residence in the UK.
Categories:
Seasonal Worker – for those coming to the UK for up to six months to do farm work
Creative and Sporting
This is for individuals who have been offered work as high-level sportspeople or entertainers and artists.
The sportsman visa lasts for up to one year and you will need to be endorsed by a governing body.
"Entertainers or artists" includes, but is not limited to, actors, dancers, musicians, film and TV performers (and crew), theatre and opera performers, and models.
In order for workers to qualify for this visa, they need to offer a unique contribution to the UK labour market and meet the necessary minimum salary requirements.
This visa is valid for up to two years.
Charity worker
This visa is for those who wish to undertake unpaid voluntary work for a charity. The worker will be sponsored by the charity they will primarily work for, but cannot take up a permanent position.
This visa is valid for up to one year.
Religious worker
This is an option for those who would like to take up a position as a religious worker, for example preaching or working in a religious order or a religious organisation. Salary and conditions will need to be at least equal to those received by settled workers in the same role.
When applying for a Religious worker visa, the position will normally need to be advertised in order to establish that the position could not be filled by UK resident worker. If it is non-essential work, or involves living within a religious order (such as a monk or nun) then advertising would not normally apply.
If the role was not advertised, records should be kept to demonstrate that there was no suitable resident worker was able to fill the role.
This visa will be valid for up to two years.
Government Authorised Exchange
The Temporary Worker Government Authorised Exchange (GAE) route is for individuals who wish to come to the UK for a short period for work experience or to complete training. For example, practical medical or scientific training, an Overseas Government Language Programme, research or a fellowship through an approved Government Authorised Exchange scheme.
For work experience, the visa is valid for up to one year. For research projects or training up to two years.
International agreement
This visa is an option for anyone who has been contracted to do a job that is covered by international law. For example, employees of overseas governments, working for a foreign government or as a private servant in a diplomatic household.
Read more about our business immigration service
We cover all aspects of business immigration in this section. Select a card below to read more about that topic.
Get in touch
Fill in your details below and one of our expert advisers will be in touch as soon as they are able.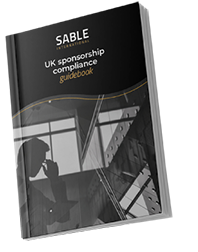 Get your free UK sponsorship compliance guidebook
Making sure you're fully compliant as a UK visa sponsor can be a headache.
That's why we're providing this essential guidebook with expert tips.
Close