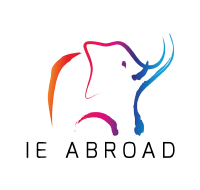 IE Abroad - How it all began
IE Abroad was established in 2016 with the aim of giving students access to tailored advice and information about studying abroad. The team worked with top international institutions to offer quality education in diverse, specialised fields.
IE Abroad joins Sable International in 2021
Sable International has a long history of helping people internationalise themselves, their wealth and their businesses. The company's areas of expertise include immigration, citizenship, financial management, accounting, tax and international money transfers. It is this wealth of experience and understanding of what is required for internationalisation, as well as an alignment of core values, that made the joining of the two companies a perfect and natural process.
IE Abroad rebrands as Study Abroad as part of Sable international
As a division of Sable international, Study Abroad now has access to all the resources that make a move abroad successful. Students can get expert assistance with obtaining a visa and advice and guidance on their next steps. Sable International's forex division can also assist with any money transfers to and from abroad.
Care
We care about our students and education partners and we pride ourselves on exceptional customer service and detailed research. We are compliant with all privacy protection and anti-money laundering laws.
Solve
We have over 25 years of experience in a diverse range of services that can help students solve any problems that arise when moving overseas, from visa applications to paying their fees.
Grow
We seek to help our students grow through achieving their international education goals and to help our partners grow by sending them the best and brightest students, who will bring prestige to their institutions. Finally, we seek to grow local communities with international skills.
Enjoy
We aim to make every interaction with our team enjoyable for both partners and students, by giving them the information and advice they need most just when they need it. We pride ourselves on quick response times and providing a seamless and pleasant experience every step of the way.
Brent Morris

Managing Director: Study abroad

Amy Karabus

Business Relations Adviser

Tendai Sibindi

Partner Relations Coordinator

Lekan Olufeyisan

Head of Admissions

Jamie Theys

Study Abroad Adviser
Brent Morris

Managing Director: Study abroad

Brent was born and raised in South Africa and then travelled to the UK as an international student, where he completed his master's degree with Anglia Ruskin University. He worked for several public universities in the UK and the US with a continuous focus on Africa. He has spent time travelling the entire continent, supporting students on their journeys to study abroad.

In 2016, he moved back to South Africa where he set up a pan-African study abroad consultancy. He joined Sable International in 2021 and now manages the Study abroad division.

When he is not travelling, you will find him in the water, surfing.

Amy Karabus

Business Relations Adviser

Amy grew up on the West Coast of Cape Town and then attended the South African College of Applied Psychology (SACAP). While studying a Bachelor of Social Sciences Honours (BPsych Equivalent), she developed a keen understanding of working across diverse demographics during her practical training.

Amy utilises her interpersonal training and skills as a Study Abroad Adviser. She is able to assess and guide students to the best international programmes for their education goals. In addition to this, she builds relationships with schools and tertiary institutions.

In her free time, you can find Amy enjoying the outdoors or in (under) the ocean.

Tendai Sibindi

Partner Relations Coordinator

Tendai specialises in digital media, marketing and business development with nine years worth of experience in marketing. He has worked in Cape Town and in Harare for companies, events, sports teams and restaurants, plus created campaigns to launch, rebrand and establish brands in the market.

Tendai graduated from the University of Cape Town with a Bachelor of Social Sciences in Sociology and Psychology, and a Postgraduate Diploma in Tourism Management.

As the Partner Relations Coordinator, Tendai will be working closely with our university partners with the aim of growing their brands in our respective markets. By hosting events and initiating marketing and communications campaigns in collaboration with the university partners, recruitment will be boosted for Sable International and for the universities. He will be driving marketing campaigns and managing events to strengthen the Sable International Study Abroad brand in all of our regions.

Lekan Olufeyisan

Head of Admissions

Lekan Olufeyisan is a graduate of Biology from University of Abuja. He is passionate about the education industry and he has been contributing to it for many years, even before graduating from the university.

He was the official in-country representative for Curtin University, Australia and later for University of Chester, UK, while working with British Canadian International Education. He currently manages the admissions team at Sable International: Study Abroad.

Lekan is a lover of music. He is a vocalist and an instrumentalist. He loves to relax by watching movies or listening to good music. He also loves to spend time with his family.


Jamie Theys

Study Abroad Adviser

Jamie started her career at Sable International as an Administrative Assistant for Study Abroad in September 2022. She quickly fell in love with the role, and her passion for helping students and building relationships with our partners led her to being promoted to Admissions Assistant. She has a natural love of engaging with people and finds it incredibly rewarding to help them achieve their goals.

She is now a Study Abroad Adviser, assisting students with their research, applications, student visas, and on-campus accommodation. She is passionate about helping students have a successful and enriching study abroad experience. She is a friendly and empathetic person and draws people to her with her positive attitude and supportive nature.

She enjoys a good laugh and loves bringing happy vibes and energy to the workplace. She loves experiencing good restaurants and going for scenic drives. Family is of the utmost importance and she loves spending time with hers.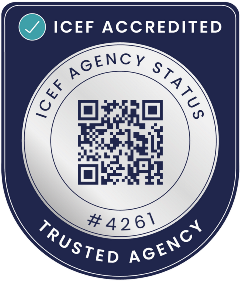 Accredited members of ICEF
As the official, direct, in-country representative for our university partners, we continually train to ensure we are up to date with the correct procedures for each country and educational institute. We're proud to be accredited members of the ICEF, and confident in the exceptional service offered by all our study advisers.
Get in touch
Fill in your details below and a study adviser will be in touch as soon as they are able. Provide as much detail as possible about your required level of education, choice of course and where you would like to go.