1st Contact relocation services
The benefits of using our relocation service:
On the ground experts
With offices in the UK, South Africa and Portugal, our team has local insider knowledge that can best assist you with any relocation queries from the outset and throughout.
Over 20 years of experience
We have been helping South Africans move to the UK since 1995. While our services have grown over the years, taking care of the admin of relocating has remained what we do best.
Hassle-free, time-saving process
Our team of experts knows exactly what to do, making sure you have the right documents when you need them, saving you time and hassle.
Value for money
The information our team can provide regarding the many aspects of relocation has proved invaluable to our clients.
Continuous guidance and support throughout
Your 1st Contact client liaison will remain available and attentive throughout the whole relocation process. moving can be difficult and stressful, we take care of the admin so you can follow on settling into your new home.
Meet your 1st Contact team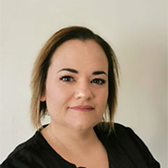 Leanne Shrosbree
Customer Service Manager
Leanne was born in Cape Town and had an interesting upbringing travelling around South Africa. After working for Standard Bank for six years, she moved to London and gained international experience. Returning to South Africa, she started her career at Sable International as a Tax Refunds administrator.
She has worked across various departments in the company, honing her customer service skills and eventually becoming the Customer Service Manager. She is in charge of managing all 1st Contact services and has helped thousands relocate.
Outside of work, Leanne enjoys reading, pursuing artistic endeavours and spending time with family and friends.
Carryn Philips
Client Liaison
Carryn was born and raised in Cape Town where she attended Rustenburg Girls' High and thereafter graduated from Varsity College with a Bachelor of Arts in corporate communication.
After several years working in a client-focused role in the hospitality and event planning industry, she felt it was time for a change. She joined Sable International in 2020, as a Client Liaison on our 1st Contact Relocation Team.
Carryn enjoys photography, being outdoors with her dog - especially by the ocean where she resides - and spending time with family.
Our latest news and articles
Get your Relocation Package
What you need to complete this form:
Permission to live and work in the UK
Be able to travel to London
To provide a UK residential address
We use cookies to provide the best website experience for you. Using this website means that you agree to this. How we use cookies Close