Most parents who relocate worry about finding the best school for their children. Here is everything you need to know to make the best choice for your children.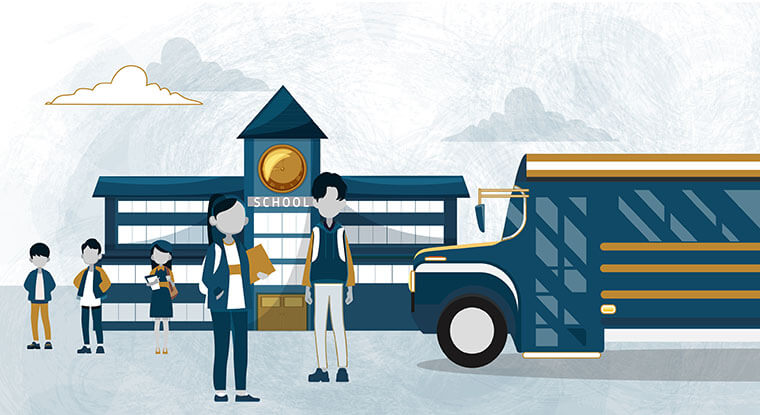 * This blog was first published in May 2018 and has been updated with new information for accuracy.
The UK education system
In the UK, going to preschool (also known as nursery school) is optional. Thereafter, the UK school system is divided into three phases:
Primary: Children aged 5 to 11
Secondary: Children aged 11 to 16
Further: Children aged 16+ taking A-Levels, GNVQs, BTECs and other qualifications
It is compulsory for all children in the UK to attend school in the primary and secondary phases, while further education is not compulsory. High school students who want to continue their education are required to attend a college or university.

See also: Moving to the UK in 2022? National Insurance will cost you more
State-funded vs fee-paying schools
Schools in the UK are divided into state-funded and fee-paying.
State-funded schools are mostly free of charge and are usually called primary or secondary schools. Grammar schools are state-funded secondary schools with specific admission criteria. They usually require all applicants to take a common entrance exam. Fee-paying private schools are generally called preparatory or senior schools.
See also: The expat's guide to life in the UK
Types of schools in the UK
Below is a comprehensive breakdown of the most common types of schools in the UK:
Community schools (local authority maintained schools)

Run by the local council
Not affiliated with business or religious groups

Voluntary and Foundation schools

Run by the local council
Free to be administrated as school sees fit

Grammar schools

Run by the local council, a foundation body or a trust
Students selected on academic ability
Applicants usually required to write an entrance exam

Faith schools

Run by a religious group
The national curriculum is supplemented with religious studies
Admission and staffing policies are determined independently

Free schools

Often set up by charities and community groups
Non-profit institutions
Not required to follow the national curriculum

State boarding schools

Academies and free schools
Free education
Fees charged for boarding

Academies

Run by a governing body, independent from the local council
Not required to follow the national curriculum
Funded by government not the local council

Private 'independent' schools

Privately run and registered with the government
Fees to attend
Not required to follow the national curriculum

Special needs schools

Privately run
Set up for children with special educational needs
Follow a specialised curriculum

See also: Comparing government schools in the UK and South Africa
Understanding UK state schools
For a family that's relocating to the UK, a state-funded education is a great choice. As long as they have the right to live in the UK, any child who is resident there can attend the local state school. State-funded schools are funded by taxes, so you won't have to pay any school fees, and your child will benefit from making friends with locals, which gives them the opportunity to really experience British culture. Costs incurred by parents usually include things like school supplies, uniforms, meals, school trips and activities outside of school.
In the UK, the school year is region dependent and runs from August or September and ends in June or July. School holidays usually include the semester break, Easter, Christmas and the summer holidays. Schools also close for bank (public) holidays.
Children are required to start primary school in the year that they turn five and secondary school at the age of 12. Children have the option of leaving school at the age of 16. However, they must stay in some form of education or training until they are 18 years old.

There are many types of state-funded schools that overseas children are allowed to attend. These include academies, free schools, grammar schools and boarding schools. Free schools and academies are run independently from local councils and are not required to follow the national curriculum. Grammar schools have a catchment area and accept children based on their performance in the 11-plus exam.
How to decide which school is best for your child
Choosing the right school for your child will greatly influence their academic career. It is important that you know what to look for in a school to ensure that your child receives the best education that meets their individual needs. Start your search for the ideal school by considering what you want from a school for your child. Keep in mind a school's:
educational ethos and values (helps gauge a school's culture and shared values)
range of extra-curricular activities (supporting creative, artistic, and sporting talents and nurturing social and psychological skills)
sibling policy and potential discounts (reduced costs and streamlined family logistics)
Attend open days to get an idea of what schools can offer. This will give you an impression of the school and whether or not your child will feel comfortable there. Parents' gut feelings can be very helpful and you do not want to rely solely on second-hand knowledge when making such an important decision.

Find out more about schools by
reading the school's most recent Ofsted reports
visiting the various schools' websites
conversing with other parents about their impressions of the school
How to apply to schools in the UK
Application dates vary by local council area. Check with your local council to find out when applications open for the relevant primary or secondary schools you wish you to apply at.
Find out the admission criteria for the schools you're interested in by contacting your local council.
Applications for state schools can be made online or by contacting your local council.
During the application process, you'll be asked to rank the schools you're applying to in order of preference. Putting only one school on your application will not increase your chances.
Consult your local council for schools that have spaces if your child does not get accepted into the schools applied at. Your child's name can also be added to a waiting list. The 'admission authority' for the school is obligated to keep a waiting list open for at least the first term of each school year.
One year before your child starts school, you must apply for a place at primary school. Even if your child does not start school until later in the year, you must submit the application at this time.
---
Moving to the UK? Take the stress out of the process and hit the ground running when you arrive. Download your free UK Relocation Pack here.
We are a professional services company that specialises in cross-border financial and immigration advice and solutions.

Our teams in the UK, South Africa and Australia can ensure that when you decide to move overseas, invest offshore or expand your business internationally, you'll do so with the backing of experienced local experts.

;