If you're moving to the UK with your family, it might be worthwhile to compare the school systems in South Africa and the UK. We take a look at the basic similarities and differences between government schools in both countries.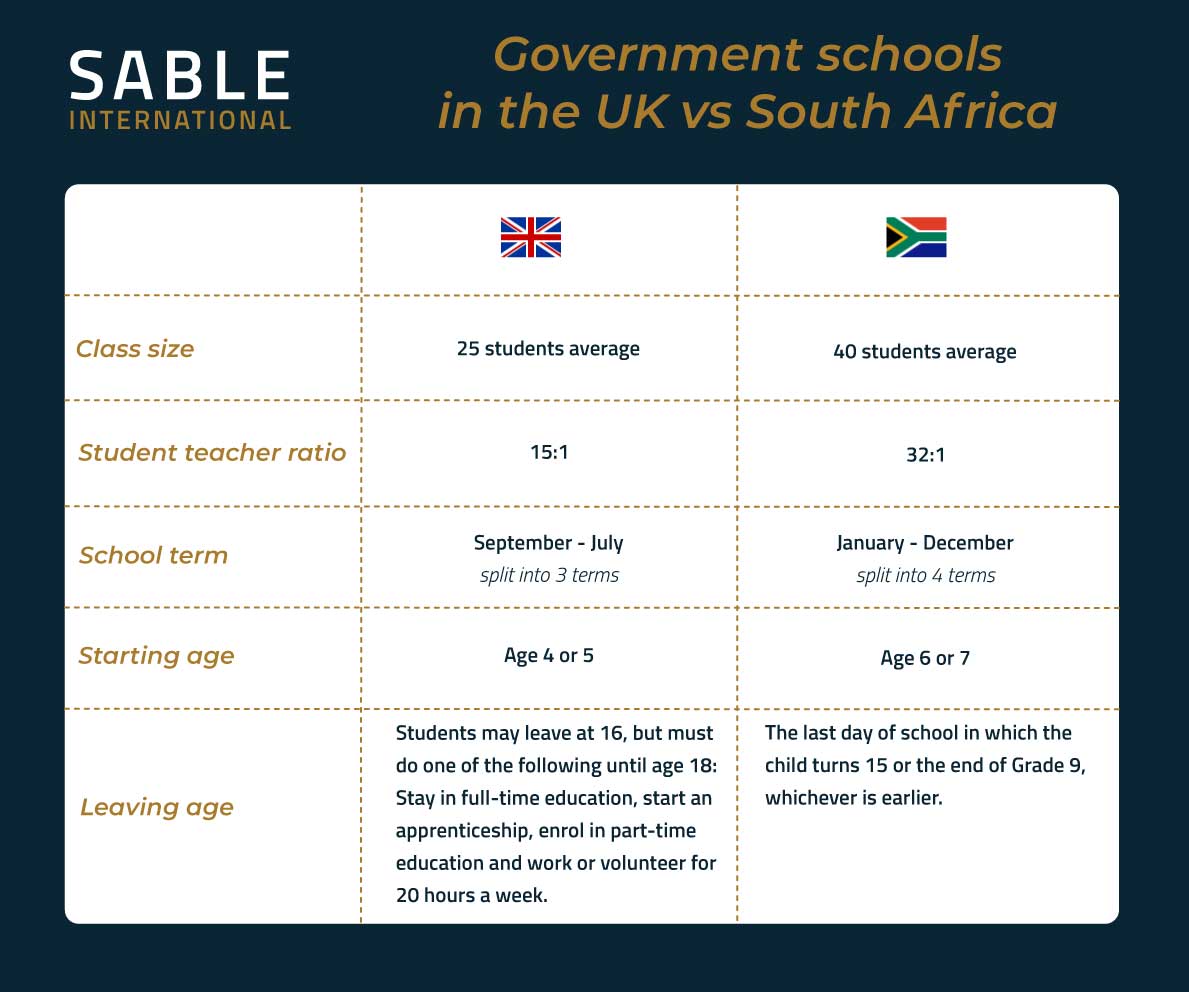 South African schools have about 40 students per class, while those in the UK have an average of 25. These numbers mean that the student-to-teacher ratio in South Africa is higher than the UK, at 32:1 compared to 15:1.
State schools in the UK are funded by the government and do not charge any fees. In South Africa, you will pay anything between R8,000 and R20,000 (£470 – £1,200) to send your child to a public school.
The UK school year runs from September through to July and is split into three terms. The South African school year starts in January and ends in December, divided into four terms.
Schools in South Africa place an emphasis on extramural activities, with sports often being compulsory. Participation in sports or other extra murals is optional in UK schools.
Children in the UK start school in the first September following their fourth birthday and may leave at the age of 16. If a student elects to leave school at 16, they must do one of the following until the age of 18:
Stay in a full-time education institution
Start an apprenticeship
Enrol in part-time education and work or volunteer for 20 hours a week
The starting age for school in South Africa is six or seven, depending on where in the year a child's birthday falls. If they choose to, students may leave at the end of their school year in which they turn 15 or the end of grade 9, whichever comes first.
If you have children of school-going age and are planning to migrate to the UK you might find interest in our article How to choose the right school for your kids when moving to the UK
---
Are you looking to start your life in the UK? Get in touch with one of our consultants to find out what the options are for you and your family, email us at immigration@sableinternational.com or call us on +27 (0) 21 657 2180.
We are a professional services company that specialises in cross-border financial and immigration advice and solutions.
Our teams in the UK, South Africa and Australia can ensure that when you decide to move overseas, invest offshore or expand your business internationally, you'll do so with the backing of experienced local experts.