If you're moving to the UK with your family, there's a lot to consider, from the types of schools in the UK to how the UK education system differs from the one you're familiar with. Here's a rundown of everything you need to know, along with a few useful tips.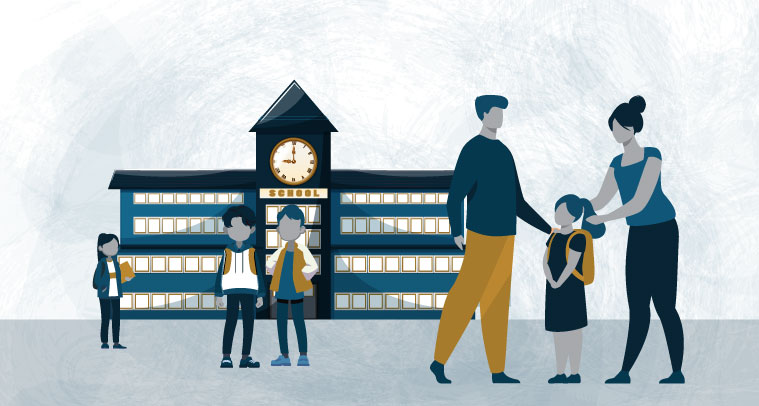 *This blog was first published in October 2017 and has been updated with new information for accuracy.
Advanced preparation and support
Changing schools can be an emotional experience, no matter the reason. It can be especially challenging if you're starting fresh in a completely new environment. Here are some tips to help you prepare for your move to the UK:
Involve your child(ren) early in the process: highlight the positives and address any concerns they may have.
Read moving-related books. This is an excellent method for assisting children in dealing with a major transition.
Make a list of your preferred schools, considering what will work best for your family.
Examine the school's extracurricular activities. In addition to giving children the opportunity socialise and integrate with their peers, they could help your child feel more enthusiastic about the move.
If you are unable to visit the school in person, in advance, see if the school can provide a virtual tour.
Begin an interactive visual countdown for children to see how many days remain before the move.
Make a list of old friends' contact information so your child can stay in touch with them.
With our relocation package, you can concentrate on what's important while we take the stress out of moving.
Finding the right UK school
The UK has a range of excellent public and private education options to choose from. Your local council will have details on their website around schools in your area and how their allocation of placement works. The core intake of pupils usually must live within a 1.6-to-3.2-kilometre radius of the school.
A schools over-subscription criteria will then also determine the order in which places will be allocated if the school has more applications than places available. Consider which criterion applies to your child.
The school's special offerings
Facilities that enable children to thrive are the ones that create opportunities for developing talent. Take note of:
What extracurricular activities the school offers and whether all students can participate
Which activities receive the most attention and resources
Whether the school offers field trips and whether these are funded by the school
Academic performance
Consider how the various schools' test scores compare to those of other schools. Check if:
Test scores rose or declined in the past few years
Students moving on to the next level of schooling perform well in their new schools
There is a concerning number of students that leave the school before completing the last grade
The school has received any special achievements or recognition awards
The school's behaviour policy
Behaviour policies and procedures promote an environment that facilitates positive behaviour, empathy, respect, self-esteem, self-discipline, and awareness of appropriate behaviour that sets children up for later life. A school should have measures in place to:
Help students develop character
Counteract drug and alcohol abuse through a prevention programme
Reform students who misbehave through support programmes to address behavioural issues
Ensure student safety
Encourage daily attendance and contact parents when there is an absentee
The UK education system
There are five stages of education in the UK: early childhood education, primary, secondary, further education (FE) and higher education (HE).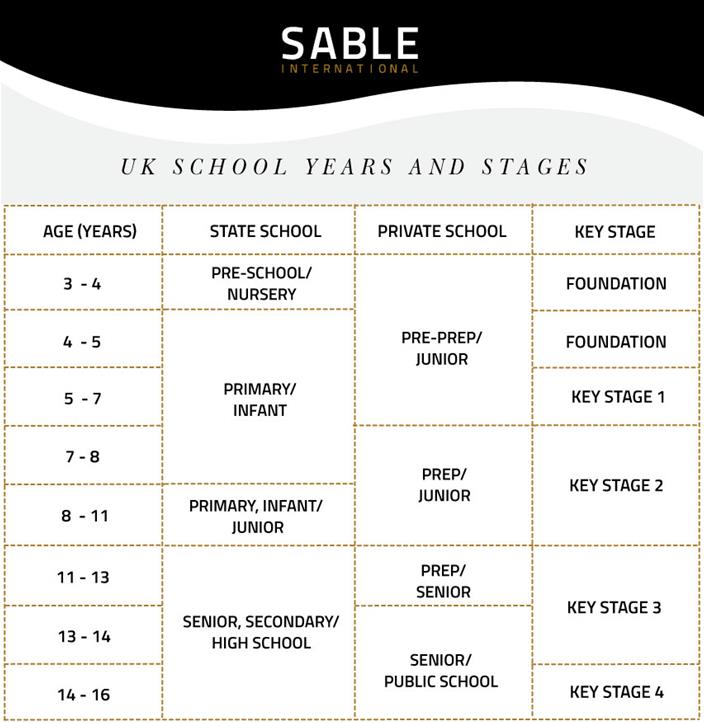 *All children between the ages of five (four in Northern Ireland) and 16 are required to attend school.
UK school terms
Each year is broken up into three terms, and each term is divided in half. The UK academic year runs from early September to mid-July and is followed by a six-week summer break.
Autumn terms run from early September to mid-December (Half term in late October)
Spring term runs from Easter to mid-July (Half term in late May or early June)
In general, once in the UK, all children have the right to attend UK schools, regardless of their immigration status. To figure out what year your child will be in a given calendar year, you need to know how old he or she will be on 1 September (when school starts) of that year, when you move to the UK. You can then subtract four from their age to get the year they will go to in September of the same calendar year.
Most UK schools offer mid-year admissions, but you may have to wait a little longer before your child can start school if there are no places left at the beginning of the school year, or if the school year has already started when you arrive.
Do I have to pay school fees in the UK?
In the UK education system, schools are either state schools funded by government that are free for all pupils, or they are independent schools and charge fees to the parents of the pupils.
State schools are provided by the government at no cost to British citizens and foreigners legally living in the UK, as they are funded by taxes. In most cases, children from overseas have the right to attend state-funded schools in the UK.
State schools afford children the opportunity to make friends with locals and fully integrate with the culture of their new community while independent schools offer the benefit of smaller class sizes which offer greater one-on-one time with their educators.
See also: Comparing government schools in the UK and South Africa
UK school applications
Admission criteria are used by all schools to determine which children are accepted. These are usually set by the school or local council and it is important to follow their application process. New applicants will have to register on their local council's website to begin their online application process. At this point you will be required to select at least three schools to apply to.
It can be difficult to decide which schools to include in your application, let alone in what order. In the past, some schools and local authorities used a 'first preference' system, whereby admissions officers sometimes gave preference to applicants who indicated a school as their first choice on their application form. This meant that a child who lived some distance from a school, but indicated it as their first choice, could get a place ahead of a child who lived closer but indicated the school as their second choice.
Some parents now feel that if they have a school as their first choice, they should leave all the other options blank to show the admissions committee how committed they are to that school. However, it is important to indicate at least three options and ideally to use all options because the order in which you ranked the schools will not be considered.
Documents to have on hand when applying to various UK schools, state or private, include:
Proof of new address (mortgage, deed or rental agreement)
Proof that you'll live in the area before the start of the next school term
A copy of your passport and visa
UK relocation assistance
Our international team knows what it's like to move abroad and our experience means that we can put together relocation packages for families moving to the UK with school-age children. These packages include a variety of services such as assistance with applying for a NI number, travel services and all the information you need to start your new life as soon as you arrive. We are here to help you with your move, wherever you are going.
---
Moving to the UK? Take the stress out of the process and hit the ground running when you arrive. Download your free UK Relocation Pack here.


We are a professional services company that specialises in cross-border financial and immigration advice and solutions.
Our teams in the UK, South Africa and Australia can ensure that when you decide to move overseas, invest offshore or expand your business internationally, you'll do so with the backing of experienced local experts.