Moving to a new city is one of the best life experiences for young individuals. If you want to live in a new city, the most difficult part of your decision will most likely be choosing which city to live in. We have compiled a list of the ten best places in the UK for young professionals.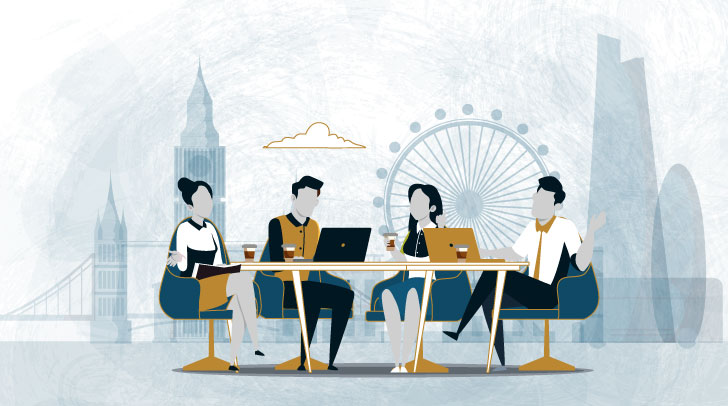 Whether you are fresh out of university and starting your career, or you already have work experience, the world (or should we say the UK) is at your fingertips.
Why you should consider moving to the UK
It is no surprise that international graduates want to work in the UK, as the country offers diverse work sectors, numerous international business hubs, favourable working conditions and a wealth of employment opportunities. As a young professional, you will experience the UK as a welcoming place with many international, multicultural, communities. The main UK offerings include:
Strong labour laws and generous employment benefits
Central location, proximity and transport links to the rest of Europe
Access to the NHS (National Health Service)
The top 10 places to live in the UK for young professionals
For many people, moving to the UK means settling in London, with its metropolitan hustle and bustle and charming neighbourhoods. However, there are many other options you can consider. Other cities that offer similar opportunities, but without the exorbitant cost of living. For UK-based expats, life outside London opens up a whole new world. The cost of living is significantly lower and you have access to the lush British countryside. You also have the opportunity to visit some of the UK's most charming cities, each with its own unique characteristics.
1. Edinburgh
This cosmopolitan city is nestled over an ancient volcano, which created extremely fertile soil and is one of the most beautiful cities in the United Kingdom. Edinburgh, Scotland's cultural capital, is home to two world-renowned festivals: the International Festival and the Fringe Festival.
The city offers a wide range of more affordable neighbourhoods, all of which offer spacious family living.
2. Reading
Located in the leafy Thames Valley, Reading is becoming a popular choice for expats moving to the UK. The former industrial town has reinvented itself as a vibrant shopping and leisure destination, and it is only a 20-minute train ride from central London.
Reading's housing prices are generally lower than those of other towns in the region and the area has excellent transport links to central London as well as excellent outdoor activities. This makes the Thames Valley a good option for those looking to get away from London's crowds and into more tranquil surroundings.
3. Derby
Derby could be the ideal city for you if you enjoy the peace and quiet of the countryside, are looking for good job opportunities and want to interact with other young adults. The city is a well-connected commuter hub between the Midlands and the North of England and has many advantages that make it a desirable place to live. Connections across the city run on average every 10 minutes.
Young people looking to save can benefit from the city's high local incomes, low rent, and low housing costs. The city has many other advantages, including a growing range of leisure and recreational activities along with being an affordable and thriving place to live.
4. Manchester
Manchester, as one of the fastest growing cities in Europe, has become a business hub. The self-proclaimed capital of the north is known for its industrial past, musical heritage and world-class football teams. From the Victorian Town Hall to the gleaming docks, the city is a mix of old and new.
With thousands of job opportunities, this city offers a wealth of possibilities and also more affordable housing than cities like London. Manchester's tram network makes the whole city surprisingly accessible.
5. Bristol
Bristol, located in the West Country, is ideal for those who want to live in an idyllic yet vibrant city. The expanding port city is quietly becoming one of the UK's most desirable cities for expats and locals alike and has something for everyone, combining history with modern life.
Bristol is an excellent choice for those looking for new career opportunities, beautiful scenery and fantastic workplaces. Bristol is known as one of the UK's most environmentally friendly cities and has one of the lowest pollution rates for carbon-conscious expats.
6. Aberdeen
Aberdeen is a port city with an international population that offers its residents a truly exceptional lifestyle. The city has a welcoming atmosphere and a thriving nightlife, as well as many independent shops and cafes. The scenery ranges from sandy beaches and breathtaking coastlines to local markets and modern complexes where you can fill your shopping bags to the brim.
Whichever area you choose to live in, Aberdeen has a variety of homes with different personalities to offer. In line with the UK trend, there has been a massive increase in the construction of new homes in recent years. This has led to an increase in demand for skills in all areas of the construction industry. As a large and prosperous city, it outperforms other major cities in the UK in terms of jobs, skills and environment.
7. Glasgow
In recent decades, Scotland's largest city has reinvented itself. Despite its industrial past, Glasgow has become one of the trendiest destinations for expats in the UK. The city has a fantastic nightlife and music scene, as well as excellent property options and an affordable cost of living.
Young professionals looking to keep their living costs down while they find their way in the world of work may find Glasgow attractive. In Glasgow's West End, a neighbourhood popular with students and young adults, it is not uncommon to find both modern and traditional housing. The city's metro system makes getting around easy.
8. Liverpool
Liverpool, located in the North West of England, is known for its friendly locals, world-class football teams, and, of course, The Beatles. Whether you're shopping, grabbing a bite to eat or out for a night on the town – Liverpool has hundreds of quirky, independent businesses that you won't find anywhere else.
The city is one of the best places in the UK for a healthy work-life balance because of its friendly locals, optimistic outlook, and bustling - yet walkable - cosmopolitan centre. Liverpool is a diverse and exciting city with property options for every budget. Liverpool was once dominated by the nautical industry and the industrial trade, but its economy is very different now. Liverpool places a high value on business services, with everything from consulting, marketing, and information technology to operations and logistics available.
9. Brighton and Hove
This liberal resort city on England's south coast is jam-packed with things to see and do, from the eclectic streets of the bohemian North Laine district to the elegant regency homes that line the waterfront. It is the capital of the LGBT community in the UK, with an abundance of LGBT-friendly establishments throughout the city. Brighton is often referred to as 'London by the sea' because of its proximity to the capital. It is also home to a Premier League football club.
Each neighbourhood has its own character, with more affordable housing further west and easy access to local trains and buses. Hove is a cost-effective alternative to Brighton city centre and offers a variety of nightlife activities.
Newcastle upon Tyne
Newcastle is becoming increasingly popular with graduates and young professionals as a place to live, and it's easy to see why. A vibrant young city in the North East of England, Newcastle has become one of the happiest places to live. The city's many appeals include its affordability, excellent transportation, nightlife and famous attractions. The North East is generally cheaper than other major cities in the UK, and Newcastle is more affordable than most other regions.
There are numerous top employers in the area, offering jobs in finance, healthcare, technology, software, digital media and retail including:
Amazon
Deloitte
McDonald's
Barclays
National Insurance (NI) Number
National Insurance is a UK Government tax administered by HM Revenue and Customs (HMRC) that is automatically deducted from each payment of your salary. Your NI number makes sure that the contributions and tax you pay are properly recorded on your account. To get an NI number you need to apply online and once received, it is yours for life.
If you are new to the UK, you can start work without an NI number if you have the right to work. However, in some cases, you may have to pay more tax until your NI number is issued. We can take the stress out of this process by doing all the administration and making sure that the documents submitted are correct so that your application is successful.
---
Moving to the UK? Take the worry and stress out of your move by downloading our free UK relocation pack.
We are a professional services company that specialises in cross-border financial and immigration advice and solutions.

Our teams in the UK, South Africa and Australia can ensure that when you decide to move overseas, invest offshore or expand your business internationally, you'll do so with the backing of experienced local experts.

;