The quality and cost of accommodation in the UK can vary greatly. While it might be daunting to try and figure out where you'll live when moving to the UK, we have put together some vital information for you. Our UK relocation package and our UK Guidebook is full of helpful information to assist you.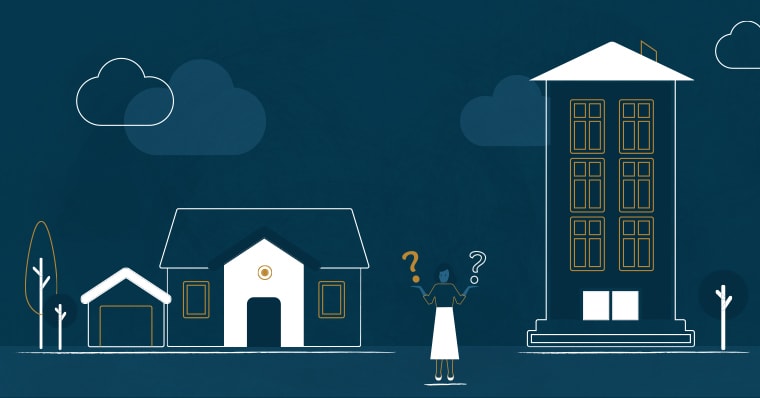 Tips for finding expat accommodation in the UK
The key to finding your perfect UK home is to have a very clear idea of what it is you're after before you start searching, and then to start searching as early as possible. It's easy to feel overwhelmed when you first start looking at the UK property market, but these helpful hints should set you on the right path.
Rent
This is one of the most important things you'll need to consider before you start looking. Rent will most likely be your biggest expense while you're in the UK. You'll need to weigh up the cost of rent against your other expenses and figure out exactly how much you can afford to spend on rent each month.
As a general rule, rent tends to become cheaper and properties bigger the further you move from London and other major metros. However, if you're going to need to travel into London regularly, the cost of rent should be weighed up against the cost of commuting.
The neighbourhood
Whether you're planning to be near the hustle and bustle of the city or lead a more tranquil life in the countryside, it is always a good idea to do some research into all your potential neighbourhood options. There are various factors that will determine which neighbourhood will suit you best.
The amount you're able to set aside for accommodation
Your budget is always a primary factor in narrowing down your neighbourhood options.
Your lifestyle, stage of life and interests
You'll want to move to an area that compliments your lifestyle and interests. Each London neighbourhood has its own personality and you'll likely settle more quickly and easily if you're surrounded by likeminded people in a similar stage of life to you.
How often you need to commute into the city
If you need to go to the city on a regular basis, it might make more sense to live in surrounding areas with easier and cheaper access to transport. If you don't need to visit the city often and prefer to lead a quiet life, the countryside might be perfect for you.
Spotahome is a great tool you can use to gauge prices. It provides accurate property descriptions and photos of accommodation across the UK.
Roommates
If you're going to be moving in with people, it is vital that you ensure every housemate has signed the lease. This will ensure that no one can legally stop paying rent or simply up and leave.
You might not become best friends with the people you live with, but it's great to live with people who are of a similar age and who share common interests. Spare Room and RoomMates UK are two sites that help you to find the most suitable room and roommate in the UK. People put up profiles on each site with their photo, age, occupation and a short description of their lifestyle. Those seeking rooms and roommates can get in touch with each other based on what they're looking for in a room and roommate. This is a great way to ensure that you move in with people who are like-minded and live a similar lifestyle to you.
Best websites and APPs to find accommodation in the UK
These websites will have you finding great accommodation in no time.
London Shared
London Shared | +44 (0) 20 7610 9004

London Shared specialises in providing fully furnished rooms in beautiful homes within desirable areas of London, predominantly South West. They only operate in safe, popular areas with great transport links. They take care of all the bills, including the Wi-Fi, and send a cleaner weekly to make sure your home is always spick and span, leaving you to concentrate on building your London life and make the most of the instant social circle within the household.
Roomgo
Roomgo | +44 (0) 7610 9004

Roomgo is the world's leading flat-share website designed to help you find the most suitable room and roommate across the UK using its extensive search features. Users set up profiles on the site which includes their photo, age, occupation and a brief description of their lifestyle.
To find your perfect flatshare, Roomgo also allows you to do the following:
Search according to features you find important
View rooms and potential flatmates
Save your searches
Receive alerts for new room matches
Request viewings
Specify what you require to both landlords and flatmates
Movebubble
Movebubble is the app to find, view and rent properties in London. The Movebubble team is on a mission to make renting better for renters, and has designed an app with this in mind. You can book viewings, chat to agents, and make your offer, all within the app. Movebubble can also advise you on how to get the best rental price. You also get a free takeaway meal on your first night in your new home!
Crenns Properties
Crenns Properties | +44 (0) 788 6884792

Established in 1999, Crenns Properties is a family-run business providing private rooms in Central and West London, from as short as a month's stay to as long as you would like. To make it easier for you to budget your stay, your rent covers "everything"– this includes Wi-Fi, laundry, tax, weekly cleaning of common areas, gas and electricity, so there's nothing else you will need to pay!
Lyvly
Lyvly| +44 (0) 3868 7423
Lyvly helps people moving to London settle quickly and ease into their new city life from day one. They have a fast-growing community of 400+ members living in rooms across London. You can live with vetted housemates in two- to six-bedroom homes and the rent covers your bills, Wi-Fi, cleaning and household consumables.
Lyvly's focus is making London a less lonely place, especially for new arrivals. There are community leaders in every neighbourhood to introduce you to the area and regular events and meetups for the entire community to connect.
There are 3D tours of all of the rooms, so you can have a look round before you've even arrived in the UK. If you're unsure about where's best for you to live, the member sales team will be able to guide you through the entire process.
Secure accommodation in the UK yourself
If you'd prefer to find your own expat accommodation in the UK, there are a few helpful websites you can use:
www.gumtree.com
www.zoopla.co.uk
www.primelocation.com
www.spareroom.co.uk
Another option is to go through a real estate agent, who will show you a range of more exclusive options.
---
Moving to the UK? Take the stress out of the process and hit the ground running when you arrive. Download your free UK Relocation Pack here.
We are a professional services company that specialises in cross-border financial and immigration advice and solutions.
Our teams in the UK, South Africa and Australia can ensure that when you decide to move overseas, invest offshore or expand your business internationally, you'll do so with the backing of experienced local experts.