London has a wide array of accommodation options. While this can make finding the right place seem like a daunting task, it also means that there will be something to suit your needs. The guide below will help you find the perfect home to start your life in the UK.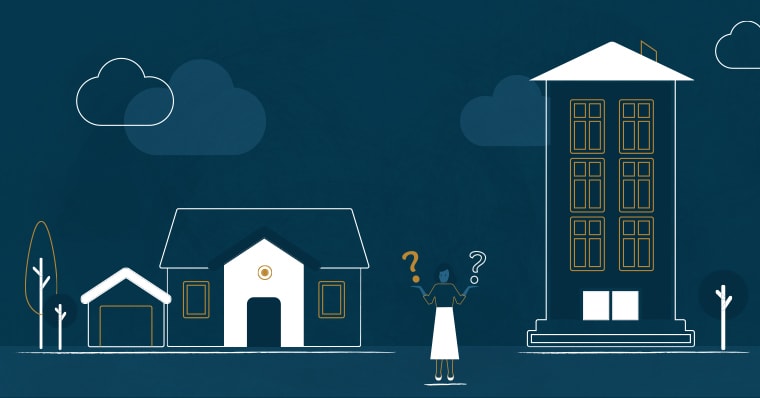 Factors to consider when home-hunting
The key to finding your perfect UK home is to know what your requirements are before you begin your search. Start looking as early as possible to make sure you don't miss out on the best deals. The following factors can guide you:
Rent
If you choose to rent, it will probably be your greatest expense while living in the UK. The amount you're willing to spend on rent will likely narrow down the areas in which you'll be able to live, as well as the accommodation type and size.
To determine the amount you're able to spend on rent, you'll need to do some research to predict what your other expenses are likely to add up to each month. This will give you a good indication of what you can afford. You should consider things such as transportation, utilities and monthly food bills; you can find a guide to this on our website https://www.sableinternational.com/1stcontact/uk-guide/cost-of-living-in-the-uk
In general, rent tends decrease while property size tends to increase as you move further away from London and other major metropolitan areas. If you'll need to travel into London on a regular basis, you should weigh up your estimated rent expense against the estimated cost of commuting.
The neighbourhood
Whether you're planning to be near the hustle and bustle of the city or lead a more tranquil life in the countryside, it is always a good idea to do some research into all your potential neighbourhood options. There are various factors that will determine which neighbourhood will suit you best.
The amount you're able to set aside for accommodation
Your budget is always a primary factor in narrowing down your neighbourhood options.
Your lifestyle, stage of life and interests
You'll want to move to an area that compliments your lifestyle and interests. Each London neighbourhood has its own personality and you'll likely settle more quickly and easily if you're surrounded by likeminded people in a similar stage of life to you.
How often you need to commute into the city
If you need to go to the city on a regular basis, it might make more sense to live in surrounding areas with easier and cheaper access to transport. If you don't need to visit the city often and prefer to lead a quiet life, the countryside might be perfect for you.
Spotahome is a great tool you can use to gauge prices. It provides accurate property descriptions and photos of accommodation across the UK.
Roommates
If you're looking to share accommodation, be sure choose the right roommates. Your roommates can make or break your accommodation experience. You'll want to move in with likeminded people. It tends to increase your chances of a successful living situation if your roommates are of a similar age to you, lead similar lifestyles to you and share common interests with you.
It is crucial that every housemate has signed the lease. This will ensure that no one can legally leave or stop paying rent without adequate notice.
Helpful accommodation tools
London Shared
London Shared specialises in providing fully furnished rooms in beautiful homes across London's most desirable areas, primarily South West. They only operate in safe areas with access to convenient transport links.
They take care of all the bills, including WiFi, and organise a cleaner once a week, allowing you to focus on building your new life. London Shared offers three-month terms, giving you the flexibility to find your perfect home. Better yet, if you say Sable International or 1st Contact referred you, you won't have to pay any administration fees.
Roomgo
Roomgo is the world's leading flat-share website designed to help you find the most suitable room and roommate across the UK using its extensive search features. Users set up profiles on the site which includes their photo, age, occupation and a brief description of their lifestyle.
To find your perfect flatshare, Roomgo also allows you to do the following:
Search according to features you find important
View rooms and potential flatmates
Save your searches
Receive alerts for new room matches
Request viewings
Specify what you require to both landlords and flatmates
Movebubble
Movebubble is our favourite app to find, view and rent properties in London. Their team has designed the app to create a seamless process for renters. You can book viewings, get in touch with agents and make your offer, all within the app. They take this one step further by offering you a free takeaway meal on your first night in your new home.
Crenns Properties
Crenns Properties is a family-run business that aims to help you find a private room in a residential house in Central and West London. Your stay can range from as short as a month to as long as you wish. They ensure that all their rooms are clean, comfortable, well-maintained and have easy access to public transport. Their priority is to ensure that all their customers feel safe and at home.
Lyvly
Lyvly aims to help newcomers settle quickly and easily into their new lives in London. They offer rooms in two- to six-bedroom homes and ensure that all potential roommates have been assessed. Your rent will also cover your bills, WiFi, cleaning and household amenities.
The company strives to eradicate the loneliness that can come with being new to the area by integrating you into a community. There are community leaders in each neighbourhood who will get you acquainted with your new area and host regular social events.
Lyvly also offers 3D tours of all available rooms to give you a better idea of where you'd like to live. If you're unsure which neighbourhood will suit you best, their sales team is always ready to assist.
---
Finding the perfect accommodation is only one of many factors to consider before you make the move abroad. If you need to open a UK bank account, get an NI number or a local SIM, or find a job, our team of relocation experts are here to help. Get in touch via email on 1stcontact@sableinternational.com or phone on +44 (0) 20 7759 7536, or fill out our contact form.
We are a professional services company that specialises in cross-border financial and immigration advice and solutions.
Our teams in the UK, South Africa and Australia can ensure that when you decide to move overseas, invest offshore or expand your business internationally, you'll do so with the backing of experienced local experts.