In this interview we get to know Jaco Botha, our new Group Business Development Consultant, and learn more about his upbringing, interests and how he came to join our company.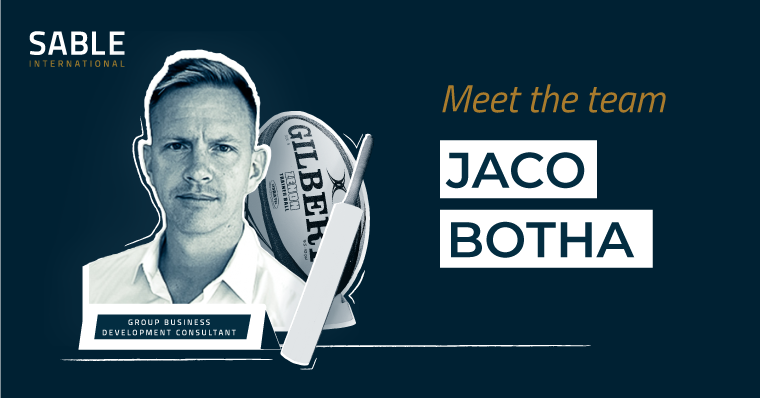 Where did you grow up?
I grew up in Alberton in the South of Johannesburg where I attended primary school. I then went to the National School of the Arts in Johannesburg where I pursued my passion for the arts.
How did you end up in the UK?
I had previously spent some time in the UK. The first time I came here was when I took a gap year after high school, in 2003. I came back again from 2008 to 2010 on a working holiday visa.
I got married in South Africa in 2013, to a Brit, and we had never lived in the UK as a married couple. In 2019 we decided that it was time to move to the UK. This was after her move from the UK to South Africa, where we lived for eight years. At the time, we had just had a baby and thought it was the perfect opportunity for us to have this international experience as a family while we were both still relatively young. As my wife is British, it was easier for us to move, for the children and eventually for myself to get a British passport.
I'm not sure if the UK will be my final destination because I hope to return to South Africa one day, but for now, this is home.
What is your dream vacation?
We are a close-knit family and enjoy local weekends away with our loved ones, who we miss dearly. My parents recently visited us in the UK and it was wonderful to see them and for them to spend time with the kids. We last saw them in February when we visited them in South Africa. In an ideal world, I would love to see them at least once a year and either travel home or have them here to visit us, but that's not always feasible.
One of the main reasons we came to the UK is because of its accessibility and the opportunity to explore what the world has to offer. It's so much easier to be here and go to Europe for a weekend. We would love to explore Europe, especially Switzerland and Germany. I have been there before, but I'd love to show the family around. When we travel with our extended family, we have more people on deck to look after the kids, which is always helpful.
How do you spend your free time?
We love to get out in nature and explore parks and forests in the area. Another favourite is to take a trip to the coast where a friend of ours has a caravan.
I am a big sports fanatic and enjoy playing and watching sports. I play as much sport as I can – I used to play football every week and I also enjoy playing cricket. I am particularly interested in watching the South African teams play abroad. It's an exciting time because this year is a big year for rugby and cricket.
What's your favourite TV show of all time?
Outside of sport, PAW Patrol. The kids are in charge, so that's what's on most of the time, making it hard to get stuck into any good shows.
We like to go to the cinema to see what's on. The nice thing about going to the cinema is that you get to switch off and there are no distractions.
What do you enjoy about working in the field you are in?
I have been in business development for a while now, and although it has its challenges, I really enjoy getting to know a wide range of businesses, people and networks. Every day and every experience is unique. Your success is determined by your output, which I really appreciate.
How did you come to work for Sable International?
I met Reg, our CEO, through LinkedIn. We had a brief conversation when we met for breakfast last year where he mentioned that he wanted to grow the company. I was working for a competitor at the time, but I really liked what Reg said and what the company stood for.
About a month later, I met with Saskia for a follow-up conversation and the rest is history. I started here two months ago and feel very connected to the values of the company. It's so refreshing to work for a company that lives its values. So far, the experience has been fantastic.
What do you believe is the most important value a person can have?
Kindness and humility are essential for me. Some consider it a flaw, but I believe it is both powerful and important on all levels because it transcends space and applies to all aspects of your life. I admire people who do not look down on others and see the value in.
---
Own a business in the UK? Jaco would love to meet you and share more information about all Sable International has to offer. Get in touch with him at jaco.botha@sableinternational.com.
---
We are a professional services company that specialises in cross-border financial and immigration advice and solutions.

Our teams in the UK, South Africa and Australia can ensure that when you decide to move overseas, invest offshore or expand your business internationally, you'll do so with the backing of experienced local experts.

;