Moving to the UK and want to bring your pet with you? Here are some helpful pointers to get them to their new home happy and safe.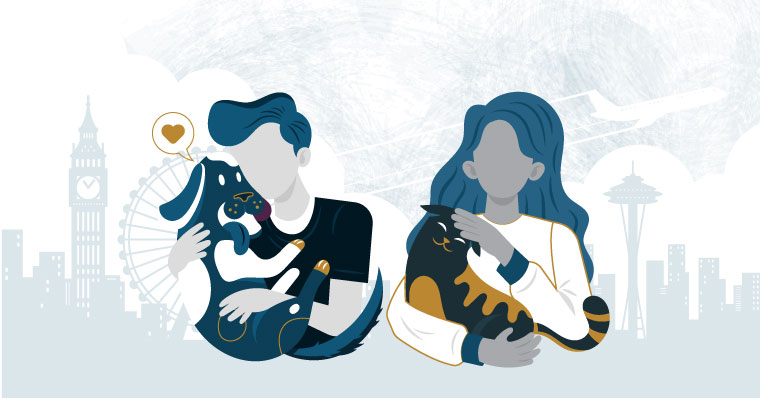 This blog was first published in July 2017 and has been updated with new information for accuracy.


Requirements differ depending on whether your furry (or non-furry) friends are arriving in the UK or Northern Ireland from a non-EU listed country, like Australia and New Zealand, or an unlisted country, like South Africa.
Are you coming to the UK from an unlisted country?
Here's what you must do when bringing your pet to the UK:
They must be microchipped
They must have had a rabies vaccination
They need a pet passport or third-country official veterinary certificate
They must have had a tapeworm treatment(for dogs only)
See also: Guide to life – find the right accommodation in the UK
Are you coming from a listed non-EU country?
When entering from a listed country, it's much easier to bring your pet with you. All you require is a pet passport from your local vet.
UK pet passports
Pet passports detail the various treatments your pet has received and can be obtained from an authorised vet. You'll need to take the following with you when you apply for a pet passport:
Your pet
Documentation regarding the identity and vaccinations of your pet
Blood test results for rabies, if your pet requires them
All entry requirements must be met for the passport to be valid.
Prior to moving, we advise that you double-check your vet has filled out the following information on the passport:
Details of ownership
Description of animal
Marking or identification of animal
Vaccination against rabies
Rabies blood test (if needed)
Details of the vet issuing the passport (if needed)
Your dog's tapeworm treatment (if needed)
It is also important to note that you'll have to wait 21 days from the date of their rabies vaccination before travelling.
Are you bringing pets into Northern Ireland?
There is a slight difference between the rules of Great Britain and Northern Ireland. Bring your pet to Northern Ireland by following these steps:
They must be microchipped
They must have had a rabies vaccination
They must have an EU Health Certificate
Dogs must be treated for tapeworm
They may only enter the Republic of Ireland via Travellers' Point of Entry: Cork Airport, Dublin Airport, Dublin Port, Shannon Airport, Port of Cork at Ringaskiddy or Rosslare Europort and must undergo compliance checks on arrival.
In addition, pets arriving from unlisted countries may need to have a blood test after the rabies vaccination at least three months prior to entry.
Contact a UK relocation expert for assistance with your move to the UK.
Email us
Do you have an exotic pet?
If you want to bring an exotic pet such as a rodent, rabbit, bird, invertebrate, amphibian or reptile, they must spend four months in quarantine. If you're bringing a rabbit or rodent with you, you'll also need a rabies import licence.
When taking an animal that is not indigenous to the UK, you will need to apply for a special license from the Animal and Plant Health Agency (APHA). The APHA will be able to guide you on the following:
If you're eligible to apply for a licence
How long a licence lasts for
What happens if you lose your licence
You can be fined or prosecuted if you:
Allow any non-native animal to escape into the wild in the UK
Release any non-native animal without a license to do so
Keep a non-native animal without the proper licence
When entering from an unlisted country, the requirements are the same as above, but with one addition: A blood test must be taken at least 30 days after the animal's rabies vaccination.
You'll also have to wait three calendar months from the date the blood sample was taken before travelling. The copy of the test results, supplied by your vet, must show that the vaccination was successful and should be sent to an approved blood testing laboratory.
See also: Do you know the difference between your NI and NHS number?
Moving abroad with pets can be a great experience, but only if it is done right. It's very important that you meet all the requirements before arriving in the UK or Northern Ireland. Failing to do so will mean that your furry (or feathery, or scaly) friends will be put in quarantine and you'll have to pay for both the transport costs and accommodation. You can only collect your pets when they have cleared customs. Most agents, travel companies, and airlines will do this for you for a fee. The reward of reuniting with your pet will make the whole process worthwhile.
---
Moving to the UK? Take the stress out of the process and hit the ground running when you arrive. Download your free UK Relocation Pack here.
We are a professional services company that specialises in cross-border financial and immigration advice and solutions.
Our teams in the UK, South Africa and Australia can ensure that when you decide to move overseas, invest offshore or expand your business internationally, you'll do so with the backing of experienced local experts.