Leeds Beckett University has several scholarships on offer for their international students in 2022.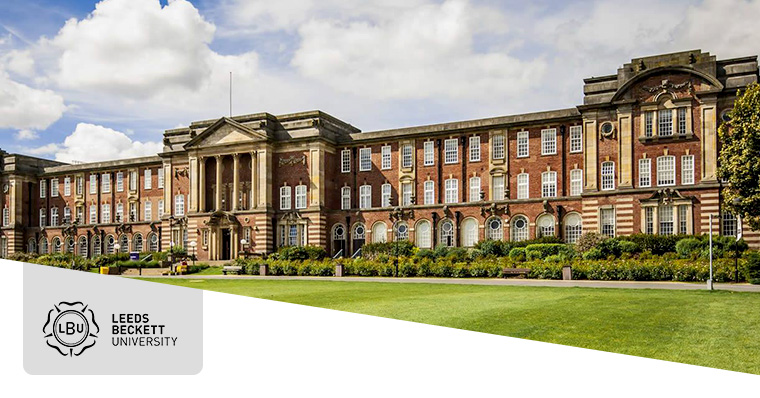 Why study at Leeds Beckett University
When you attend Leeds Beckett University, you'll be part of a diverse community of students right in the bustling city centre of Leeds in the UK. Their courses are designed to challenge and excite you, ensuring that you develop vital transferable and professional skills.
As a dynamic modern university, they're always growing and developing. They've built some of the most iconic buildings in Leeds today, and their facilities, learning resources and teaching communities provide you with everything you need to succeed.
Their buildings and facilities are grouped together into two main campus areas — City campus and Headingley campus. Situated just five kilometers outside the centre of Leeds, the Headingley campus is located within 100 acres of parkland, in perfect contrast to the busy city, providing some respite to our students.
International scholarships available at Leeds Beckett University for 2022
International students may be eligible for the following scholarships:
International foundation year — £1,500 (first year only)
Undergraduate courses — £1,000 per year
Postgraduate taught courses — from between £3,000 and £5,000 per year (first year only)
Research courses — £1,500 per year
These scholarships make Leeds Beckett University a more affordable option than most other universities in the UK. If you are a recipient of a scholarship you may be eligible to receive another scholarship or bursary offered by the university, subject to the terms and conditions of those other schemes. The university reserves the right to vary or withdraw the scholarship at its sole discretion.
Leeds Beckett University's scholarship requirements
To be eligible for the scholarship discount you must:
Be assessed as having overseas or EU residency status
Be assessed to pay the overseas fee
Be studying the relevant course full-time
Be actively enrolled on an eligible course
Be a self-funded student, who is paying the full course fee for that year (those students who have their tuition fees paid by a third-party sponsor, employer or government agency will not be eligible)
Studying that level of the course for the first time (i.e. not repeating any level during that year)
How to apply for an international scholarship at Leeds Beckett University
You don't need to complete a separate application form to receive the scholarship. If you meet the eligibility criteria the discount will be automatically deducted from your fee liability and your invoice will be reduced accordingly.
Exception list for the international scholarships
You will not be eligible for the scholarship if any of the following apply to you:
Courses or schemes where particular rates or payment arrangements exist (such as those relating to Franchise/Overseas/Partner-based delivery or any other special arrangement)
Part-time students
Any repeat year
Any year where the student is out on placement
Students on Distance Learning courses
Those studying PGDip or PGCert programmes
Those studying LLM Legal Practice course
Those studying Doctorate of Business Administration (DBA), Doctor of Education (EdD), or Research By Published Works.
For more information please email sastudy@sableinternational.com or call +27 (0) 21 657 1543.
Chevening Scholarships
What are Chevening Scholarships?
Chevening Scholarships are the UK government's global scholarship programme, funded by the Foreign and Commonwealth Office (FCO) and partner organisations. The scholarships are awarded to outstanding scholars with leadership potential. Awards are typically for a one-year master's degree.
Chevening Scholarship requirements
Chevening Scholarships are for talented people who have been identified as potential future leaders across a wide range of fields including politics, business, the media, civil society, religion, and academia. Applicants should be high-calibre graduates with the personal, intellectual and interpersonal qualities necessary for leadership.
Chevening scholars come from over 110 countries worldwide (excluding the USA and the EU), and this year the scholarships will support approximately 700 individuals. There are over 41,000 Chevening alumni around the world who together comprise an influential and highly regarded global network.
How to apply for a Chevening Scholarship
Full information about deadlines and priority subjects for countries that offer Chevening Scholarships will be available on the country pages on the Chevening website.

;