Scotland welcomes more than 50,000 international students from 180 different countries every year, here are a few reasons why.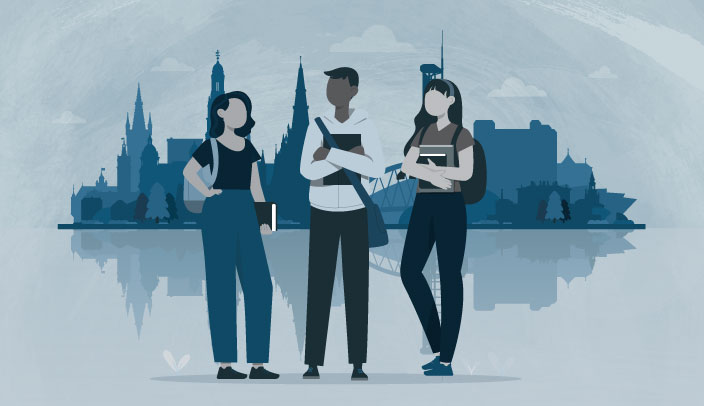 When you think of Scotland, the first thing that comes to mind is probably its rich history, striking natural landscapes, and of course the very distinct local accent. However, it is also an innovation hub, with many excellent academic institutions.
Courses offered by UK universities are short and intensive, and can save you time and money with the lower tuition and living costs. Plus, the UK offers a stay back option known as the Graduate Route visa, that gives you the opportunity to possibly settle in the UK permanently once you've completed your studies.
See also: Everything you need to know about studying in the UK
Here are some of our top reasons you should choose to study in Scotland.
1. Innovation hub
Researchers in Scottish universities are responsible for many world-changing innovations. From the television and penicillin, to tidal energy turbines, to the MRI scanner and keyhole surgery. A passion for innovation in Scotland has advanced industry at home and overseas throughout history.
2. Job opportunities
Scotland provides a plethora of employment opportunities in its major cities—Glasgow, Edinburgh, Dundee and Inverness. Additionally, sectors such as life-sciences, gaming and technology, and renewable energies are rapidly growing and are ripe with job openings. The UK Graduate visa gives you permission to stay in the UK for two years to seek work after successfully completing a course. (If you receive a doctoral qualification, such as a PhD, you may remain in the UK for three years on this visa).
3. Top universities
Some of Scotland's universities are among the oldest and best-ranked in the world, including the University of Glasgow, University of Aberdeen, University of Dundee, and Heriot-Watt University.
4. Employability
According to Scotland.org, "employers highly value graduates from Scottish universities, with nine out of ten graduates finding employment or further study within six months of graduation". The site attributes this to many of the education institutions working in partnership with employers, to fully prepare students for the transition into the work place.
5. Culture
Scotland is an ideal place to be for anyone who loves food, fashion, excitement, history, art, music, films, theatre, culture, and travelling. It is home to world-renowned live music, sport events, and arts events such as The Edinburgh Festival Fringe, Burns Night, the Highlands Games, and Hogmanay taking place throughout the year.
---
If you're interested in studying in Scotland, our study advisers are qualified to give you advice to help you with applying for a relevant programme and will assist you at every step of the way.
We have direct access to our partner universities' admissions teams, making it easy for you to apply and get your enrolment letter. Get in touch with us at study@sableinternational.com or call us on +27 21 657 1543.
We are a professional services company that specialises in cross-border financial and immigration advice and solutions.

Our teams in the UK, South Africa and Australia can ensure that when you decide to move overseas, invest offshore or expand your business internationally, you'll do so with the backing of experienced local experts.

;