As an expat, you'll likely want to make new friends in your new home, but Londoners can be tough nuts to crack and it's easy to feel lonely. Luckily, we've got these helpful hints that'll ensure you meet like-minded people and have fun doing it.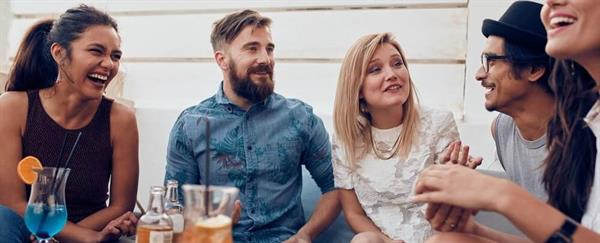 1. Find people online
It's 2017, and there are easier ways to meet new friends than serendipitously bumping into them on the street on your way to the laundromat. There are several online platforms that can help you find your new crew.
Citysocializer
Citysocializer is known as one of the best ways to meet friendly locals and take part in fun activities. You can either sign up through Facebook or via email, and from there all you have you do is choose the events that appeal to you.
The events range from supper clubs to live music gigs to picnics, so there's something for everyone.
Happn
If you're looking to meet someone special, this dating app is perfect for the hopeless romantics out there. Happn finds people you've already crossed paths with and gives you the chance to speak to them again.
The app tells you how many times you've encountered another person, and if you both like each other on the app, you can strike up a conversation. This is a great way to meet people nearby who you otherwise wouldn't talk to.
2. Volunteer
Why not make a difference and expand your social network at the same time? There are plenty of initiatives out there depending on what causes you're passionate about.
Volunteer Team London allows you to enter your interests, borough, skillset and date you would like to volunteer. The site will then provide you with events according to your preferences.
3. Connect with other expats
If you're looking to spend time with some familiar accents and share memories of home, there are plenty of international communities in London that you could join.
South African communities
InterNations
This global community has hubs in over 390 cities. InterNations has a dedicated platform for South Africans living in the UK. Their online community allows you to chat to other Saffas online, whilst their monthly events and activities are great for meeting like-minded expats in person.
Check out their expat forums which provide newcomers and not-so-newcomers with local insights and trustworthy advice from fellow South Africans in the UK.
The Africa Centre
Since 1964, The Africa Centre serves as a home-away-from-home and cultural hub for Africans in London. They host monthly events, including panel discussions, film screenings and cultural partnership events.
Australian communities
Advance
Advance is Australia's global community and boasts networks across 90 countries. There are plenty of events for you to choose from – from business events to happy hours where you can enjoy a drink with fellow Aussies.
4. Pick up a new hobby
Joining a regular exercise class, such as yoga or Zumba, allows you to work up a sweat, stay healthy and meet some new faces while doing it. If group exercise isn't your thing, why not take up a cooking course, an art class or learn a new language?
City lit offers over 5,000 courses – from sewing and costume design to coffee and beer tasting courses, there's sure to be something you'll enjoy learning.
5. Change your living situation
Living with people who are your age and share common interests with you is an excellent way to expand your social network. And what better way to feel at home in the UK than to find a housemate who becomes a good friend?
Roomgo allows you to find your ideal room and roommate. People looking for rooms to rent put up short bios about themselves, as well as an image and their age. In this way, you'll be sure to find like-minded people to live with.
---
Moving to the UK? Take the stress out of the process and hit the ground running when you arrive. Download your free UK Relocation Pack here.
We are a professional services company that specialises in cross-border financial and immigration advice and solutions.
Our teams in the UK, South Africa and Australia can ensure that when you decide to move overseas, invest offshore or expand your business internationally, you'll do so with the backing of experienced local experts.