Leave the city behind to enjoy the beauty of Mauritius and its tax benefits. Here's everything you need to know about Mauritius as an investment destination.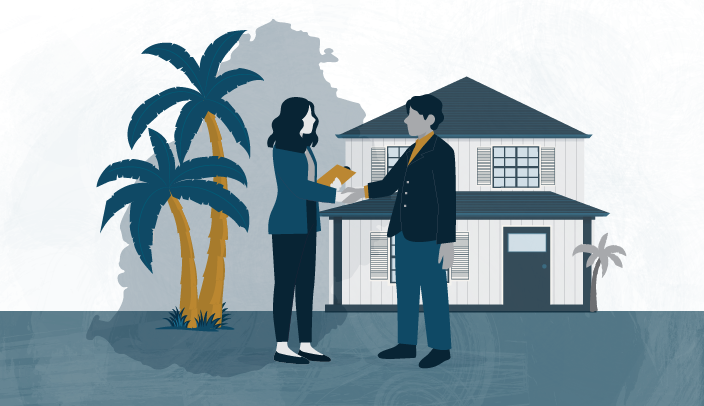 Mauritius is becoming an increasingly popular investment destination for South Africans, and it's easy to see why. From picturesque beaches to adventurous activities and its diverse culture, this beautiful island nation in the Indian Ocean has something for everyone. More than just an island paradise, Mauritius offers financial security, tax benefits, an excellent standard of living, easy commuting to and from South Africa and an appealing residency by investment programme.
By investing in offshore real estate you can diversify your investment portfolio while protecting yourself against the volatile Rand. These factors, combined with the country's high standard of living, make Mauritius an attractive destination for foreign investors and entrepreneurs.
Benefits of buying property in Mauritius
An advantageous tax system
One of the criteria that drives investors to choose Mauritius is its extremely favourable tax system. It is great for individuals receiving a global income as there are no exchange controls, Capital Gains Tax, inheritance or wealth taxes.
Corporate income tax is fixed at 15%. This applies to:
Profits from business activities
Foreign dividends received
Rental income
You will need to file quarterly tax returns under the Current Payment System (CPS) if you earn money from rent or other business activities, unless:
Your income is less than MUR 4 million for the previous year
The tax payable under the CPS is less than MUR 500
An exceptional quality of life – Mauritius culture
Although Mauritius is a small island nation, it is an extremely diverse part of the world, brimming with culture. Mauritius, a nation born of immigration, is known for its hospitality and is host to an already large expatriate community. It offers a similar lifestyle to South Africa, with activities such as mountain biking and fishing at your fingertips.
Centrally located for South Africans – close to home
The accessibility and convenience of Mauritius make it an attractive destination for South Africans looking to invest in property or relocate. Mauritius is well connected to major South African cities such as Johannesburg and Cape Town, and several airlines operate regular flights between the two countries. The flight time from Johannesburg to Mauritius is about four hours, while the flight time from Cape Town is about six hours. This proximity to SA makes it convenient for those who want to visit family and friends and conduct business in their home country.
If you intend to move to Mauritius, it's best to do so with the help of an expert familiar with Mauritius's property market.
Get in touch
Education in Mauritius
Mauritius is a bilingual country with political and social stability so you can be sure your children will enjoy a cosmopolitan education and have access to good international schools and universities should you choose to relocate. The education system in Mauritius is diverse and very accommodating. There are many private educational institutions, all offering varied curricula.
Another option for parents is to enrol their children in one of the French schools on the island to expose them to a new language and social and cultural development. With several higher education institutions spread across the island, there are plenty of options for your children after school.
Residency-by-investment: Mauritius Permanent Residency Permit
This programme allows the investor (main applicant) and their family members (spouse, parents, parents-in-law and children up to the age of 24) to obtain long-term residency status by investing at least USD 375,000 in a government-approved property.
Residency status for the investor and family members will remain valid for as long as the property is owned, with no physical presence on the island required. It is a simple, efficient and uncomplicated process to residency and the initial permit can be approved in just three months.
Grand Baie – a great area for property investment in Mauritius
If living or purchasing in an area with shops, restaurants, beaches, good clinics and schools is important to you, Grand Baie is the place to be. Most expats prefer new builds in this area and, for USD 375,000, you can buy a villa in a security complex that is ideal for families with young children.
Mauritius property investment – financing
To assist those wishing to settle in Mauritius, financial institutions or banks can finance all or part of the purchase for expats under certain conditions. Financing is available to South Africans and the lending rate is the same for Mauritians and non-residents, varying between 3.75% and 6.5% for loans in Rupees and 2.20% and 6.5% for loans in Euros or USD, depending on the banking institution. You may be eligible to borrow up to 70% of the value of the property and there is a restriction on foreign investment (Foreigners can only buy certain types of property).
You will have to pay registration tax, which can range from USD 25,000 to USD 70,000 (R 454,504 to R1,272,288) or 5% of the value of the property. You also need to set aside money for legal costs, including notary fees which are all part of the home-buying process.
---
Interested in investing in the Mauritian property market? Our offshore real estate investment team can guide you through the process and take care of all the facets, including ownership structure, tax, foreign exchange, and property purchase advice.
Get in touch with our specialists at rei@sableinternational.com or give us a call on +27 (0) 21 657 2120 and we'll be happy to answer any of your questions around investing in Greece.
---
We are a professional services company that specialises in cross-border financial and immigration advice and solutions.
Our teams in the UK, South Africa and Australia can ensure that when you decide to move overseas, invest offshore or expand your business internationally, you'll do so with the backing of experienced local experts.