Preparing for a crisis may have been at the bottom of your to-do list, but without a proper plan in place, your business could be in danger. Here's what you can do to prepare and be ready to deal with any situation.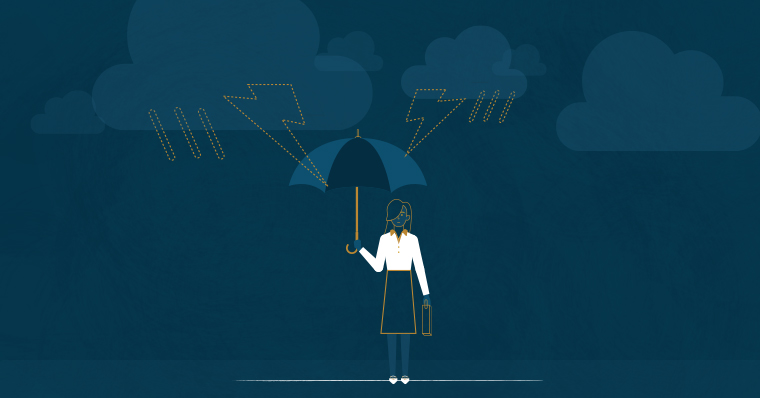 Business crises can take many unexpected forms. From natural disasters to economic downturns, a crisis can shake up even the largest of businesses, so you need to be sure you can weather the storm.
If you are not prepared, you could face the loss of customers, slowdown of operations, or expenditure past what you can handle.
Here are our top tips to ensure your business is prepared to last through a crisis:
Take everything online
One of the best ways to ensure your business is prepared is to go digital. The ability to access your files and folders from anywhere can be crucial to ensure business continuity.
Access everything online
Online access to all your work files not only makes it easy to access from anywhere, it also ensures there's a backup in case a computer breaks, and data is lost.
Communicate from anywhere
Everyone should have access to a company-wide communication platform such as Slack or Microsoft Teams. Even if you have to move out the office at short notice, you'll still be able to keep in touch with your team and make plans for continuity.
Easy remote access
It's not always as simple as setting up your PC at home. Corporate networks can be designed to only provide access from the office, so having an excellent IT setup is critical. Plan ahead to make sure remote access works and VPNs are set up, and allow secure connections to your files and applications from anywhere.
Save for a rainy day
Not having enough cash reserve to see you through hard times can quickly spell the end of your business. When leads dry up and you're left with salaries, expenses and business loans to pay, you could be in a lot of trouble.
Cashflow during a crisis is very important, so ensure that you're able to keep your expenses under control by having enough cash on hand to keep your business going. Continue to work with your accountant and other advisers so that your books are in order and you stay prepared as possible.
Review your creditors – often
Always be aware of who you owe money to. From bank loans to suppliers, review your creditors to check where you are with repayments and find out if you can get a better deal. That way, when crisis hits, you'll know exactly where your money is going.
Create a business continuity plan
All the processes and procedures you decide on in the event of a crisis will be for nothing if there's no reference plan. A business continuity plan details everything that needs to happen to ensure business continuity, and how to make it happen.
You should start by considering potential crisis situations that may affect you and how you might respond as a business. Keep it simple to start with and get to the details later.
Risk and response
Start with setting out the particular risks the business may face because of a crisis and determine a plan of action in response. For example, a crisis response that involves you and your team leaving the office may include how everyone can be set up to work remotely, gain access to files and communication platforms and start working again in a reasonable amount of time.
Test your plan
Having a plan in place is a step in the right direction, but you must test it out. Conducting a test run is the best way to see where your plan's strengths and weaknesses lie and will help you improve it.
Identifying gaps in your crisis response processes is essential to ensuring a smooth transition should something happen. Regular testing can make this process easier.
Keep communication open
During a crisis, it can be easy to put your head down to focus on solving any continuity issues that arise, but you still need to communicate with your team, employees, clients and suppliers.
Keep everyone in your business in the loop with your plans from the start and be available and open for questions and input. Employees will appreciate the transparency – it's reassuring for everyone to hear what's going on in the business.
During a crisis, clients could assume that you aren't operating, and the only way they'll know you're open is if you tell them. Send out a mail to clients saying you're still operational, but always be sensitive to the situation. Depending on the crisis and the nature of your business, it may be better to hold off on sales communication for a while.
It pays to be prepared. Putting together a sound business continuity plan and conducting a regular check on your finances with your financial adviser can help you stay ready for anything.
---
We are a professional services company that specialises in cross-border financial and immigration advice and solutions.
Our teams in the UK, South Africa and Australia can ensure that when you decide to move overseas, invest offshore or expand your business internationally, you'll do so with the backing of experienced local experts.