Many large and small businesses have increasingly global operations and interests. It can be a challenge to make and receive international transfers in many different currencies. Find out how a Currency Solved account saves your company time and money.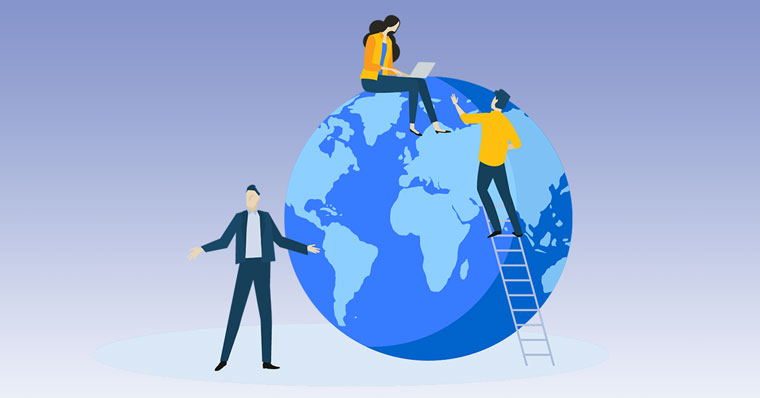 Businesses that transact globally are often dealing with multiple, regular monthly transactions. In any given month, you can expect to receive several payments and make payments to suppliers around the world.
Using banks to transact internationally can get complicated and expensive. The Currency Solved platform offers a cost-effective and simple solution. It bundles payments, collections, conversions and management into one location.
Borderless business transactions
A Currency Solved account is the perfect solution for businesses with global currency needs. It's an all-in-one platform for making and receiving international payments. The account is free to open and charges no monthly fees or transfer costs.
Receive
Accept payments from clients around the world with Currency Solved collections. Clients can pay using local USA and Eurozone account details, and payments clear to your account without any SWIFT fees.
Convert
Access to live currency markets means you can convert currencies at excellent real-time rates – 24 hours a day, five days a week. You can hold up to 38 currencies in your account to use when convenient.
Pay
Create, manage and pay multiple beneficiaries – no matter where they live. Currency Solved offers local payments to accounts all over the world. Beneficiary and payer management means you can retrieve and verify client information with ease.
How you save with Currency Solved
If you own a business that deals with international clients or suppliers, chances are there's money that needs to be transferred across borders.
If you had to make regular monthly payments to the USA using your bank, you'd have to pay costly conversion and sending fees and you wouldn't be getting a great exchange rate.
With Currency Solved, you've got access to excellent live exchange rates and seamless cross-border payments with zero fees.
FAQ
How do I open an account?
Register on the Currency Solved page to get started.
What currencies do you support?
You can convert up to 38 currencies on the platform and send money worldwide.
For a full list of supported currencies, visit the Currency Solved page.
Can I hold currencies in my account?
All your currencies are available in their own wallet, ready for you to fund, convert or pay at your convenience.
Can I pay into a normal bank account?
It's easy to pay from your Currency Solved account into any bank account, worldwide. Add a beneficiary, choose your currency and send the payment.
Can a client pay me in their own currency?
Access to virtual USD and EUR accounts means you can give your Eurozone and American clients local account details. They can easily pay using Dollars or Euros into a local account in their country.
---
Get started with Currency Solved today and experience seamless international payments and collections for yourself. For more information, visit the Currency Solved page, email forex@sableinternational.com or call +44 (0) 20 7759 7554.
We are a professional services company that specialises in cross-border financial and immigration advice and solutions.
Our teams in the UK, South Africa and Australia can ensure that when you decide to move overseas, invest offshore or expand your business internationally, you'll do so with the backing of experienced local experts.