In our many years of helping people, we've found that the complexities of British nationality law know no bounds. Here's how an unusual citizenship claim for three stateless children worked out – and how you could also claim citizenship and get your British passport.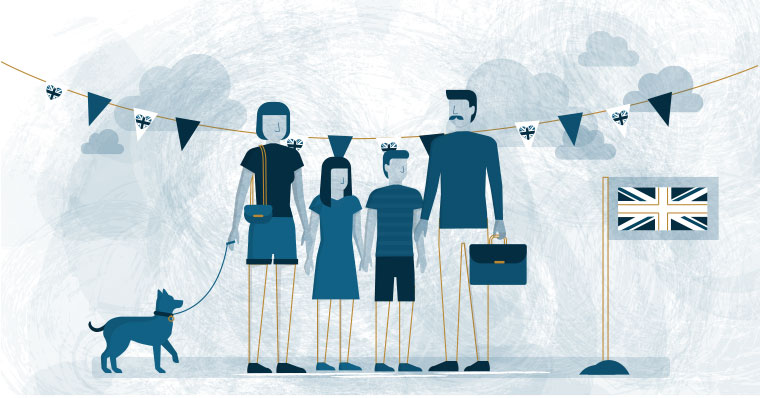 We regularly come across new and complex British citizenship claims, and it's sometimes necessary to delve deeply into UK nationality law to discover potential solutions.
One such case particularly demonstrates that solutions are often found in unlikely situations.
Our clients were three children born in the UK to a Lebanese father and a Venezuelan mother. The parents overstayed in the UK and did not have any legal status.
The father of the children approached us to confirm whether he had a claim to British nationality through his birth in the British Protectorate of Nigeria. Sadly, we concluded that he did not have a legal claim.
However, upon discovering that his three children were born in the UK, we came up with plan.
It seemed possible for each child to be registered as a British citizen without taking the parent's statuses into consideration. This was based on the children being stateless since birth – they did not become citizens of Lebanon, Venezuela or the UK.
Once the children had successfully claimed British citizenship, we could submit a human rights-based family application for discretionary leave to remain on behalf of both parents. This would remedy their situation as overstayers and give them a route to settlement.
We began the application process in 2016, and in December 2019 the case was completed. All three children are now British citizens and their parents have been issued leave to remain in the UK.
It was a long road, but the family has gone from three stateless children (unable to travel out of the UK) with parents who had overstayed in the UK, to three children with full British citizenship and parents legally living in the UK.
What's more, the children were registered as "British by birth", allowing their descendants to automatically become British citizens by descent.
What does "stateless" mean?
A stateless status means that you don't hold nationality of any country. This most commonly occurs at birth, when the parents' situation and the country of birth don't grant the child a nationality. These are often complex cases – as in the example above – and should be resolved before the child turns 18; certain registration rights applicable to children can fall away and be lost forever.
Are you or your children stateless?
If you, your partner or your children are currently stateless and living either in the UK or abroad, contact us and tell us about your situation. We're always happy to look at your circumstances and advise where we can at no charge.
Email citizenship@sableinternational.com to get in touch with one of our advisors.
What is an "overstayer"?
Overstayers are people who stay longer in the UK than their visa allows. In some cases, such as the above, it's possible to legalise the status of overstayers in the UK. This involves an initial consultation and in-depth research into your situation.
What is leave to remain in the UK?
Leave to remain in the UK is either classified as indefinite or discretionary. Indefinite leave to remain (ILR) is a form of UK permanent residency. It allows you to live and work in the country without restriction and is one step before applying for British citizenship.
Discretionary leave to remain – the status given to the parents in the citizenship case – is given on a case-by-case basis.
How to get ILR
There are several ways to get ILR status in the UK; most involve spending a period of time living and working in the country. Common ILR qualifiers are when you've:
Lived in the UK for five years on a spouse visa
Lived in the UK for five years on an Ancestry visa
Been in the UK for five years on a work visa
Legally stayed in the UK for 10 years
Spent five years in the UK as an investor
Spent five years in the UK as a dependant under the points-based system*
*Dependants include married partners, unmarried partners, children under 18 or children that were under 18 when they applied for ILR.
The path to citizenship
Once you've held ILR status for 12 months, you can apply for citizenship through UK naturalisation and get your British passport. If you're married to a British citizen, you won't need to wait the 12 months; you can apply immediately.
Do you have a UK-born grandparent?
If you have family ties to the UK, such as a UK-born grandparent, you should take our free British citizenship assessment – there may be a path to citizenship through your family history.
---
Our nationality experts are highly experienced in various nationality paths and can advise you on UK Ancestry visas, British citizenship applications, stateless statuses and more. Get in touch by emailing citizenship@sableinternational.com or calling +27 (0) 21 657 2139 or +44 (0) 20 7759 7581.
We are a professional services company that specialises in cross-border financial and immigration advice and solutions.
Our teams in the UK, South Africa and Australia can ensure that when you decide to move overseas, invest offshore or expand your business internationally, you'll do so with the backing of experienced local experts.