The world is changing at a rapid rate, and companies need to keep up to stay relevant. From exploring new trends to focusing on sustainability, this is the small business advice you need to future-proof your SME.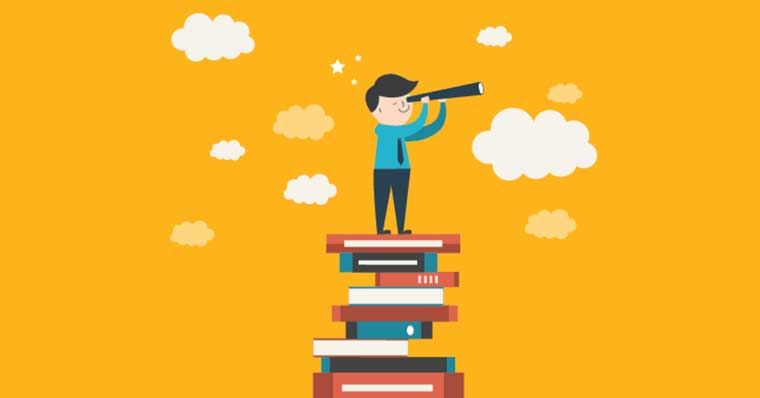 The business landscape is always in flux. It's a different playing field from a decade ago due to rapid technological advancement and increased globalisation. With a constant barrage of new business tools and new competitors, it's easy to feel like you're falling behind.
Luckily, there are ways to keep ahead of the game and prepare your business for the future.
Embrace digital
The world is now online – and your business should be too. That's not to say you need to start using Facebook and Twitter daily, but there are online tools and services that can help your business succeed.
Your website
This is a home for your business online. Customers can visit your website to learn more about what you do or even buy your products. It's relatively easy to set up, and you can customise it to fit your needs.
A lot of business websites can look amateur, so it's important to build something with easy-to-use website tools such as Squarespace or Wix. You could also hire a web designer to do it for you. The last thing you need is customers to arrive on your site and leave immediately because it doesn't look professional.
Mobile is essential
People are now constantly connected to the internet through their mobile phones. Mobile makes up half of worldwide internet traffic, so you're missing out on a lot of potential business if your site isn't mobile-friendly.
Online reviews
One of the most important factors in a potential customer's initial impression is how well your business is reviewed. There are a few places that customers can review your business, but an increasingly important place to look is Google. Searching for your company will usually show any Google reviews and ask customers to leave their own.
Sign up to Google My Business and fill in your business details to claim your page. You can then add relevant photos, opening hours, contact details and your website address. It will become easier for customers to find you online and you can encourage them to leave Google reviews for your business.
If you've got a Facebook page, clients can also review you there. Facebook is a great tool to connect with your clients. They can message you on the site and you can respond using the messaging service. It's another way to keep in touch that's quicker and more convenient than email.
Software and apps
Accounting
One of the best things you can do for your small business is use cloud-based accounting software. Products such as QuickBooks, Xero or Sage One let you track your income, send invoices and deal with cashflow and payroll. Keeping track of all your accounts in one place can save you hours of time and prepare you for the future.
Another important reason to use small business accounting software is to comply with HMRC's Making Tax Digital (MTD). The new Making Tax Digital for VAT requirement makes it compulsory to keep digital VAT records and file your tax returns with any MTD-compatible software as listed on HMRC's website. This initiative makes tax simpler, easier and future-ready.
Payments
Giving customers fast, easy payment options benefits your business. You'll get paid on time and your business will be ready for the varied payment methods your customers use. If your business sells online, then Shopify is one of the easiest-to-use payment solutions. Other alternatives include Worldpay, Stripe and PayPal. Do some comparisons to see which pricing and features will work best for what you offer your customers. If you're dealing with cross-border transactions between currencies, a service like Currency Solved could be perfect for your needs.
Some small businesses need offline payment processing but are still operating with cash. Buying a card machine doesn't have to be expensive and it's a solid step forward into the digital age of cashless transactions.
Keep ahead of tax
It's become easier for businesses to deal with tax-related matters thanks to accounting software and the MTD initiative, but you still need to know what to do and when. Learning the key tax deadlines or setting reminders for upcoming dates will ensure you're up to date with your reporting to HMRC.
Common tax deadlines for UK companies
Company Tax Return: 12 months after accounting period that it covers
Corporation Tax payment: Nine months and one day after the end of your accounting period
There are also numerous tax reliefs that can benefit your company, such as capital allowances and rate reliefs as well as Research and Development (R&D) tax relief and deductible expenses. Check which reliefs apply to your business and how you can take advantage of them.
Know your market
The first thing you need to do is competitor research. Finding out who your competition is and how they're approaching their business can help you position yours to stand out in the market.
Another way to research your market is to consider the broader environment you're operating in. Think of any current issues and trends that impact your industry, as well as political aspects which could affect your business.
Understanding customer needs is essential to business success. Communication is key, so keep in touch with new and existing customers to show you're active and care about their business. Having a personal connection with people through stellar customer service can make or break a business – no matter your product.
Adapt quickly
Businesses need to constantly be considering new technologies, customers, competitors and operating environments. If you're not prepared to take on new challenges – whether it's exploring a new market, trying out a different marketing strategy or developing a better product – your business is at risk of falling behind.
Keep on top of business trends by subscribing to industry newsletters and following important developments. Weigh up how they can potentially help your company and how you can implement change to grow your business.
Find your niche
There's so much competition out there that it's becoming increasingly harder to stand out, especially for SMEs. Big companies can afford to offer a huge range of products or generalised services. They've got the financial backing and resources to spend a lot and put considerable effort into gaining customers – small businesses simply can't compete.
By specialising, you can focus on one thing and do it very well. This is how you can create a market for yourself. Offer something that no one else can. Whether it's based on your product, price, location, customer or a combination of factors, finding a niche can exponentially speed up small business growth.
Focus on sustainability
There are several ways you can prepare your business for a sustainable future. One of the easiest changes you can make is to reduce paper in the workplace and encourage recycling through designated paper, plastic and metal recycling bins. There are also many small changes you can introduce such as using energy-efficient lighting and heating, using less water where possible and switching off computers and lights at night if they aren't needed.
Introducing sustainable thinking into the way you make your business decisions is a smart way to ensure it's always a focus for your company.
Appreciate your employees
If you employ people at your small business, it should go without saying that you need to treat them well. This starts from the hiring process.
Hire people that share your values
Hiring people that share your values helps create a healthy business environment. This is especially true for a small business where you're interacting with your staff daily.
Hire people that are smarter than you
The most important asset of your business is your employees, so it makes sense to search far and wide for quality. Don't ever be afraid to hire people who are smarter than you, they are the people you need to make the best business decisions.
Create a diverse team
A more diverse company performs better. Diverse employee perspectives can help you approach business problems from multiple angles. They can increase satisfaction in the workplace and attract better talent from all backgrounds. A diverse team will work to strengthen your business and help it innovate for the future.
Invest in your employees
One way to invest in your staff is through training. Upskilling employees can be as easy as signing up for a company online learning account and giving your employees the time they need to increase their skills.
If you haven't yet taken on any employees, now might be the time to start looking. It's expensive, but you need staff to grow your business.
Explore new trends
Flexibility
One of the biggest current workplace trends is the adoption of flexibility. This can take on many forms, but essentially means giving employees more freedom in the way they work. Giving staff choices about how they work results in a more productive business.
Some examples of this are introducing flexible working hours to suit employee schedules, encouraging remote working or simply giving employees more say in how their working week is structured.
Coworking
A boom in the popularity of coworking spaces highlights the need for cost-effective solutions for smaller businesses. These environments are a great way to encourage cross-business collaboration and support. The entrepreneurial environment can also spark new ideas and expose you to emerging trends. Consider if your business can take advantage of coworking to help you get ahead.
Health
There's an increased focus on health and wellbeing in the workplace. Having constant access to mobile phones, laptops and the internet means that employees can work from anywhere at any time – blurring the distinction between work and life. If this isn't managed properly, it can lead to stressed employees, lower productivity and burnout.
There's a large gap between what employees value and what employers offer, so make sure your business tries to bridge the gap wherever possible. Encourage staff to relax and take breaks, switch off outside work hours, and recover at home when sick. Fostering a beneficial work environment is about instilling a healthy culture and leading by example. People only feel comfortable doing something if others in the workplace behave similarly.
Keep in touch with your advisors
There are a lot of things that go into running your own business. Although you may try, it's impossible to be everywhere at once and have the full expertise you need to make your business thrive. It's essential to rely on others for advice. An advisor can be anyone from your tax accountant or financial advisor to your family members or trusted friend. Each person has a unique viewpoint and expertise that you can use to run your business.
When preparing your business for the future, don't feel like you must make big changes all at once. You can gradually implement strategies to future-proof your SME, and slowly decide what works for you and what you can change to be ready for the future.
What things have you done or are planning to do in your business to prepare for the future? Let us know by leaving a comment below.
---
We provide small businesses with financial advice, accounting solutions and outsourced bookkeeping. Got an accounting question? Email accounting@sableinternational.com or call +44 (0) 20 7759 7553
We are a professional services company that specialises in cross-border financial and immigration advice and solutions.

Our teams in the UK, South Africa and Australia can ensure that when you decide to move overseas, invest offshore or expand your business internationally, you'll do so with the backing of experienced local experts.

;